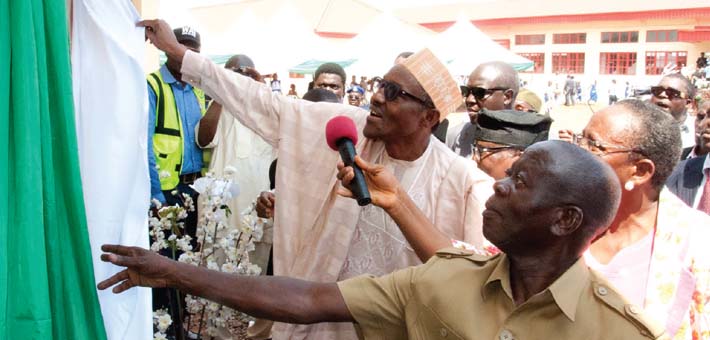 I have read, first with discomfort, and then with something akin to horror, the words that have been attributed to my dear governor, Adams Oshiomhole. I call him "my dear governor" for two reasons; first, I am indigene of the nation's big heart; and second, one of the ballot papers of the Edo state 2012 gubernatorial election bears my thumbprint. However, I am beginning to think that this may very well be the last time he will be labelled with such an endearment, at least by me.
Does Buhari Have A Plan To Improve Nigerian Economy?
No (70%, 1,107 Votes)
Yes (30%, 465 Votes)
Total Voters: 1,572
Loading ...
As Labour leader, he was everyman's hero; the voice of the people, the light in darkness. His booming voice and pointed remarks directed at those who were deemed oppressors were lauded because we believed that at the heart of all the drama was a man who believed in one thing-the people. As governor, we expected the transference of that passion into the governance of the state; we expected that he would demonstrate leadership, honesty, and respect for the people of his state; and with respectability too. We expected also that as our number one man, he would do so with some finesse and at the very least, a modicum of regard for the office and a huge dose of common sense. Sadly, we expected too much as Oshiomhole is now carried away with being more of a needless voice than functioning in the service of the people.
The once noble and passionate Osho has become a clanging cymbal. "Empty vessels make the loudest noise" can be no more personified as it is currently being exhibited by Adams Oshiomhole. A leader of men need not speak every single time it pleases his fancy to open his mouth and voice his opinions. A leader of men should always exhibit a great measure of restraint. There is something enigmatic about a man who knows when to hold his tongue. People are often found hanging on his every word with bated breath because his words are few. You talk too much, and more often than not, you end up a laughing stock. I mean, who takes the village jester seriously? My "dear governor" has become the Prince of Jesters.
When I think of Oshiomhole's last stunt and how he has once again started his mad dance of circling around issues without evidence and flinging accusations at Dr Okonjo-Iweala left, right and centre, what really hits me is the difference in the style of both individuals. One of the first questions that crossed my mind was if Dr Okonjo-Iweala attended any finishing school. Her poise, her complete control over her speech is often in direct contrast with Oshiomhole's crass and crude mannerisms. If indeed she attended any, does she think they will be willing to admit Adams Oshiomhole for a semester or two?
Then again, after being exposed to his tactlessness, they just may decide that his is a lost cause. Because added to the unrefined manner of speech and behaviour, it appears mixing with the wrong crowd may have worsened his case. The lack of tact is one thing, but when coupled with what now appears to be a dubious character and a vindictive spirit, I'm afraid this governor is on a downward spin.  Who knows, some may like the challenge of "Reforming the Unreformable" and decide that some training in cultural values and norms refined social graces, etiquette knowledge, and polished appearance may do him some good.
One thing is for certain; with soft skills being the in-thing, this governor of my beloved state had better get his act together, and fast! Or for how long does he plan to claim one thing only to have his claims refuted publicly (remember his remark about a U.S government official confiding in him about a certain former Nigerian government official stealing billions)?
The way I see it, two paths lie ahead of Oshiomhole; the path of dignity, honesty, backing up claims with concrete proof, integrity, decorum and sincerity of purpose and mission; or he may take the path which is the very opposite of all these and certainly leads to career suicide. In truth, he need not attend any finishing school to decide what sort of man he wants to be; that decision is one he must make without fear or favour.
Uwa Eghomeka is currently in the business of imparting knowledge to the next generation. She does this in Benin where she currently resides and works. You can reach Uwa via email onueghomeka@gmail.com