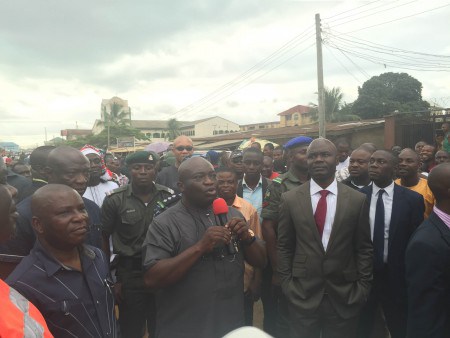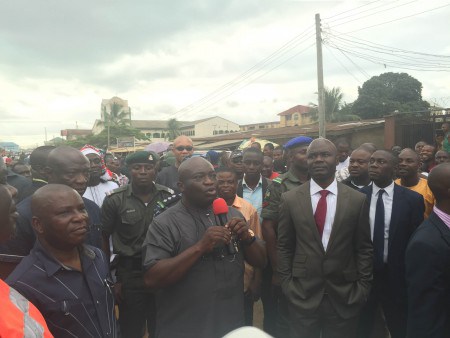 *Smash Side Mirrors, Windscreens
Information reaching 247ureports.com revealed that security personnel attached to the Abia State governor, Dr. Okezie Ikpeazu, Tuesday night, brutalized motorists, smashed side mirrors and windscreen, along Aba-Owerri road in Aba, Abia state.
The governor's convoy which met a long traffic jam which had become a daily occurrence on most roads in the city due to ongoing rehabilitation works, started blaring siren, but there was no space for the trapped motorists to make way.
247ureports.com gathered that youths in the area had earlier volunteered to ease the situation, directing traffic until the governor's convoy stormed the road and aggravated the situation.
As at the time of filing this report, it could not be confirmed if Gov. Ikpeazu was seated on the convoy, but eyewitnesses told 247ureports.com that all his usual pilot security and back up vehicles, the staff car and other support vehicles were seen. Security details were also seen taking positions to protect the staff car, which is the governor's official vehicle.
According to one of the motorists whose windscreen was smashed by the security personnel, "I was on my way to Osisioma but the traffic jam was too heavy. Everybody was struggling on how to make a way out of the situation when we heard the blaring of a siren. Before I knew what was happening, I saw MOPOL men with their rifle and horsewhips flogging drivers and smashing side mirrors, ordering us to move but there was no space. He flogged me and the driver before me and the guy was shouting and asking what offence did I commit. Other MOPOL men came down and descended on us smashing our windscreen and side mirrors. Look at the injuries I sustained from the horsewhip. I thank God no live was lost, because if they killed me that night, nothing would have happened.
A driver, Mr. Chikaodinaka Eze, whose side mirror was also broken, condemned the action of the governor's convoy, stressing that they were aware of the daily traffic jam on that road and had no reason to be reckless assaulting motorists and smashing their side mirrors.
"We all knew it was the governor's convoy, because he lives in Aba. Most times, they come back late but they had no reason to assault motorists because they knew the traffic jam was a result of the closure of one lane of the road due to repairs. It is bad that Gov. Okezie Ikpeazu was seated there in his car and allowed his security details to beat drivers and damage their vehicles."
A commuter, Mrs Ngozi, who witnessed the incident, described it as an unnecessary show of force by the governor's security details, beating up drivers who were not responsible for the traffic jam.
She explained that traffic jams have been a regular occurrence on Aba –Owerri road, adding that Gov. Ikpeazu had on several occasions been held in heavy traffic on the Aba-Owerri road, most times over 30 minutes without movement and wondered why innocent people would be made to suffer for the situation.
According to her, "Gov. Ikpeazu lives in Aba because he promised to stay here for some time to monitor ongoing projects in the city.  I am surprised at what the policemen did this night because this is not the first time the governor's convoy would be trapped in such a traffic jam. What example is the governor giving to motorists if he can't be patient in traffic?"
However, one of the numerous Special Assistants on Media to Gov. Ikpeazu, who pleaded anonymity, told our correspondent that the governor was not in the convoy as they were returning from the Sam Mbakwe Airport, Owerri, Imo state, where they dropped him off on his way to Abuja for an official assignment.
He insisted that Gov. Ikpeazu could not have allowed his security details to brutalize motorists if he was on the convoy. "At least, you can confirm that the governor has at many times, been held in traffic jam on that Aba-Owerri road, yet there has never been such incident," the Media aide said.