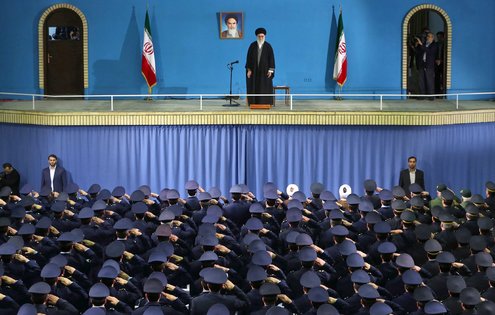 Posters of the general with his thin gray beard and forceful gaze lined the streets as mourners gathered outside the sprawling base of the Iranian Revolutionary Guard Corps, a key pillar of the Islamic Republic.
Brig. Gen. Hussein Hamedani, killed in Syria last week during a mission advising pro-government forces there, was not an outsized public figure like his legendary superior — Maj. Gen Qassem Suleimani, the Iranian expeditionary force chief who has been turned into a media hero at home and vilified as a terrorist in the United States.
In life, Hamedani was Tehran's under-the-radar Syria point man, a key liaison to sundry Iranian-backed forces fighting to preserve the rule of Syrian President Bashar Assad.
In death, however, the general, who was 67, has come to symbolize something more: Tehran's determination to defend Assad against what Iran labels a "terrorist" assault fashioned by the United States and its partners, including Saudi Arabia, Iran's regional rival.
Russia's entry nearly two weeks ago into the battle in Syria, launching air operations in support of Damascus, has only bolstered Iran's publicly stated resolve to do whatever is needed to prevent Assad's fall. The reeling government in Damascus has also received substantial financial aid from Tehran.
"The martyrdom of … Hamedani reinvigorates our determination to continue his path," the Iranian army chief of staff, Maj. Gen. Ahmad Reza Purdastan, declared after Hamedani's death near the northern city of Aleppo.
Hamedani, killed during what was described as a "reconnaissance" mission — no details were available — is the most senior Iranian military officer to be killed on a foreign operation since the 1979 Islamic Revolution.
He is the latest in a series of senior Revolutionary Guard commanders to fall in Syria, where U.S. officials say more than 1,500 Iranian advisors and other personnel are operating; Iranian observers generally put the force in Syria at fewer than 500 guardsmen.
"If Cmdr. Hamedani was not in Syria, Damascus would have collapsed," Mohammad Ali Jafari, chief commander of the Revolutionary Guard, told mourners at his funeral over the weekend.
Washington and Tehran both cite noble goals to explain their involvement on opposing sides of the bloody Syrian conflict.
The Obama administration sees a moral imperative to move on from a dictatorial Assad and the barrel bombs killing civilians. Tehran, like Moscow, argues that bolstering Assad's secular government is the only way to prevent Al Qaeda-style extremists from overrunning Syria.
Iran has broad geopolitical interests at stake in Syria, and Tehran's aid to its chief Arab ally goes beyond direct military and financial assistance.
Thousands of militiamen from Hezbollah, Iran's Lebanese proxy and a fierce adversary of Israel, have provided essential support for Assad's forces, especially in the key strategic corridor along the Lebanese border. Tehran is determined to maintain key supply routes through Syria to the militant Shiite Muslim organization in Lebanon.
Iran has also embraced Moscow's recent intervention, dismissing suggestions that the robust Russian presence in Syria could ultimately overshadow Tehran's longtime role there.
"There is no conflict with the Russians," said Hamid Reza Taraghi, a political analyst close to Iran's leadership. "There is a division of labor between us, the Russians and the Syrians. We, the Iranians, work with ground operations."
By all accounts, Iran's aid in varied forms has been vital to shoring up Assad's government.
Iran has not dispatched large numbers of rank-and-file Revolutionary Guardsmen to Syria, instead relying on Syrian ground forces and Shiite militiamen from various countries, including Iraq and Afghanistan. But Tehran has signaled it would be willing to commit ground forces if needed.
"Iran doesn't feel the need to put boots on the ground in Syria because they think the Syrian army will be enough," said Mohammad Marandi, a Tehran University professor whose viewpoints often reflect official policy.
"But if the Americans and the Saudis are going to escalate … then the Iranians will look at it again," Marandi said. "Syria is a red line for Iran."
He said the Iranian government is especially concerned that the opposition forces being aided by the U.S. are dominated by Islamic extremists who will be a threat to the entire region.
The Obama administration says its aid for the Syrian opposition, including a covert CIA training program, has been funneled to vetted, "moderate" rebels.
Despite Iran's commitment, the war in Syria does not appear to be resonating strongly with ordinary Iranians so far unaffected by the conflict.
"I don't care much about Syria, but I follow it because it is important to the government," said Omid Qadeyani, 33, a garment manufacturer interviewed at a downtown eatery where men were smoking water pipes of flavored tobacco. "When top commanders are killed in Syria, it means there is serious war going on."
The conflict is close to home for the Revolutionary Guard Corps, Iran's preeminent security force and also an economic powerhouse. Thousands of guardsmen, some in uniform, gathered Sunday for the general's funeral. Many raised their hands to touch Hamedani's flag-draped coffin as it was hoisted through the crowd.
A former Revolutionary Guard minister told mourners that the general had engaged in 80 "operations" in Syria, working out of bases in Damascus and Aleppo.
Many of the huge posters bearing Hamedani's likeness were probably produced on the grounds of the former U.S. Embassy, part of which houses a Revolutionary Guard print shop.
The general's career reflects the many roles of the Revolutionary Guard.
Hamedani was a mid-level commander who rose from humble origins and impressed superiors during the brutal eight-year "holy defense" conflict against neighboring Iraq that ended in 1988. More than two decades later, Hamedani oversaw the crackdown against street demonstrators disputing the results of the 2009 presidential election. In later interviews, Hamedani said he was proud of his role in thwarting "sedition," as Iran's leadership dubs the 2009 mass protests. The general appears to have been dispatched to Syria in the early days of the conflict, which erupted in 2011.
In Syria, Hamedani told his hometown paper in Hamedan, west of Tehran, that he was known as Abu Vahab, after his eldest son. The son was named after a Christian warrior, who, according to Shiite belief, converted to Islam and was killed, along with Imam Hussein, a central figure in Shiite doctrine, in a storied 7th century battle in Karbala, in what is now Iraq.
"The war in Syria is endless," the general told the interviewer. "But the government will not fall. If you consider the history of Syria, you will see that there was always war and bloodshed."