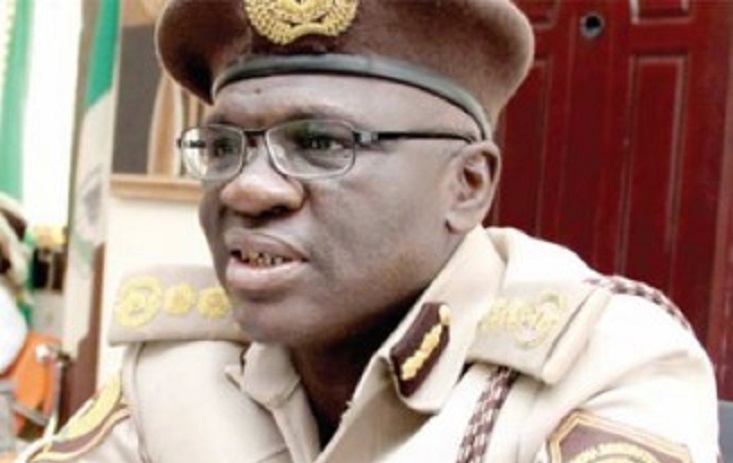 Officers and Personnel of the Nigerian Immigration Services (NIS) were thrown into jubilations yesterday at the national headquarters of the service, immediately the suspension news of their boss, David Parradang, was announced.
Investigations by some journalists who visited the Sauka, office of the agency early in the morning on Saturday to read the mood of the staff revealed that from the main gate to the offices, personnel and officers were seen in group cracking jokes, laughing on top their voices and shaking hands in support of the current issue.
A particular group in one of the conference rooms were seen singing in Hausa language "Ba su gudu, su gudu" meaning "he who want to run should run."
The NIS boss was suspended in a on Friday, in a statement signed by the Director of Press in the Ministry of Interior, Isiaka Yusuf and made available to Newsmen.
Mr. Parradang was asked to immediately proceed on suspension yesterday while the service's deputy comptroller general, Martin Kure Abeshi was directed to assume the reins of leadership.
Although no reason was advanced for his sudden suspension, reports that a chieftain of the Islamic State IS, Ahmed Al Assir was granted a Nigerian visa in Lebanon, may have prompted the action.
Al Assir was said to have been arrested at an airport in Lebanon while on his way to Nigeria through Egypt.
Reports however revealed that President Muhammadu Buhari has ordered a full investigation into the circumstances surrounding the issuance of visa to the wanted terrorist who has been on the global terror watch-list.
Other sins of the former Immigration boss were said to include his role in the botched Immigration recruitment last year which ended up in the death of over 20 job seekers, disrespectful to his boss, the former Interior Minister, Comrade Abba Moro among others.
Competent sources on Saturday told Newsmen at the agency's headquarters that problems of the CG was compounded by service spokesman, Chukwuemeka Obua, who was alleged to have stepped on toes in the name of defending the CG.
The source said : "Obua single handedly remove oga Parradang from as our CG. He has stepped on toes. He does not have regards for anybody and talk in an unprofessional way as an information manager."
54 total views, no views today