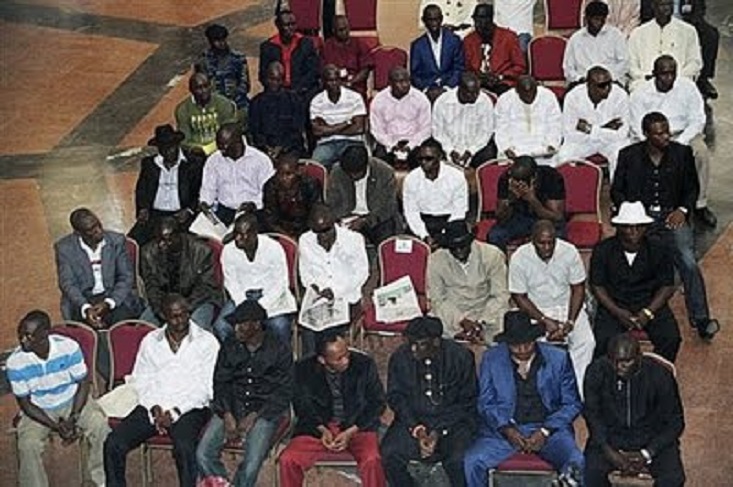 Christopher Uche, Yenagoa
 Niger Delta Elders and indigenes have cautioned against the alleged attempt by the Amnesty Committee to waste millions of dollars deposited with foreign institutions of learning for training of ex-militant youths from the region due to multiple breach of contracts.
According to the Elders, though the huge deposits were made to various institutions of learning between 2013 and 2014 by the Amnesty Committee with various degree of agreement on the deployment of the Ex-militant Youths for various training programme, the huge deposits made by the Amnesty Committee on behalf of the Federal Government is being threatened by the decision of the foreign institutions of learning to cancel the underwater and marine training programmes for the ex-Militant youths.
It was gathered that the concerned Parents and Kinsmen of the affected ex-militant Youths have started mobilizing along the creeks and waterways of the region with a threat to storm the Abuja office of the Amnesty Implementation Committee and protest the alleged continued delay by the Chairman, Brig. Gen. Paul Boro to commence payment of such fees and stop the cancellation order for the training of their youths.
While one of the Institutions,the CDA Technical Institute of the West Indies, through the Founder,Capt. Ray Black,sent a warning letter to the Amnesty Coordinator,Brig. Gen. Paul Boroh,on the decision to cancel the proposed underwater welding training to over 50 ex-militant youths after a non-refundable deposit of $473,814.00 USD ( N100 million) due to breech of contract.
According to some of the Amnesty Vendors,"the non-refundable fee was paid to CDA Technical Institute in July 2013 as tuition fees for the training of beneficiaries as IMCA / DCBC certified Underwater Welders. However, the amnesty office had for over 2 years refused to deploy the beneficiaries to commence training despite the availability of student visas and numerous documented requests for deployment from the institution and the Consultant. The institution claimed that both parties initially agreed in 2013 to train hundreds of students as IMCA / DCBC certified Underwater Welders ready for construction and oil and gas related employment opportunities in the Niger Delta region."
"This led the institution to invest over $1 million USD in expanding their training facilities and purchased more training equipments (Hyperbaric Chambers, Decompression Chambers, Medical Equipments, Diving and Welding Equipments etc.) as agreed by both parties. When contacted by our sources, the amnesty beneficiaries confirmed that all 100 beneficiaries were issued student visas and their tuition fees had been paid to the institution since July 2013. The 100 amnesty beneficiaries led by Mr. Ben Amangala accused the Amnesty office of suppressing consultant's files, sabotage, gross misconduct and incompetence."
"The institution confirmed that no further payments was required prior to the deployment of amnesty beneficiaries for training commencement and that the institution is disappointed at the non-compliance and multiple breaches of their agreements by the amnesty office.  The institution has commenced legal proceedings to cancel all training agreements with the Amnesty office on Sept. 15, 2015 and the forfeiture of $473,814.00 USD (est. N100 million). The Nigerian High Commission and the Ministry of Foreign Affairs has been notified of this development."
"CDA Technical Institute is an American, Canadian and Caribbean accredited Diving / Underwater Welding vocational training institution. CDA offers the International Marine Contractors Association (IMCA) and the Divers Certification Board of Canada (DCBC) certification to its trainees upon graduation, and these certifications are highly respected and required by the oil and gas industry for employment worldwide as Commercial Divers and Underwater Welders."