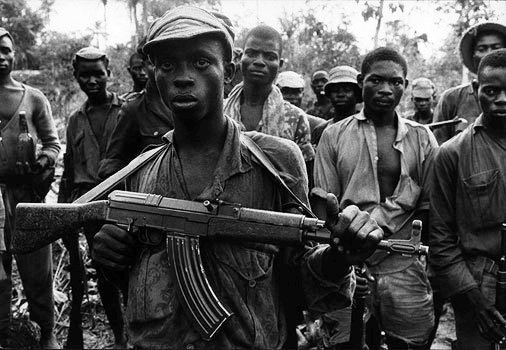 It was a Sunday or about that, on May 30th,1970, in Afor Ukwu , Ishiekeneshi, Orlu, providence of Biafra I saw the Biafran war came to an end.
It came amidst a crowd of hopeful  believers in God, worshiping and begging God to save us from the rashes and arms of Benjamin Adekunle, a Yoruba Nigerian  monster soldier, during the civil war rumored to be swimming his way into my home town, via Urashi river. We thought he would drown the few skeletons still struggling to breath that were in the church hoping God would perform his last act of justice- kill Gowon. Kill Awolowo. Kill Obasanjo. Kill Murtala Mohamed and make Benjamin Adekunle our next dinner and let our new nation, Biafra, be.
Loading ...
We were desperate to live or die defending Biafra, that day, in my town, if it was the only thing that would end the war in our favor.
We thought the church service that day was our last as living beings, because the Biafran refugees at Nkwere, had relocated to St. Philips , Umudim, and some heading to St. John , Okohia.
The plan was to avoid Holy Rosary and St. Anthony's primary schools in Isiekenesi,  because they are along a major road, linking my home to Uruala, another town about to fall or has fallen already into the heartless arms of the federal troops .
St. Philips and St. John were under thick withered  forest then and their roofs were covered with fresh leaves, which our remaining fathers had to renew weekly to make them look like fresh leafy tree tops. We needed the two schools saved so we can have a final resting place under a roof, should that day  be our last day alive.
Nigerian soldiers were recklessly bombing schools and market places all over ala Igbo suspected to be harboring some living beings especially women and children.
John Wash, the priest at St. Anthony, was  a highly passionate man, whom we knew as a God and mother figure for the way he dropped some dark brownish sweet oily thing in our dirty and dry and scaly palms. Some of us could not stretch any arms to receive the drops, and had to get their rations directly on their furry dry  tongues.
The oily thing I think was multivitamin syrup supposed to make us hungry so we can eat more, even when we had nothing to eat. Awolowo had already blocked food entry into Biafra .
We enjoyed the fun then watching Biafran soldiers recruited around and within town parading  on the sparsely greenish fields at St. Anthony about the year 1968 and 1969,  the last time I saw such.
That passion faded as soon as there were no more volunteers signing on to join the people's army , and conscriptions had no fishes around town to catch. All our young boys and men were already in battle fields and many did not last. Some in my age group that were taller were conscripted too. None made it home. They were too young to bear to witness death, fighting a war.
On the day, May 30, 1970, during the church service we thought would make Nigeria disappear, so we , Biafrans,  would enjoy our freedom, we saw a huge slowly moving big car, almost crawling on it's wheels instead, only two worn out tires were holding reluctantly on some twisted wheels. The van was said to be coming from Okigwe and reported to be carrying Biafran soldiers deployed to defend Orlu province about to fall  too.
No one was quite sure of the mission of the caravan. Some said it had captured Nigerian soldiers, and some feared it was Hawusa soldiers coming into town to take us. The least, but very eventual fear was Adekunle might have been on it. This was remote since most stories about that monster were related to how great he found water bodies as quickest access to Biafran babies, children and women and trees, dead or alive , to kill AGAIN.
The caravan, docked in front of Ishii post office, blocking our access to some malnourished sweets at the store owned by an Umuekekuba man, Alufuo.
It had soldiers heading nowhere for there was nowhere except Ishii that had not fallen in the hands of the federal troops in Orlu province.
We were little but old enough to understand Okoko Ndem, of Radio Biafra, or a voice that sounded like his,  boosting our morals that we, Igbos, Biafrans, can still be , despite the reality of having  no safe haven, not even in our wills,  to hide.  A lot of my age mates had lost their mothers to the war. The few men around were old and some crippled due to malnourishment and other diseases.
And all of a sudden came a radio voice we thought was that of the peoples' General, Ojukwu.  It was not.
It was rather that of Phillip Efiong, the second in command of the people's army, the Biafran army.
He told us to surrender and the people's army would too. That the war has ended. I did not hear him say Biafra lost.
I know we failed to win, as such, there would be no Biafra, the way the Igbos wanted it.
By this time and as early as the birth of Biafra, the new nation has become an entirely Igbo nation. Our brothers in Calabar, Ugwuocha, Onitsha Ugbo, Agbo, Umunede, Ogoja had  been brain washed to abandon the Biafran war mission on the side of Biafra , and most of them had joined the federal troops to squash the Biafran dream.
We did surrender to the federal troops, as commanded by Efiong, whom we believed was instructed to announce the surrender by our head of state, Gen. Dim,Odumegwu Ojukwu.
Right there , we realized there would be no further kwasiokor and naked and hungry Biafran soldiers fighting for survival without boots, foods and the few clubs, machetes and guns had gotten weary too.
The war ended and had spared me to live and do this, so Ayos, Ariyos, and Adekunles would not be let to say their side of the stories of the war, and ours too.
It ended quick enough so the few of us that made it alive,  can live to face another important aspect of the crises. That is to ensure, Biafra , now a state of the mind, for the Igbos, becomes a healthy chronic emotion.
The cherished church service in my home town , May 30th, 1970, and the mystery military caravan, Fr. John Wash are some of the events of the  late hours of the war in my town,  I can count as the beginning of Igbo struggles into survival following the  aborted "no Victor, no vanquished " project , Gowon promised entire Nigeria, Biafrans inclusive, in his own announcements following the end of the war.
That day ended Biafra, in my side of town, the way I witnessed it,  and marked the end of a struggle that took a lot of my people, worse being children and babies, mothers and women and the spirit that built Biafra, then a nation and now a state of the mind.
Today, a lot of survivors of all the carnage Igbos and Eastern Region, Nigeria, in the hands of Hawusa and Fulani cannibals, and the war too, seem to have moved on and reintegrated into Nigeria, and as always, helped to build her to to a higher and hopefully more inclusive level.
We shall, ( a lot in my age group and older) not see Awolowo, a Yoroba war Lord, and Adekunle,  the monster that took pride in shooting Biafan living, dead , live trees, dead trees, kids, and women alike on sight, because the saying, by Igbos that goes thus
" oke su iwe ya maka  ogbugbu e gburu ya anaghi ewute ya, ma nke ka agbaka ya ishi wu onye su gbaa ishi ya n'ala. ( a dead mouse complained he is not so much in beef with his killer, but with the person that suggested his head be smashed, when he is already dead ).
I see Awo' s role in the war plans and the £20 exchange for whatever an Igbo owned in any banks in Nigeria during and before the war, as an animalistic , non human policy.
Adekunle was a monster, and we never expected any better from his kinds.
Too sad, these two men, now dead, were prideful of their roles in the war. They were Yorobas.
–
Dan Akusobi.
May 30th. 2015.