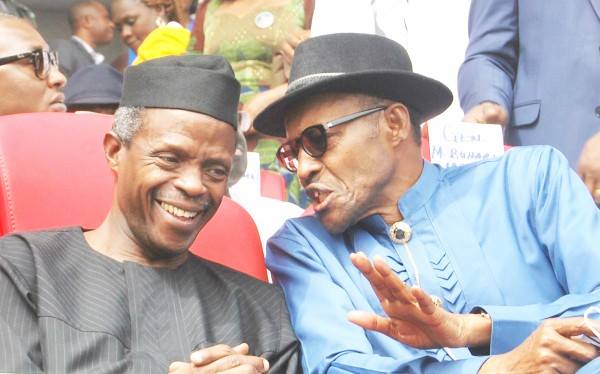 This week, we shall conclude our analysis of the pattern of voting in the last presidential election that blatantly denied GMB a Pan-Nigerian mandate, with the remaining two geo-political zones, North East and North West. Thereafter, we shall remind GMB of the check-list of his many promises to Nigerians.
NORTH EAST
In the North East geopolitical zone, GMB had carted home 3,624,919 in 2011, a figure that depleted to 1,832,622 in the 2015 election. GEJ on the other hand, had lost NE to GMB in 2011 when he garnered 2,848,678, a figure that drastically plummeted to 796,588 in the just concluded election, no thanks to Boko Haram, Chibok girls, IDP, PDP implosion, etc. GMB won five of the six states, leaving GEJ with only Taraba. The percentage shows GEJ's poor performance: Adamawa – GMB (52.7%), GEJ (35.4%); Bauchi – GMB (91.3%), GEJ (8.6%); Borno – GMB (94.3%), GEJ (5.1%); Gombe – GMB (78.4%), GEJ (18.7%); Taraba – GMB (45%), GEJ (53.6%); Yobe – GMB (85.7%), GEJ (4.9%).
The above results show that some sitting governors in states like Niger, Bauchi, Jigawa, Katsina, Kaduna, Adamawa, Kogi and Benue were beaten black and blue, in their own states, some even shamelessly losing their senatorial seat aspirations. For emphasis, GMB took five of six states in the North East. The result confirms the rumour before the election that some of the governors of the Northern geopolitical zones were secretly working for "their own" GMB, even though they belonged to GEJ's party. Can GMB use the APC broom to sweep under the carpet, those numerous voters who rejected him here? He dares not.
NORTH WEST
GMB's strongest base as expected was the North West, where he hails from. A predominantly Muslim, Hausa-Fulani region, these geopolitical zones clearly underlined the politics of religion and ethnicity that bedevilled the last election, in the same measure that South South and South East exemplified these in favour of GEJ. GMB walked away with victory in all six states of the zone, leaving Jonathan to pick 25% in only one, Kaduna. GMB made his largest haul of votes here, which firmly sealed to the coffin of GEJ's ambition to retain his seat.
Let's do some mathematics: Jigawa – GMB (85.3%), GEJ (13.7%); Kaduna – GMB (64.5%), GEJ (27.7%); Katsina – GMB (92.8%), GEJ (6.8%); Kebbi – GMB (83.8%), GEJ (14.9%); Sokoto – GMB (80.5%), GEJ (18.2%); Zamfara – GMB (80.4%), GEJ (19%).
In 2011 GMB had hauled 6,453,437, a figure he upped in 2015 to 7,115,199.This figure is about half his total votes across the entire country! From only one out of six geopolitical zones! GEJ, on the other hand, garnered 3,395,724 in 2011, a figure which abysmally depleted to 1,333,709, in 2015.
From the above results, GEJ, more than in any other geopolitical zone, actually lost the election in GMB's South West home turf, a clear indication that religion and ethnicity played a major role in the election. But, can GMB afford to be president of North West and parts of North East geopolitical zones alone? No. He dares not.
ALL RESULTS ADDED:
THE EMERGING SCENARIO OF A FRACTURED COUNTRY
With all these results added, we are faced with the grim picture of a gravely fractured country, wearing the hideous visage of a sorry country yearning for nationhood. It means that absolutely more than half of Nigerian voters rejected GMB in the election. The margin of 2,571,759 votes with which GMB defeated GEJ, pales into infinitesimal insignificance when compared with the humungous 10,280,334 votes with which Jonathan humbled Buhari in 2011.
THE VOTING SPREAD
Noticeably, both President Jonathan and President-elect Buhari, had each scored the mandatory 25% in at least 24 of Nigeria's 36 states and FCT, Abuja, to satisfy the Constitutional requirement. Buhari however coasted home with a plurality or majority of votes. Significantly, GEJ, the loser, had 25% in 27 states, while GMB, the winner, also had 25% in 27 states of the Federation, the same as GEJ. This is a very dicey situation of the same six and half a dozen, the same Hamlet and the Prince of Denmark. More interesting is the fact that in the remaining states that both candidates lost, GMB, the winner, had 10%  and above in only one state (Imo), while GEJ, the loser, scored 10% and above in seven states (Kano, Jigawa, Gombe, Zamfara, Kebbi, Kaduna and Sokoto states), showing clearly, more acceptance of GEJ in the North, than of Buhari in the South. Do you now see why he needs to work very hard in bridging this alarmingly yawning divide?
In 2015 of GMB's 15,424,921 votes, he made a total haul of  12, 228, 491 votes in the North alone, comprising of 19 states, which is well over two-third of his entire votes in the country. This also means that he only got a pitiable 3,196,430 votes in the entire South comprising of 17 states. This is even less than one- quarter of his total votes in the country. Indeed, GMB got half of his entire votes in the country from only 7 states of the North West alone, leaving the other half for the remaining 29 states across Nigeria, and FCT. This is not good enough, as it casts him in the unflattering mould of a sectional leader. GEJ won seven states in the North in 2011, a feat that plummeted to only three states in 2015 (Taraba, Plateau and Nassarawa). Thus, even with his abysmal performance in the North in 2015, GEJ still managed to have more spread as he penetrated the North (Taraba, Plateau and Nassarawa in the North East and North Central); while GMB could not penetrate anywhere in the entire South South and South East at all. Remember he shared North West with GEJ on a ratio, of at best, 60-40%. GMB, in the 2015 election, won in 21 states (16 in the North, 5 in the South West and none in the South South and South East at all). GEJ, on the other hand, won 15 states (11 in the South East and South South, one in the South West and three in the North. Can you now see what I term the lack of a Pan Nigerian mandate by GMB in the  last Presidential election?.
THE PROVERBIAL BANANA PEEL
Nigerians are very impatient people, having been short-changed again and again, by successive governments, whether civilian or military. Ask GEJ how he frittered away the overwhelmingly massive love, goodwill and support that Nigerians bestowed on him in the 2011 election, with just one stroke of an ill-advised action – the removal of oil subsidy in January, 2012 – barely seven months after he was sworn in as president. He was never thereafter allowed any breathing space, or even a honeymoon period, to romanticise his victory. Many Nigerians never forgave him, for that faux pas, parapraxis and blooper. That same proverbial banana peel is still there, in Aso Villa, lurking around GMB. Can he avoid it? Only time and his actions will tell.
CHECKLIST OF BUHARI'S PROMISES DURING AND AFTER
HIS ELECTIONEERING CAMPAIGNS
On marble like the code of Hammurabi, and recorded by Nigerians, during his electioneering campaigns, after he was declared President-elect, are the following promises made by Buhari and his campaign team, amongst others:
Every youth Corper will be paid a stipend for a year after NYSC, until they are gainfully employed.
Will pay N5000 to 25 Million poor Nigerians, or most vulnerable citizens, over a phased period of time, … 5 Million people every year (this will amount to N1.35 trillion naira if paid at once).
The exchange rate of the Naira will be 1 Naira to 1 dollar a promise APC has since denied was ever made by GMB.
Chibok girls will be rescued after he is sworn in.
He will end Boko Haram insurgency during his Presidency, leading from the front, as a General.
There will be stability of crude oil price.
There will be no more importation of petroleum products within a year of his presidency, for all refineries will be producing at full capacity, whilst new ones will be built.
There will be free tuition in all Federal Universities and Polytechnics for all Nigerians.
Teachers in the country's public schools will get free tertiary education from May, 29.
One free meal per day for each school pupil across Nigeria.
No known corrupt person will be appointed into his Government.
He shall end corruption in Nigeria.
Petrol will sell for 45 naira per litre, and Kerosene, 30 naira per litre – this was promised by his acolytes, not by him as a person.
There will be provision of better and modern trains in Nigeria.
Electricity will be stable in Nigeria.
Prospect for oil in the Chad Basin and transfer of water from Central African Republic to boost fishing and irrigation.
More, more and more.
Nigerians are keeping this check-list for future close scrutiny on deliverance.