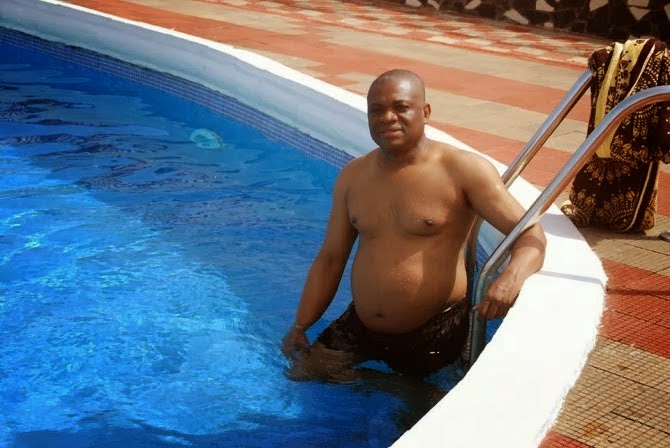 Caution and decorum, attributes that are expected of former Governors were cast to the wind like tempests on page A4 of the Vanguard, Monday March 16thand page 49, of The Sun on Wednesday 17th March, 2015. These acts confirmed the fact that Kalu, the accidental former governor of Abia State is an irredeemable liar. In his words on the Vanguard, 'I did not vote, they caged me into my house with four Armored Personnel Carriers.'
When asked if this will not happen again, he boasted, 'it will not, our people will burn down the state. We are ready for them; we are not going to take it from anybody. The governor cannot try it. If he tries, it will be the end of his administration. Because I have left him for too long….'
As against these spurious claims and empty boasts, Kalu voted in booth 006, in Igbere in 2011 and thereafter granted an interview to journalists numbering over five, representing Vanguard, the Nation, Daily Independent and more. To his claims that 4 APCs were mounted in front of his house, how many tanks are there in the military installations in Abia as to position four of them in Igbere?
It is very unfortunate that Kalu has nothing else for Abia youths except lies and lies. Recall Kalu's lies of having been re-registered as a PDP member where he quoted a dubious card number. This was borne in a release signed by his Media Assistant, Salvator Amadi:  the ex-governor returned to the party on January 16, 2013 and was issued membership card number 9787945 in his ward A in Igbere, Bende Local Government Area.
Recall too, his claims of a waiver to contest on the platform of the PDP for Senate. In another situation, Kalu feigned knowledge of a conscious Senatorial PPA candidacy and blamed his registration in PPA for senate on an errant aide? Now in the Vanguard, Kalu admitted contesting for Senate in PPA where he intends to bring changes in the Senate.
Could kalu give what he doesn't have? His infamous legislative experience was very short-lived- an experiment in the military era that would be too much of a risk to allow Kalu such a chance now. While governor in Abia, he was a truant- only arriving when the monthly allocation was available. What does Kalu know about debates, analytical arguments and sequence to make legislative contributions in Abuja? Kalu at best could be a speculator as he neither reads nor allows true dialogues.
We said it to all who could listen that Kalu was only insistent to join the PDP as to cause chaos, a situation where he thrives like the native doctors do in turmoil. When Kalu presented his forged re-entry into PDP in Igbere, Abia stakeholders stormed Abuja for which Kalu pelted them with invectives. That Kalu can't be tired of lies and deceit is baffling to sane people who keep wondering how a former Gov. cannot kick such embarrassing habits. One of Abia leaders said it that Kalu was a virus who only would infect the party Ochendo has stabilized but many thought it was a joke, now Orji Uzor Kalu has shown his true colours of unbridled mendacity and duplicity.
When Orji Uzor Kalu wrote in his column on the Sun of Saturday March 14th, he claimed that most of the Ochendo legacy projects were drainpipes. Kalu on air at AIT denied that there were projects. He has constantly written in his blackmail page that he calls Leadership series and insinuated in the past that there are no projects. Now he has admitted that there are projects but refurbished projects. More lies from the spin master.
People have always asked kalu to point at one project he did but none can be seen. In truth, Abia people should know that Kalu is Abia public enemy No1. All he wants are that these goodies of Ochendo administration shouldn't have been. The funds that converted to Hospitals, Diagnostic centers, International Conference centre, E-Library and others should have ended in his pockets and added to his dirty bank accounts.
The world is watching and many people know the history of these projects. These are available because ministers of the Federal Republic of Nigeria came physically to lay the foundation stones of many like the BCA, ASUBEB and ASEPA Houses, the International Conference Centre and others. Dr Adesina, Hon Minister for Agric, and former Ministers Labaran Maku and Dr Onyebuchi Chukwu were in Abia to lay the foundation stones of ASUBEB, JAAC, BCA and ASEPA Houses built by the Governor from the scratch. Or is it the new markets which Kalu through his agents dissuaded the traders from occupying. What does Kalu need to gain from all these cocktail of lies?
Kalu spent 8 years of waste and plunder in Abia and not even any meaningful project to show for it. That Ochendo is building and contracting is worth celebrating but, Kalu doesn't want the world to know the difference therefore his quantum lies to cover up and diminish.
The tragedy of Kalu's doings is that he has no integrity. Whether he tells 1000 lies does not mean anything to him. Like the fairies in Macbeth, fair is foul and foul is fair. Lies and truth don't make any difference if you employ the OUK dictum.
His threats to burn down Abia in 2015 elections give credence to the accusations that he is the mastermind of many crimes in Abia. Except the government of Abia ignores him, he is as good as a treasonable felon. Let the truth be told that Orji Uzor Kalu is at the end of his political games. None can trust him even the people he is holding nocturnal meetings with. As a self-acclaimed master strategist, he now targets estranged PDP politicians and promises to help them but they too know that Kalu is politically down and just as he could not make the senate in 2011, now rejected by Abia PDP, his next ploy is to forge a PPA/APC/ APGA alliance as to regain his indirect rule through an APGA gubernatorial. A note of warning to any who will be careless to take him seriously: remember his Nzuko Ndi Igbo project, Igbo Presidency and many others that have all turned out to be big time hoaxes.
–
Hilda Ifeoma Ifegwu writes from Umuahia, Abia State.