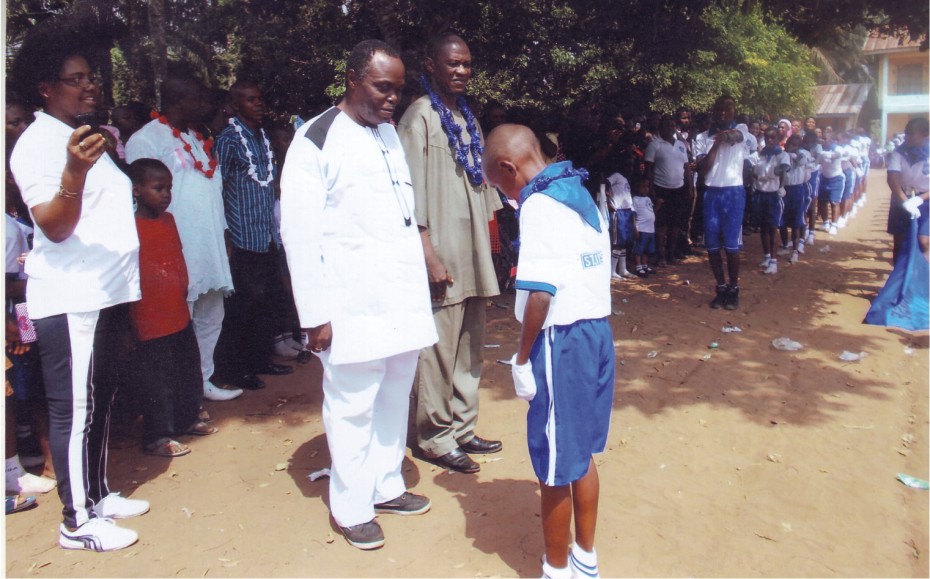 This is not the best of time for primary and secondary school pupils and students in Imo State as teachers recruited under Governor Rochas Okorocha's Youth Must Work programme have abandoned the students over non-payment of their monthly salaries for seven months.
After sacking more than 5000 teachers employed by his predecessor in 2011, Governor Okorocha had through the newly established Community Government Council, CGC, recruited about 7000 primary and secondary school teachers in November 2013 with monthly salary of N20,000 to each of the teachers.
He also promised to make their job permanent after six months probation.
But, investigations revealed that 15 months later, the teachers are still under probation and their N20,000 salaries stopped while they are still teaching.
A visit to some of the schools across the state showed that only principals and vice principals or head teachers were in schools and sometimes they came to schools once a week.
When  our reporter visited secondary and primary schools in Umuapu in Ohaji Egbema LGA, Amaraku, Amaigbo and Abba in Nwangele LGA, Omuma and Amiri in Oru East LGA and others, it was shocking to note that most of the teachers employed by the governor to replace those he sacked in 2011 were no longer motivated to work.
In some of the schools where teachers still came to school, some of them who spoke to our reporter lamented that their salaries were stopped since August 2014 and that they were being owed about seven months.
One of them who identified himself as Ozodi told our reporter that the situation had become so unbearable for him because he left his fairly-paid job at MTN and joined the teaching job because it came from the state government.
According to Ozodi who was posted to teach at Technical Secondary School, Omuma in Oru East council area of the state, "Before I returned to join in the teaching job, I was being paid N30,000 at MTN. But, I left it to join this teaching job because the MTN job doesn't have security and moreover I have a degree in education. So, because of this as well as the promises made to us by Governor Rochas Okorocha that the job will be a permanent one, I left the job I was doing before".
He lamented that instead of satisfying job opportunity "the governor is now making people like us to regret losing our jobs to come home and work in the state. He promised to make our job permanent. This is one year and three months, nothing has been heard from him. The worst is that he stopped the payment since more than six months now. This is a man who showed us on national TV that he has given us jobs and up till now the job is not defined and money is not being paid to us. I have finished all my savings working for Governor Okorocha as a teacher and yet I don't get paid for it".
Another teacher who identified herself as Amaka told our reporter that she resigned from her job from a private secondary school "only to behold this kind of wickedness from our own governor.
Amaka who teaches at Amaraku Secondary School in Isiala Mbano LGA "The governor scored a huge political point when he engaged us as teachers because many people in my community still don't believe that he is not paying us. I don't know why he should treat us like this knowing the importance of the kind of job we do".
Also in Nwangele LGA, Chioma who is teaching at Abba Central School Abba, lamented that since their stipends were stopped last August, "my husband has refused to be giving me transport money to school and I only go to school once in a week. As I'm talking to you now, I am seriously looking for a job. This man called Rochas has destroy the trust we used to have in government before now and it is rather unfortunate".
The teachers therefore called on Governor Okorocha to hasten to pay them their seven months stipend rather than trying to use them for election.
It was gathered that most of the schools, like Central School, Egwedu Atta, Technical Secondary School, Amucha both in Njaba LGA, have only headmasters or principals without teachers as the teachers employed between 2007 and 2011 were sacked by Okorocha.
When our reporter contacted the state commissioner for Youths and Sports, Kenneth Emelu, whose ministry is in charge of Youths Must Work programme, his personal assistant, Comrade Stanley Duruanyim told our reporter to go to Ministry of Education for enquiries.
He explained that his ministry is not in charge of teachers but youths engaged to work in different ministries and local government areas.
Our reporter also went to the Secondary Education Management Board, SEMB, but was told by the public relations officer of the board who refused to disclose her identity that the board did not recruit anybody to teach in any school in the state.
She directed the reporter to go to the ministry of Community Government and Chieftaincy Affairs, which she said was the people that employed the teachers.
However when our reporter called the PRO of the ministry of Community Government and Chieftaincy Affairs, one Mr. Blessing, he also directed the reporter to go the ministry of education and state universal education management board, SUBEB.