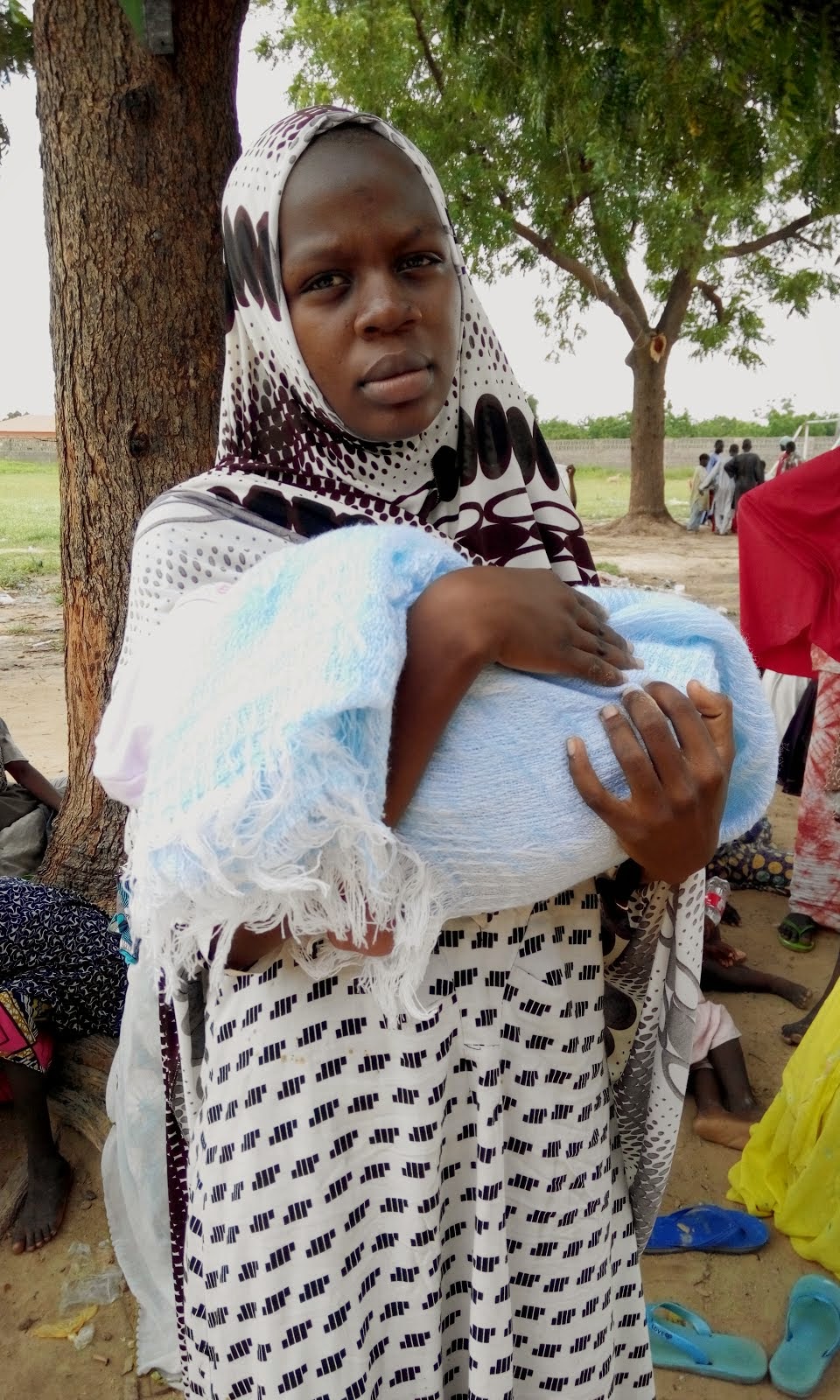 With the town of Bama in Borno State becoming too hot for the Nigerian soldiers to handle, the outlawed Boko Haram sect has finally taken charge of the place, placing the residents in untold hardship, as they exercise unrestrained control over their lives through imposition of Sharia laws and control of prisons and other detention camps where offenders are sentenced. Kareem Haruna, Maiduguri, writes
Sad stories of events and happenings in the ancient town of Bama, known for its striving business before the ungodly advent of the Boko Haram insurgency, continue to jolt the minds of peace-loving people world over, as northern Nigeria has suddenly become a theatre of war and terror.
Aishatu Awari fled her ancestral home, Bama, some three weeks back to get away from the cruelty of Boko Haram insurgents who hitherto maintain their conquest of the commercial town. Though she was lucky to have escaped, she however could not celebrate her luck because her four-month-old baby got misplaced on the way.
Her sad story began when she and her children were fleeing through the bushes in the dead of the night; and to make it easier for all of them, she handed over her infant, wrapped in thick clothes, to her 13-year-old daughter, while she backed another three-year-old son and held unto two others as they ran through the bushes.
Her reasoning was that the 13-year-old girl would manage the weight of the four-month-old baby while they tore through the bushes in the dark of the night towards Maiduguri.
But along the way, due to fatigue and perhaps famished condition, the little girl did not notice that the baby had slipped off the wrapper until they eventually arrived Maiduguri.
"She never knew her four-month-old baby had fallen off the hands of her little girl until when they got to Maiduguri. And when she wanted to breastfeed him, that was when they realised that all the girl was carrying was an empty cloth," said a female IDP that spoke on behalf of Aishatu, who could barely utter a word when asked about her ordeal.
Efforts to retrace their steps to find the baby proved futile, because no one could tell the exact way they followed to get to Maiduguri from Bama.
Aishatu's ordeal describes the depth of human suffering that hapless residents of Bama, trapped inside the conquered town, are experiencing under the tough rule of their conquerors, the Boko Haram.
It was indeed a torture that would force a mother to flee without noticing that the baby strapped on her daughter's back had fallen off.
For about two months now, the town of Bama, headquarters of Bama local government area of Borno State, has been in the stranglehold of the Boko Haram terrorists, who now enforce skewed Sharia rule upon trapped residents.
Many residents and people of Bama who were lucky to have escaped believe the Nigerian government and its military may have practically forgotten about the plight of those trapped inside the seized town, even as they continued to languish in the limbo of Boko Haram's cruelty.
In Bama, there are two options for the residents; it is either they declare loyalty and support for the Boko Haram sect, or be sentenced to jail in the hijacked facilities of the Nigerian prisons in the town.
Our sources said those who showed resistance while being hauled into the gaol were summarily executed.
"They said our blood remains legitimate for shedding as long as we don't back their cause and take part in all their activities, including taking guns and attacking people," said Alhaji Kyari Modu, a young business merchant now in one of the IDP camps in Maiduguri.
While hundreds of men are being locked up in the prison facilities in the captured town, the Boko Haram sect, while complying with the Sharia rule that emphasises separation of male and women in public places, has decided to convert some big houses belonging to Bama well-to-do residents into an extension of their prisons and rehabilitation centres, where the females are kept.
According to Modu, the Boko Haram terrorists in Bama would select younger women and girls and lock them up in some big houses in the guise of teaching them the Islamic etiquettes and basic knowledge of the Quran.
"Boko Haram members are seizing people's wives and young girls, and keeping them in big houses which they have turned into detention centres," Modu said.
"They would keep them there in the pretext that they wanted to teach them the Holy Quran. The men would be caught and locked up in the prisons. Some of the older women are the ones they don't arrest, and people usually give them money to secure their release and then sneak them out at night. But no one dares to go out during the daytime. If they are caught, they would be killed, both men and women," he added.
A top Borno State civil servant, who pleaded anonymity in order to safeguard the rest of his family members still held in Bama town, said he had lost contact with his wife and children for over 50 days since the insurgents captured the town.
He said his wife and children were detained in Bama prison for weeks until he had to cough out N25,000 as bail fee to secure their release.
"Though my wife has finally regained her freedom after I had paid for her bail, three of my children are still in Bama. It was like a dream, when I finally saw my wife. All these days, I have been living in anguish," he narrated.
On how he got his wife released, the civil servant said, "A certain woman told me that my family members were still alive. She assured that if I gave N25,000 ($150) to the insurgents, they would release my wife. I gave it a trial and just like a joke, she brought my wife to Maiduguri. The woman said that that was the fee people paid to get released from Boko Haram prison."
A woman who also escaped Bama and arrived Maiduguri on foot said there are thousands of people still living in Bama, and they could not escape because Boko Haram members have placed stringent laws and punishment on arrested escapees.
"The Bama Prison has been taken over by the Boko Haram insurgents, and they have kept hundreds of people there," said the mid-age woman, who said her name was Amina Bukar.
She said due to the large number of persons being detained after brief trials in the Boko Haram courts, even the Bama prison facilities could not accommodate inmates, hence the insurgents have converted some of the bigger houses, deserted by their owners, into makeshift prisons.
"Many big houses are also being used as detention cells by the insurgents. In a day, they give beans, palm oil and salt for each house where people are kept prisoners. They have broken all the shops in Bama and carted away the contents. About a month ago, a measure of rice (enough to feed four people) was sold at N1,000, and when the one in stores finished, the selling stops. Water is very scarce; sometimes, you stay in the queue for 24 hours," she said.
Amina said after she had managed to escape at night, she could not navigate her way to Maiduguri as she had to wander in the bush for five days before she finally got to Maiduguri.
Though she was silent about what exactly the women and young girls being housed in the "big houses" go through, Amina was in tears when she voiced that, "for them to be selecting younger girls and women and leaving we, the old ones, behind suggests that they had evil intention towards them; only God will help them."
At the IDP's camps, sights of men whose families are still trapped in Bama immediately elicit pity, as most of them were seen with long, moody faces as they brooded over what would become of their wives, daughters and sons.
A male IDP, who would not want to be named for security concerns, said he still could not account for his three children. "Three of them are teenagers, and one among them is a girl of marriage age," he lamented, saying further that, "I have asked many people that escaped from Bama, but no one has given me a word about them. I learnt that Boko Haram members are forcing young men to carry guns and join them. I pray my children are not among."
–
Source: http://www.echoesinn.blogspot.com/2014/11/inside-story-of-boko-harams-reign-in.html?m=1