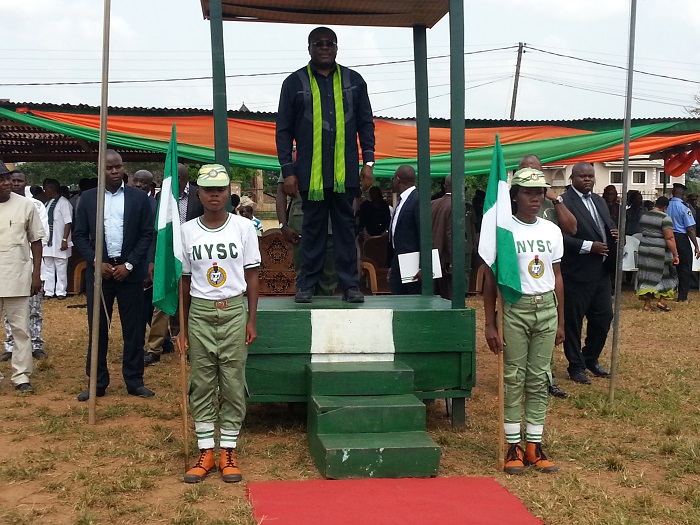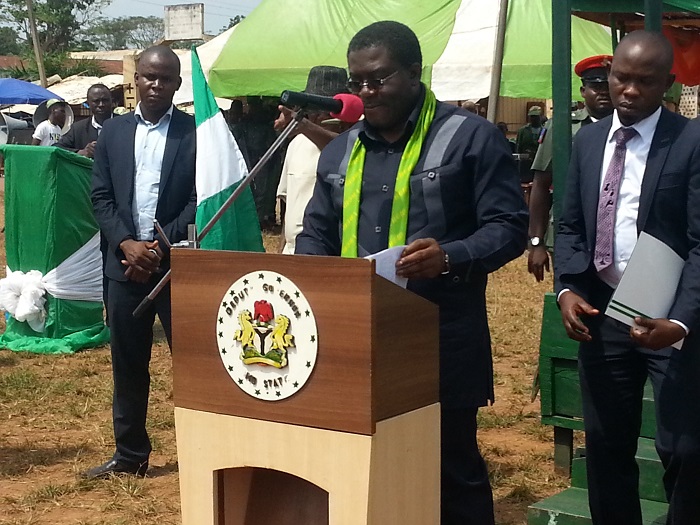 –          Advises Them On National Unity 
The Deputy Governor of Imo State, Prince Eze Madumere has urged National Youths Service Corps members that have just completed their three weeks primary orientation programme yesterday to be good ambassadors and to also exhibit characters that would project them as good citizens of the country.
Addressing the Corps members shortly after their orientation close ceremony parade at the Orientation Camp, Umudi, Nkwerre Local Government of Imo State, the number two citizen of Imo State who said he represented Governor Okorocha of Imo State commended them for their perseverance throughout the period of tedious and strenuous training.
He reminded them of the aims and objective of the NYSC scheme, which he said is to foster and promote unity in diversity. He therefore encouraged them to intermingle with the people of the community they will be posted to enable them learn their folkways and traditions. He also requested of them to look out for their challenges and share in them while proffering solutions where necessary.
Continuing, he urged the Corps members to go about their business of service to fatherland freely while enjoying the hospitable tradition of Imo people, which has rather been redefined under Owelle Rochas Okorocha led rescue Mission Administration.
The Nation newspaper's one of the Most Outstanding Deputy Governors in Nigeria enumerated the monumental achievements of Governor of Imo State, Owelle Anayo Rochas Okorocha among, which the    National Youths Service Corps Camp buildings is inclusive with its connection to National grid.
He described Governor Okorocha as a great leader who remains the foremost educationist and Senior Advocate of the masses whose feat is unequal within three years in office.
Speaking further, Prince Madumere advised the Batch 'C' Corps members to take advantages inherent in Internet and Social media in terms of research and information gathering, the negative aspect he pointed out and warned them to jettison unlike mischief makers who use it for the condemnable antics.
Prince Madumere therefore reiterated the assurance of continual improvement in creating conducive atmosphere for the Corps members in the course of their service as he urged them to put in their best. He also challenged them to be the best they could be as those who distinguished themselves shall be handsomely rewarded according to the tradition of Imo State government.
Okwuaku Anslem
For: SA (Media) to the Deputy Governor
Imo State