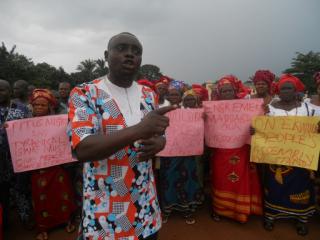 By Ebere Suzy
 
 
 
Over four hundred peoples made up of women and men as well as youths from the 9 villages of Ekwulobia in Aguata local government area of Anambra were seen on Monday carrying placards, staged on peaceful protest against the leadership of the Traditional ruler of Ekwulobia, Igwe Emmanuel Onyeneke, an engineer who retired from PHCN and one Chief Titus Anagbogu, the former Transition committee Chairman of Aguata local government area.
 
Some of the placards read: ''No to tyrannical Igwe''; ''On Ekwuloba Peoples Assembly we stand''; Titus Anagbogu and Igwe Onyeneke must give peace a chance''; ''We have right to elect our leaders please Igwe'' ;  Engr Emeka Maduabuchi is our President general''; ''Stop dividing and rule Igwe''; '' We stand on EPU Leadership we elected ''; Rule of law must reign supreme in Ekwulobia'' ; Igwe Onyeneke mind tradition ''; Democracy is our message''; We say no to undemocratic leadership''among numerous others.

 
It was gathered that if not for the intervention of the National Vice President Ekwulobia Peoples Assembly, Mr Onyebuchi Igbokwe and some leaders of the villages, the protest would have gone violent as the protesters were held at Okpo Primary School premises where they gathered to embark to Awka to protest to Governor Willie Obiano at the government house.  
 
According toone of the protesters who pleaded anonymity said they elected Onyeneke as Igwe of Ekwulobia and would want him to remain the ruler but should stop interfering in the town union leadership and villager leaders as well as all organizations and unions in Ekwulobia or face the wrath of the community who in the first place elected him.
 
He said they have sent their petition to Governor of Anambra State, Chief Willie Obiano led government asking for intervention and pleaded of him to set up a judicial panel of Inquiry into what is happening in Ekwulobia and interface for peace and unity to reign before intra community wrangling would tear the community apart.
 
He added that they have written enough letters and made enough submissions about the high handedness and autocracy going on in their community to warrant intervention before it turns to war.
 
When contacted the Community leader of Ekwulobia,  Igwe Emmanuel Onyeneke,  he said he would not join issues with any illegal union even as he dismissed the allegations leveled against him and insisted not speak about all the issues raised by the body not known to him.  
 
Onyeneke noted that Ekwulobia People's Assembly stopped existing since January 2013 and was replaced with Ekwulobia Development Union that even government is aware of what he is saying and every community has its own fair of crisis.
 
Reaching the Former Transition committee chairman of Aguata, Chief Titus Anigbogu on phone, undo he was not picking his calls but later sent a text that he was in a Cinema of which he later called after reading the reply of text from this reporters, dismissing the allegations and wondered how he can be deceiving a retired Deputy General Manager Engineering PHCN, describing those making the allegations as rascals who have lost focus. 
 
Anigbogu said that Ekwulobia has nothing in common and it can never be true that he is fighting his people thereby denied never taking the community to court or that the judgment of the court is being flouted by him, dismissing all the allegations against him by the community.
 
Anigbogu said:  '' That I am deceiving a retired Deputy General Manager PHCN, who retired after 35 years of service? They are some rascals in  Ekwulobia motor park talk.  Don't mind them because they are not saying he truth. They are some recalcitrant's and I am not quarreling with any of them and it is not true please''.
 
Shortly after the protest, the Umuada Ekwulobia led by their President Mrs Ngozi Obeke prayed for Igwe Emmanuel Onyeneke who they contributed immensely for his elevation as Igwe Ekwulobia to repent and work for the community and leave those deceiving him for their selfish interest to work for Ekwulobia community's interest.
 
Addressing Ekwulobia Peoples Assembly,  Obeke reminded them that they have no problems with Igwe Onyeneke as their traditional ruler but that they have problems with his obnoxious leadership styles as he has imposed levies and contributions on them when giving out their daughters in marriage which according to her is outrageous and uncalled for.
 
She alleged that Igwe was dictating for them on how to run their affairs which is undemocratic and has committed actions best referred as abominations against the women of Ekwulobia but encouraged him to turn a new leaf now and earn their respect.

She queried why they should give out their daughters hands in marriage for N1,000.00 and give the palace N300.00  among others. She further encouraged Igwe to allow the Ekwulobia Peoples Assembly function properly as the legitimate leadership of the community warning that the children of Ekwulobia born and unborn won't be slaves in their land.
 
But for the Chairmen of 9 villages including Igwe's village Ula, Nze Chukwuma Udoh who was even Igwe's election committee campaign chairman ; Umuchi Village-Anslem Ezenwankwo; Okpo Village Hon Christopher Ezekwe  and representative of Umuchiana village, as well as Iruokpala Nze Samuel Eze, their problem with the Igwe was his interference with leadership of the Town union who were equally elected like himself to pilot the affairs of the community.
 
She asked him to leave the leadership of the town union alone and think of the progress of the community rather than their selfish interest with those alleged as enemies of the community patrimony.
 
 
Earlier , Pastor Chukwudozie Okonkwo of the Holy Ghost Outreach Nnewi, from Okpo village who held the protesters from entering the vehicles they hired to head to Awka after protesting round their communities lamented that he was disappointed by the developments in Ekwulbia as they elected Igwe Onyeneke to set the pace in Anambra state Igweship but he has exhibited allegedly undemocratic and tyrannical traits against the development and progress of Ekwulobia lamenting that he has allowed some people to deceive him into selling the common patrimony of Ekwulobia allegedly.   
 
Mrs Louisa Ezeokoye of Umuchi village lamented that they as old women who own market now pay up to N1,000.00 to sell their little goods in the market and prayed for peace to return to Ekwulobia for them to enjoy the privileges they enjoyed as old women from Ekwulobia from the common patrimony of the town.