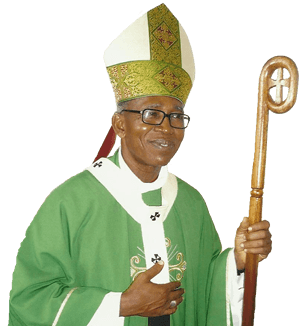 …says Buhari's outburst on Boko Haram belated
Archbishop Anthony Obinna of the Owerri Catholic Archdiocese has warned that failure of the people of Imo State to vote wisely in 2015 governorship election in the state will amount to giving the Boko Haram insurgents free entrance to the state.
Speaking today during the dedication of a foremost Catholic Parish in the Igboland, Our Lady of Mount Carmel Parish, Emekuku in Owerri North Local Government Area of Imo State, Archbishop Obinna(who was apparently referring to Governor Rochas Okoroch's APC) stated that the people must vote wisely to avoid Boko Haram in the state.
Obinna expressed regrets that Imo had fallen far behind in education where they used to be in first position because of lack of visionary leadership.
"Look at what Peter Obi did in Anambra State before he left office. In just two years of concentrating efforts in education, Anambra is now topping Imo in Education. Obi recognized the efforts of the church and assisted it immensely. They are greater than us in wealth and riches and now they have overtaken Imo in education", he said.
He prayed that whoever emerges governor of Imo State in 2015 would take care of private and mission schools, adding that the state needs governance that would appreciate the work of the church.
The Archbishop used the opportunity to inform the faithful that the church had concluded plans to build a Catholic University in the state and urged them to continue to make contributions for its building.
He described Gen. Muhammadu Burari's recent outburst against Boko Haram insurgents in the North East as belated.
It would be recalled that Buhari had last Wednesday described Boko Haram men as mindless bigots who are not followers of God in reaction to the kidnap of the over 200 students of Girls Secondary School Chibok, Borno State by the insurgents
But Archbishop Obinna said Buhari's comments came because all well meaning people of the world including the Organization of Islamic Countries, OIC, have risen in condemnation of the insurgents' act.
The prelate maintained that the comment was meant to get people's sympathy for his 2015 election bid, if not "why has he not condemned the terrorists' act all these years?"