(WASHINGTON) — President Obama called the leaders of Latvia, Estonia and Lithuania on Saturday to reaffirm the U.S.' "unwavering commitment to our collective defense commitments under the North Atlantic Treaty" in connection with recent Russian action in Ukraine.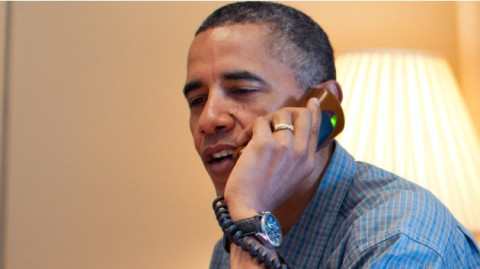 Obama spoke with Presidents Andris Berzins of Latvia, Dalia Grybauskaite of Lithuania and Toomas Ilves of Estonia on a conference call. The three agreed on the need for Russia to withdraw its troops from the Crimea region of Ukraine, allow international observers to enter the region and begin direct discussions with leadership in Kiev to de-escalate the situation.
Obama, spending the weekend in Florida with his family, also spoke with President Francois Hollande of France, Prime Minister David Cameron of the United Kingdom and Prime Minister Matteo Renzi of Italy on separate phone calls regarding the latest happenings in Ukraine.
Copyright 2014 ABC News Radio