Advertisement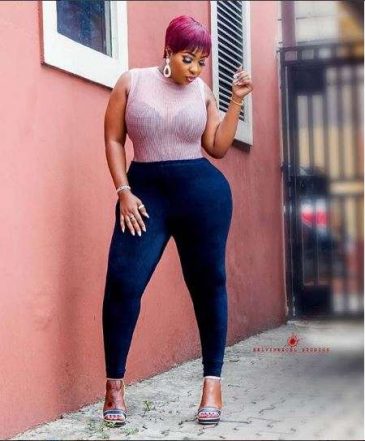 Anita Joseph's hips don't lie!
It's a lovely Monday morning, and your favourite Nollywood bad girl, Anita Joseph will be getting tongues waggling with this sexy photo.
Yes guys, because on our photo of the day, Anita Joseph is showing off why she is not just seen as the original Nollywood bad girl but a very sexy one. We already know how curvy and voluptuous Anita is and it won't take you more than ten seconds to figure out in this photo, if you don't really know her.
She is never shy to display all those curves which have won her a lot of male fans, even though she is putting on a pair of jeans as seen in this photo. Anita Joseph might not be one of the biggest names in Nollywood but the actress sure knows how to get all the attention she needs.
In 2017 during an interview, Anita Joseph revealed that she was now born again. Yes, guys, she has found Christ and is a new creature.
Advertisement
"A lot of people don't know this, but I'm actually born-again; a redeemed child of God. It is important to look beyond the outward appearance before judging people. There have been times I went astray, but the good thing is that God is a very caring father and he always accepts me back with love," she said.
–
Source: https://www.pulse.ng/entertainment/celebrities/anita-josephs-hips-dont-lie-id8645006.html