By Duncan Odey
A painstaking investigation has revealed that Osita U. Ngwu, an Engineer and the Enugu West PDP senatorial candidate (and the declared winner) in the just concluded general elections is a subject of a double voter registration with INEC.
Records obtained from INEC and which are in the possession of this Reporter show that there is a voter registration for Osita U. Ngwu, registered at Poling Unit code number: 14-16-08-009 at Afia Ogwe Okwojo polling unit in Ngwo Asa ward of Udi local government in Enugu State. The voter identification number ended with 905.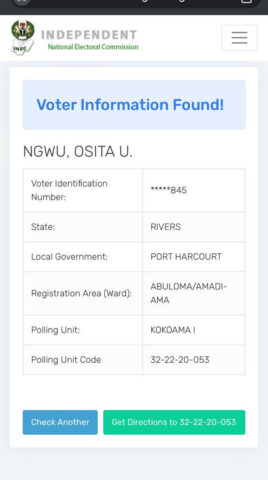 At the same time, the same Osita U. Ngwu (with exact name match) also registered as a voter with Poling Unit code number 32-22-20-053, at Kokoama polling unit in Abuloma Amadi-Ama ward of Port Harcourt local government in Rivers State. The voter identification number on this second registration ended with 845.
The INEC records showing the double registrations and bearing their details are attached to this investigative report.
Over the years and in recent times, the Independent National Electoral Commission (INEC) has been threatening criminal prosecution against anyone caught registering more than once as a voter. Under the extant Electoral Act, it is considered a crime to register twice as a voter.
Since then, INEC has been hammering at it that double registration is an electoral offence, noting clearly that ignorance of the law would not be accepted as a defence for double registration.
What this means is that Mr Ngwu, who participated in the Enugu West senatorial election and was declared the winner could be prosecuted by INEC whilst his victory is hotly being challenged at the NASS electoral tribunal in Enugu State.
Further, double registration is considered so serious that where a candidate claimed a single registration on the INEC form, a subsequent disclosure that such a candidate has double registration could amount to intentional perjury that would disqualify such candidate.
In such an event, it would mean that Mr Ngwu's participation in the election was illegal as he would be deemed disqualified as a candidate and thus any vote scored by him in the election will be lost.