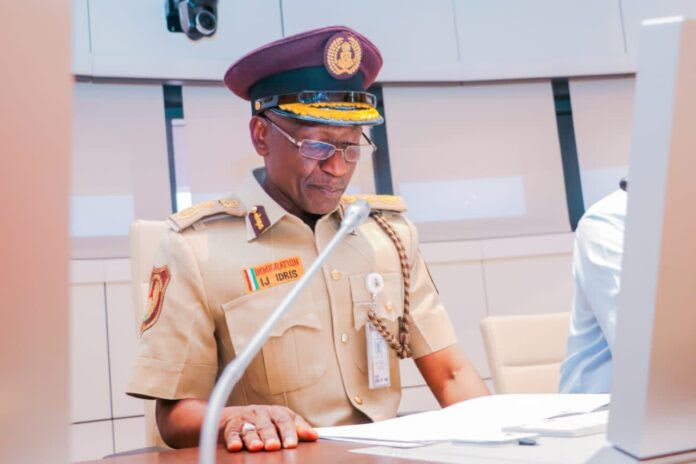 BY SULE TAHIR
THE Federal Government has directed the country's Immigration boss, Isa Idris Jere to without further delay proceed on one month compulsory retirement leave.
This was despatched to the NIS boss through the Governing Board of the Nigeria Immigration Service, on Wednesday, and served a retirement notice to the acting Comptroller-General of the Service, Isah Idris, effective on or before April 24, 2023.
According to an Impeaceble sources, the board cited the expiration of the one-year extension of service granted by the President Muhammadu Buhari, directing the CGI to hand over to the most senior Deputy Comptroller General.
The memo, dated April 17, 2023 with code number CDCFIB/APPT.CG&DCG/61/VOL.IV/74, was signed by the Civil Defence, Correctional, Fire and Immigration Services Board Secretary, Obasi Edmond, on the orders of the Board Chairman and Interior Minister, Rauf Aregbesola.
It is titled "Notification of expiration of one-year extension in office as acting Comptroller-General, Nigeria Immigration Service."
It read, "I write to draw your attention to the end of one-year extension in office granted to you by Mr President via letter no. SH/COS/42/3/3/A128 date April 22, 2022,  which would be expiring on April 24, 2023.
"Consequently, you are directed to hand over to the most senior Deputy Comptroller-General on or before Monday, April 24, 2023, pending Mr President's appointment of a substantive Comptroller-General of the Service.
"The board is grateful to you for your immense contributions to the Nigeria Immigration Service and to the country and wishes you success in your future endeavours."
247ureports has authoritatively gathered some Concerned Nigeria Immigration Stakeholders, on Sunday, urged the President not to extend Idris' tenure.
They warned that such a move could spark internal disputes that may snowball into full-blown protests by the service's personnel.
In an open letter to the President signed by its spokesperson, Akinwale Dennis, the CNIS claimed it was aware of suspected moves by Idris to lobby for a tenure extension after his current term expires on Monday, April 24, 2023.
Idris, who was Deputy Comptroller-General (Accounting), assumed duty as acting head of the service in September 2021 after the retirement of the former CGI, Muhammed Babandede.
The acting CGI was due for retirement when he turned 60 on April 24, 2022, under the civil service rules, until Buhari extended his tenure by one year.
In a letter dated April 22, 2022, and addressed to the Minister of Interior, Rauf Aregbesola, the President's Chief of Staff, Prof Ibrahim Gambari, announced that the tenure extension was with immediate effect.
Idris' name was first on a list dated December 6, 2021, which contained the names of 804 immigration officers due for retirement between January 1 and December 31, 2022.