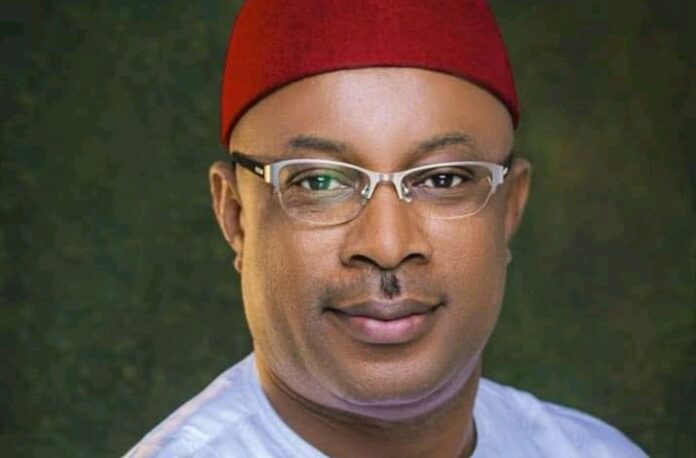 By Ikenna Esogibe and Chucks Nwoke
Ahead of the Saturday's supplementary election in Mbaitoli/Ikeduru Federal Constituency of Imo State, the Labour Party candidate, Rt. Hon. Uche Ogbuagu, has raised alarm over what he described as invasion of the constituency by fake armed men in military uniform.
In a press conference organized at his country home, Akabo in Ikeduru Local Government Area, Ogbuagu accused some leaders of the All Progressives Congress, APC of unleashing terror on the innocent electorates of the two local government councils, Mbaitoli and Ikeduru.
Ogbuagu alleged that Prince Charls Amadi, the operational leader of APC in Ikeduru, is using fake armed men in military uniform, thugs, cult group to harass voters who rejected his son, Akarachi Amadi, the candidate of APC.
Ogbuagu who is the current member Representing Ikeduru State Constituency at the State Parliament said:"it is very appalling that a reign of terror was unleashed on the innocent indigenes of the two Local Government Councils of Mbaitoli and Ikeduru, by a self acclaimed Operational Leader, Charls Amadi and his cohorts are of the belief that the wishes of the people are negligible, and as such, of no consequence.
"These individuals, among who is the sole administrator for Mbaitoli LGA, Mr. Chinasa Hamilton Opara, with armed thugs and fake security personnel, invaded Achi Mbieri in Mbaitoli LGA, beat up, scattered and made away with sensitive voting materials to God knows where and compromised the results of the polls to the chagrin of other political parties.
"Such brazen show of force was championed by their EBUBEAGU Group in concert with many cult groups in their pay roll.
"While their evil plans keep failing, they have continued unabated with their desperate satanic plots to eliminate me and my family, to frame me up with everything possible at their disposal, including but not limited to conniving with armed cultists and bandits, prison escapees, to plant guns in my house and raising false alarm for my arrest and conviction over a crime that I know nothing about.
"But God has been exposing them even through those they contracted for such heinous plots.
"Some of the expositions made by the cohorts of this operational leader were, smartly captured in video and pictorial modes and we have them as incontrovertible proof.
"From the video excerpts, you will see and hear from those, who have either been bribed to kill me, kidnap me and or frame me up. All by one man, Charls Amadi, who calls himself operational leader and lately, JAGABAN of Mbaike Politics.
"But as God may have it, they came on their own volition to make very startling revelations. One of such was a guy who was used to distribute all manner of guns to the youths of Mbaike for election thuggery of of February 25, 2023, but when they failed in the election, they pounced on him to recover both their arms/monies paid to him and his boys.
"One Moses Ubochi, was quoted as leader of the group working for the Operational Leader's killer gang. He personally led the kidnap of the young man to the bush.
" The young man gave his name as Obiyor Egbusiri. But for the intervention of hunters who rescued him from where he was tied in the bush, he would have been a dead man by now. He is currently battling the situation even now.
"Most recently, exactly 48hrs ago, their newest ploy to rubbish my hard-earned reputation through the social media by associating my person with occultic practices filled the media space. But It is heartwarming to note that my relationship with God is not in doubt at all and has not been hidden."
He however called on the Chairman of Independent National Electoral Commission, INEC, Prof. Mahmood Yakubu and the National Commissioner, in charge of Imo State to assign unbiased and uncompromised INEC staff from Abuja to come and conduct the Mbaike Supplementary election on Saturday April 15th 2023.