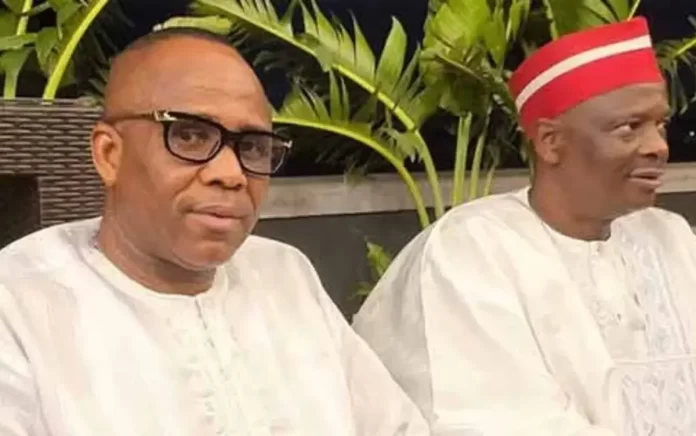 …Says God has raised Kwakwanso to deliver the Country from evil
From Mba Nnenna- Abakaliki
Vice Presidential Candidate of New Nigerian Peoples Party, NNPP, Bishop Idahosa Isaac has said his party will deliver the country from all evil.
Loading ...
NNPP VP Candidate, Idahosa stated this Wednesday during the party's rally at Abakaliki, Ebonyi state.
Addressing supporters at the rally, Idahosa lamented over the poor condition of Nigerians, ravaged by hunger, starvation, and insecurity. He affirmed that God has raised their National leader, Kwakwanso to deliver the country.
"I bring you greetings from my principal, the National Leader Kwakwanso. The Nation is faced with affliction of all manner of ills. God has raised Kwakwanso to deliver you and me from all these evil- joblessness, suffering, insecurity, poverty.
"We are coming to deliver freedom, equity, justice, peace, and prosperity. God said he will bless the fruit of our labour. So we are possessing the fruit basket, which is the party's logo.
He called on the supporters to pray over their PVC come 25th February, before going out to cast their votes for their preferred candidates. He equally urged them to vote all NNPP candidates from top to bottom for liberation from wickedness.
The party's guber candidate in Ebonyi state, Prophet Adol Awam Chris said the party is God's project which has come to stay, stating that nothing will stop it.
"God will have his way, that is why we march round the state. Light has come to take over, and darkness cannot stop it", he added.
Meanwhile the National Woman leader, NNPP, Dr. Mrs Mariam Yasin explained that the party will salvage the country. She affirmed that security is one of their priority, adding that education will be free at all levels, from primary to tertiary institution and free health care.