By Izunna Okafor, Awka
The Central Bank of Nigeria (CBN) has denied receiving any directive from President Muhammadu Buhari, to reissue and recirculate the old N200, N500 and N1000 Naira notes to remain legal tenders for the 70 days, to ease the hardship orchestrated by naira scarcity.
Loading ...
This denial was coming shortly after a press release purportedly signed by the CBN Director of Corporate Communication Osita Nwanisobi started trending on the on social media.
The press release reads: "Due to the current and unpleasant situation happening in Nigeria, in line with Mr. President after having a close meeting with him on 20th February 2023, Central Bank of Nigeria has been directed to ONLY reissue and recirculate the old N200, N500 and N1000 banknotes and this is expected to circulate as legal tender for 70 days up to May 1, 2023. Members of the public should therefore continue to spend the old notes. Media practitioners are advised to SPREAD out this helpful information to the public."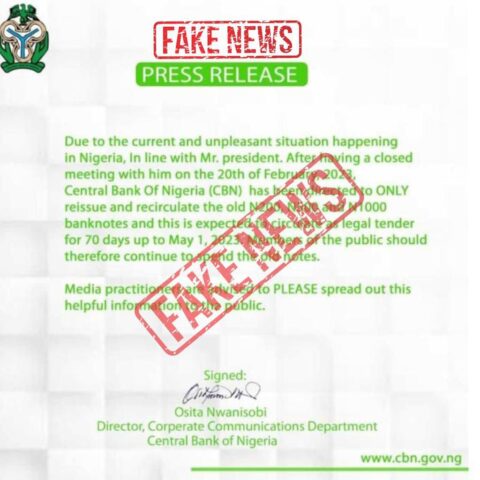 The wife of the President, Aisha Buhari, on her verified social media accounts also said that she spoke to her husband about the naira scarcity and he agreed to reintroduce the 1000 and 500 old notes into circulation.
However, the apex bank debunked all those publications as fake, including that of the First Lady, who is said to be spreading lies and fake news to Nigerians.
Reacting through its Corporate Communication Director, Osita Nwanisobi, the CBN simply branded the information as fake and misleading.
"It is fake news," Nwanisobi said in a brief statement.