From Rabiu Omaku, Nasarawa
Nasarawa State Governor, Engineer Abdullahi Sule as confirmed that the killings of about forty Fulani herders was carried out by a drone which bombed an area where some Fulanis who went to retrieve their impounded cattle in Benue State were settled. The Governor also confirmed that the Rukubi attack was carried out by an unidentified drone not airstrike.
Loading ...
He stated this during an expanded meeting with over 200 leaders of Miyetti Allah Kautal Hore at Government House, Lafia.
He disclosed that, following revelations from the victims of the attack, his administration will take up the matter with the Federal Government, aimed at finding lasting solution to similar incidences.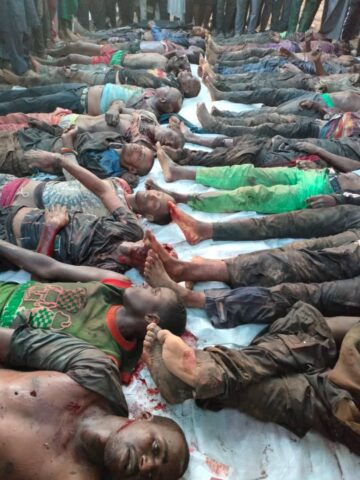 He further disclosed that, he has spoken with his Benue State counterpart, Governor Samuel Ortom on the incidence, following which the Benue Governor agreed to release about 230 cattle impounded free of charge.
The Governor said he has taken it upon himself to arrange for the leaders of the Miyetti Allah, alongside Fulani community leaders and survivors of the attack, to meet with top security chiefs in Abuja, with a view to taking steps to forestall feature occurrence of similar attacks.
Governor Sule indicated that the meeting was part of effort of peace building and showing sympathy to the victims by inviting the national leaders of Miyetti Allah Kautal Hore.
"We are lucky, the national chairman, Alhaji Abdullahi Bello Bodejo came along with some of the other Ardos as well as security agencies from what you saw, roughly about 200 other leaders of Fulani community from Nasarawa State and part of Benue attended the meeting".
"We are also trying to schedule a meeting where some of the leaders of Miyetti Allah will also have the opportunity to meet with some of the security chiefs in Abuja, for the purpose of finding lasting solution to what is happening right now".
"We have spoken also to the Governor of Benue State a few times and the Governor has given the go ahead for all the remaining cattle, over 230, currently in custody, to be released without any payment from any Fulani, who usually pay roughly N300, 000 for every cattle and sometimes up to 700, 000 for the feeding of a cow," he stated.
The National chairman of the Miyetti Allah Kautal Hore, Alhaji Abdullahi Bello Bodejo, appreciated the Governor for intervening and working assiduously to resolve the matter with a view to ensuring lasting solutions to the reoccurring attacks on mostly Fulani herders along Nasarawa/Benue borders.
He said, "We condoled with the Governor over the killings of Fulani. The Governor is taking everybody along in his efforts to bring about lasting peace. He has been able to convince his Benue State counterpart to release all our cattle held in custody in Benue State. We have agreed to follow him and to support him in his efforts to resolve the issue. We also agree to meet with security chiefs in Abuja so that we can tell them first-hand about the incidence towards finding lasting peace."
Also commenting, Nasarawa State Commissioner of Police, Maiyaki Muhammed Baba, said his command has taken adequate steps to forestall reprisal attacks in the area, with mobile policemen deployed to the area to maintain peace.
It could be recalled that the Nasarawa State Police command had yesterday indicated that 27 Fulani herders were killed in Kwatan Angulu, a border town of Nasarawa and Benue State.