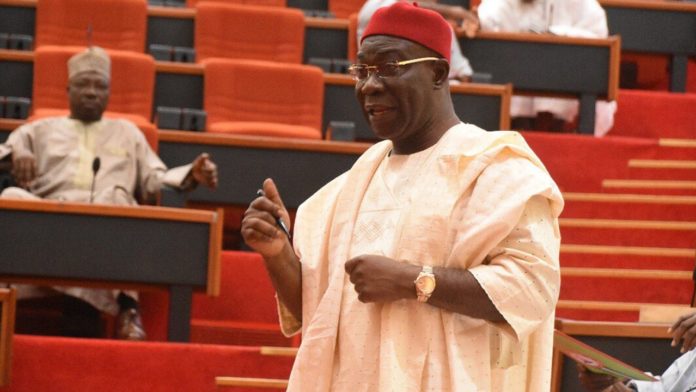 *Pledges to work with him if elected Enugu governor
Former Deputy President of the Senate, Senator Ike Ekweremadu, has congratulated the newly inaugurated Governor of Anambra State, Prof. Charles Soludo, on his inauguration, saying his election was divine as he meets the job description at a challenging time for the South East region.
Ekweremadu, who is also gearing to contest the 2023 governorship election in Enugu State, also pledged to work with Soludo and other governors of the South East towards regional economic and infrastructural integration if elected Governor of his state.
Ekweremadu stated this in a statement by his media adviser, Uche Anichukwu, in Abuja, Thursday.
"I congratulate my brother, H.E Prof. Charles Soludo, on his inauguration as the Governor of Anambra State. This counts as a rendezvous with destiny for him, no doubt, for I am not unaware of the numerous life-threatening challenges and legal huddles he scaled in this journey. But his swearing-in today is another evidence that indeed power belongs to God.
"Importantly also, his inauguration as governor counts as a political landmark for not only Ndi Anambra, but also Ndigbo in this very challenging season, but also for a nation in search of respite and development.
"Soludo's tenure, I believe, is good news for South East regional economic and infrastructural integration, especially at a time hopes are high that the perennial efforts of the National Assembly at a constitutional amendment to devolve power, aviation, and railway, among others, to the concurrent list will come to fruition.
"In congratulating him, I also pledge my total support to him in any way I can in the realisation of his agenda for Ndi Anambra, and look forward to teaming up with him and other governors and leaders of the South East in finding an elevated approach to South East regional security, peace, economic and infrastructural integration and all round development if elected the next governor of Enugu State", he stated.
The former Speaker of the Parliament of the Economic Community of West African States, ECOWAS Parliament, wished Soludo and his deputy, Dr. Onyekachi Ibezim, a roundly successful and memorable tenure in office.