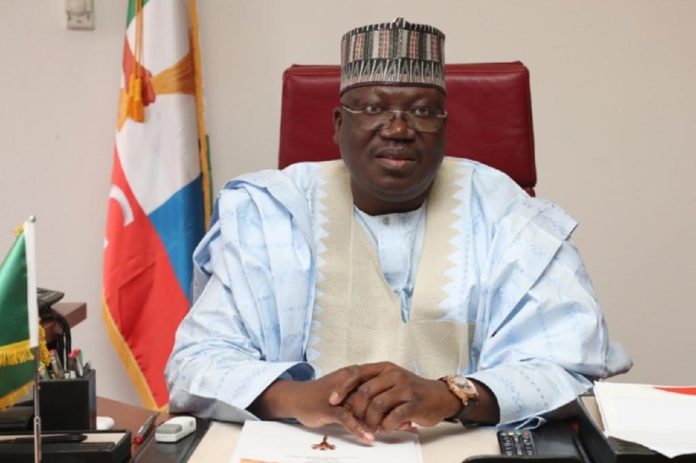 Information available to 247ureports.com from a competent source knowledgeable of the activities at the legislative chamber indicates the national leader of the All Progressive Congress [APC], Bola Tinubu has launched a plot for the removal of the Senate President, Ahmed Lawan from the seat of Senate President following the Senate President's reluctance to constitute a senate committee to probe into the allegations raised by the ousted former acting chairman of the Economic & Financial Crimes Commission [EFCC], Ibrahim Magu against the Attorney General of the federation, Abubakar Malami.
Already, the Jagaban of south west political sphere has reached out to the loyal members within the Senate chamber to open talks on the plot to remove the Senate President. As our source noted in describing what is widely believed to be the Akpabio political mantra, he said "What money cannot buy, more money buy" in referring to the ability of Tinubu to reach out to the majority of the Senators to help actualize the removal plot.
Particularly, Bola Tinubu, and by extension, the Vice President, Yemi Osinbajo who played critical role in the coming of Ibrahim Magu as the EFCC top boss – were peeved by the actions of the Attorney General in the petition that was against Ibrahim Magu – and in the manner the presidency reacted swiftly to constitute a panel to probe the allegations raised by the petition.
Bola Tinubu, from his end, wanted to pull his own strings using the legislative chamber to counter the Attorney General's pull within the presidency. He called on the Senate President to act on the allegations raised against the Attorney General by Ibrahim Magu. Tinubu wanted a similar drama played out at the Senate chambers – as was played out at the Presidential panel that probed Magu. "He wanted Lawan to set up a committee to rubbish Malami's name".
Lawan disobeyed. And "Malami slipped away".
Meanwhile "Tinubu is worked up about the removal of the anti-graft boss as it could lead to several cases opened against him. He must be worried, that the calls for investigation against the bullion vans pictured in his Ikoyi house, days before the 2019 elections that was ignored by Ibrahim Magu would be investigated".
Lawan's refusal to tow Tinubu line touched on the rumored 2023 presidential outing adversely. His control of the EFCC had given leverage over perceived political opponents against 2023 exercise. Our source indicates the EFCC was being positioned in readiness for the 2023 exercise to be used to weed out and/or cut short presidential aspirations.
Tinubu denies having presidential ambitions but his clandestine activities betray his public denials.
Efforts to confirm the impeachment plot through the Senate President's office has yielded silence. 247ureports.com contacted the office of the Senate President through the media spokesperson, Ola Awoniyi. He did not respond.  
Stay tuned