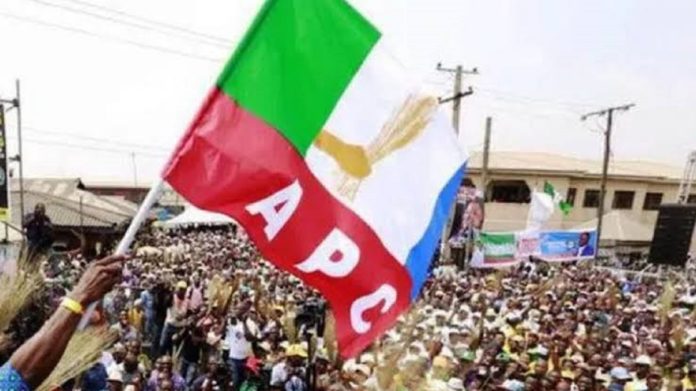 The Kano Elders Committee of the All Progressive Congress (APC), on Thursday, prayed for the success of their candidates in the Saturday bye-election in the state.
While congratulating Governor Abdullahi Umar Ganduje over his victory at the Supreme Court, they called on their supporters to come out en masse and vote for the victory of all their candidates during the Saturday bye-elections in the state.
The party elders also urged their supporters to conduct themselves in peaceful manner and avoid actions capable of breeching the peace in the state, and expressed optimism that the party will emerge victorious during the bye-elections.
During a Press Conference at Kano Press Centre, the chairman of the Kano APC Elders Committee, Bar. Farouk Umar Danlasan, also appealed to residents to support APC candidates so as to sustain the Next Level agenda of President Muhamamdu Buhari.
They also seized the opportunity to congratulate Ganduje over his victory at the Supreme Court, describing it as well-deserved
According to him, "the Kano state APC Elders Committee join other well meaning, peace loving, millions of people in Kano state to congratulate Abdullahi Umar Ganduje, the Executive Governor of Kano state, on his victory at the Supreme Court.
"The unanimous decision of the panel of the Supreme Court dismissing the appeal against the victory of the Khadimul Islam reaffirms the will of millions of the people of Kano state who voted for you at the polls.
"The victory at the Tribunal, the Appeal Court and finally at the Supreme Court further reaffirms the expectations of the teeming population in Kano state, and brings to an end, the effort of enemies of peace, progress and stability to scuttle the victory."
He added that, "the mandate given to you by the people of Kano state is evidenced by what the people have witnessed in your puproseful and development-oriented leadership in the state during your first tenure which they want you to continue.
"In your first tenure, the people of Kano state witnessed relative peace and stability in the state, despite the occurrence of kidnapping and Boko Haram attacks in the neighbourhood."
He further stated that, "people have witnessed tremendous socio-economic and infrastructural development in Kano during your first tenure.
"We have to admit and proudly commend the laudable achievements of the Ganduje administration in bringing stability in the state in the mist of uncertainty and ensuring peace and harmony among the citizenry."
They also commended Ganduje for maintaining synergy with all security agencies in his bid to ensure that lives and property of the people are well secured, adding that the peace being enjoyed in Kano has ensured dividends of democracy to the people of Kano state.
The APC Elders also enjoined party supporters to stay away from anything that will bring about trouble and violence dieing the bye-elections and urged the Kano people to continue praying and supporting Ganduje and President Buhari.