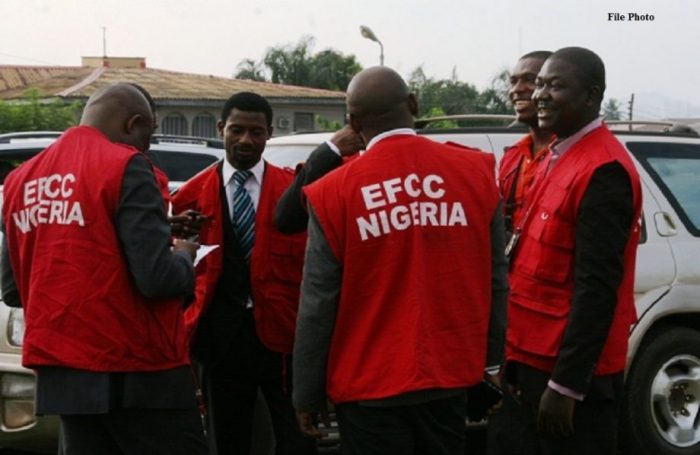 From Msughshima Andrew, Makurdi
The Economic and Financial Crimes Commission, (EFCC) Makurdi Zonal Office said they have arrested 48 Internet fraudsters in Benue, Taraba and Plateau states, in the last nine months.
The Zonal Head of Operations, Johnson Babalola disclosed this, on Thursday, while briefing newsmen in his office in Makurdi.
The Zonal Head told newsmen that one of the new faces of financial crime is internet frauds adding that it is a matter of common knowledge that Nigeria has  also been in the news for the same reason recently.
He however stated that between January and September, 2019, the Office has embarked on a vigorous manhunt of fraudsters (yahoo yahoo boys) and investigation leading to the arrest of 48 suspects.
According to him, 13 out of the 48 suspects, were already in court at various level of prosecution while three have been convicted.
The EFCC Zonal Head also recalled that the FBI released a list of fraudsters that are under investigation and expressed regret that substantial number of those on the list are Nigerians.
Babalola said "We have the list and we are monitoring the names on the list".
He lamented that "the activities of these fraudsters are capable of eroding credibility of Nigeria and Nigerians and causing problems for the integrity of our business men abroad and also causing problem for the nation.
He stated that the commission has high level collaboration with the Federal Bureau of Investigation, FBI, INTERPOL to rid the country of economic and financial crimes.
He also noted that beside launching frontal attacks on fraudsters, the commission which commenced operations on the 15th of January 2019,
has also embarked on sensitization campaign to NYSC camps, schools and motor parks and other locations within the zone, to sensitize the public, especially the youths, on financial crime.
He disclosed that because of the deep rooted damages of financial crime to the nation, the commission is planning to have degree awarding courses where corruption could be inbedded in the curriculum of Universities.
"As a nation, the fight against corruption should start from the primary school. Corruption can destroy this country and all these problem; insecurity, kidnapping, armed robbery are all products of corruption. If we catch them young, we will go a long way".
Babalola who harped on the need to catch the infants and the youth also called for an in-built system where parents can also get involve in tackling corruption.