Loading ...
Information available to 247ureports.com indicate that the dust raised by the Presidential election may have not settled.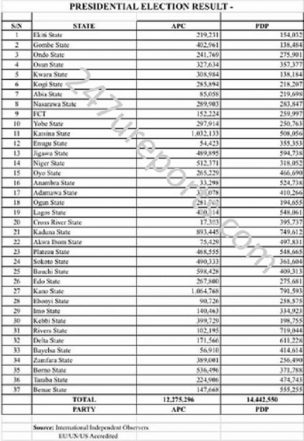 Following the opposition party's objection to the results being released by the Independent National Electoral Commission [INEC] as the results for the Presidential elections, foreign election observers who participated in the election process – and have in their possession the 'real' results from the polling units across the country – have released the raw results to the public.
The results were originally published by Hope For Nigeria.
While leaking the results to the public, the group may it clear that the Chairman of the INEC, Prof. Yakubu Mamood was in possession of the real results as produced via the accreditation process using the card reader as mandated by the INEC.
The results as released show PDP scoring 14,442,550 and APC scoring 12,275,296. The result, the claim, is collaborated by local observers, agents at polling units and NGOs that participated.
247ureports.com contacted the spokesman of the INEC, Rotimi Oyekanmi but he did not respond.
Stay tuned