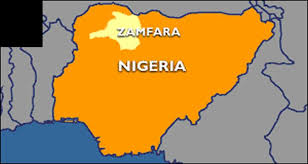 Advertisement
Loading ...
Police Joint Intervention Force On 29th November, 2018, Kill 104 Bandits, Destroys Fifty (50) Bandits Hideouts In Three (3) Camps, Recovers Over Five Hundred (500) Cattle And Seventy Nine (79) Sheep In Zamfara State And Loss One (1) Police Personnel
IGP Deploys Dig Operations Who Had Already Arrived Zamfara State With 100s Police Special Forces Personnel, Counter Terrorism Unit, Additional Police Mobile Force, Federal SARS Personnel, 3 Surveillance Patrol Helicopters To Zamfara State To Coordinate The Operation For Complete Rout-Out Of Armed Bandits From Zamfara State
The Police Joint Operation Team at about 1600hrs, 29th November, 2018, repelled ambush attacks from Armed Bandits at Birnin Mogaji Village, Zurmi LGA of Zamfara State and in the process killed One Hundred and Four (104) Bandits, destroyed over Fifty (50) bandits hideouts in Three (3) Camps, recovered over Five Hundred (500) Cattle and Seventy Nine (79) Sheep from the Bandits, but unfortunately loss a Policeman during the attacks. The Police Team has restored normalcy and peace in the affected areas.
The Inspector General of Police on 9th November, 2018, deployed Police Joint Intervention Team of about One Thousand (1000) Police personnel comprising the Seven (7) Units of Police Mobile Force (PMF) headed by an Assistant Commissioner of Police, Counter Terrorism Unit (CTU), Federal Special Anti-Robbery Squad (FSARS), Police Anti-Bomb (EOD) Squad, and conventional Policemen to Zamfara State to rout-out, arrest and prosecute Armed Bandits, Vicious Kidnap for Ransom and Cattle Rustling Gangs operating in some parts of the State.
The Team have recorded significant progress in the arrest of more than Eighty-Five (85) suspects, recovered Twenty Seven (27) AK47 Rifles and Fifty-Two (52) locally fabricated rifles and other dangerous weapons, Two Hundred and Sixty-Nine (269) Cattle, One Hundred and Nine (109) Sheep already handed over to their owners.
Consequent on the ambush attacks on the Police Joint Team which were successfully repelled by the Police Team, the Inspector General of Police yesterday, 29th November, 2018 deployed DIG Department of Operations to Zamfara State to be the overall commander of the Police Joint Intervention Force and add new impetus to the Operations. The DIG has already arrived in Zamfara State overnight with Hundreds of Police Special Forces Personnel, Counter Terrorism Units (CTU), additional Police Mobile Force (PMF), Federal SARS Personnel, Three (3) Surveillance Patrol Helicopters and crew members to Zamfara State to coordinate the operation to completely rout-out all Armed Bandits from Zamfara and other contiguous States.
The DIG, Department of Operation and the Police Joint Team have been mandated to also coordinate the Commissioner of Police, Zamfara State and personnel of the Command to sustain and restore lasting peace throughout Zamfara State.
Parade of some of the suspects arrested before the media and public will be done soon.
Members of the public with any information or in distress in any part of Zamfara State should call the following Police Joint Intervention Control Centre through the following numbers 08037025670, 08033210966, 08033312261, 08123829666, 09053872244, 07082351758, 08091914752
Ag. DCP Jimoh Moshood
Force Public Relations Officers
Force Headquarters
Abuja.