Loading ...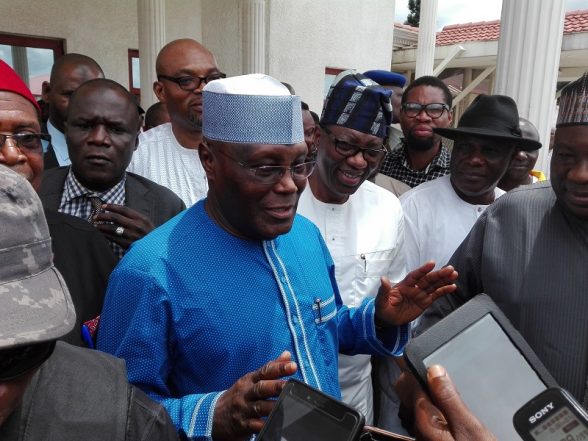 Less than a week after the 2019 presidential election campaign was kick-started, incumbent President Muhammadu Buhari of the All Progressives Congress, has been handed a bone-crushing defeat by Presidential candidate of Peoples Democratic Party and former Vice President of Nigeria, Atiku Abubakar in an online poll.
At the conclusion of the poll, Atiku scored 98% of the votes as against Buhari's 2%. Former Governor of Cross River State and Presidential candidate of the Social Democratic Party (SDP), Mr. Donald Duke scored 0% while Presidential candidate of Allied Congress Party, who is also co-founder of 'Bring Back Our Girls' movement and former Minister of Education, Dr Oby Ezekwesili polled 0%. (see linkhttps://twitter.com/buhari42019/status/1064613458484883456)
An analysis of the total votes cast of 10,496 showed that former Atiku secured 10,286, Buhari; presidential candidate of APC came a dismal second with 2,090 votes while Duke and Ezekwesili got zero votes.
The poll was conducted by Buhari42019 under the Twitter handle of @buhari42019.
Online voters were asked "If elections are today, who would you vote?"
With 3,300 likes and 2,300 retweets, this is arguably one of the most retweeted polls ever.
This is not the first time that Atiku will be vanquishing Buhari in a poll. Prior to the primaries of the two major parties,Atiku had emerged winner of a series of polls conducted by loyalists of President Muhammadu, including the poll by perhaps the most popular Buhari trumpeter on social media, Mr. Japheth Omojuwa.
A number of pro-Buhari influencers and supporters had following the third anniversary of the administration on May 29 initiated polls ostensibly to test the popularity of President Buhari. However, Atiku trounced Buhari in the earlier polls conducted by Mark Essien via @markessien and Y! Online via @YNaija.
The same fate befell Buhari as Atiku defeated the president in the two polls conducted simultaneously by Omojuwa. In the first poll, Atiku garnered 35% of the votes compared to Buhari's 32%.
In the second poll, Atiku secured 39% of the votes while Buhari came second with 34%.