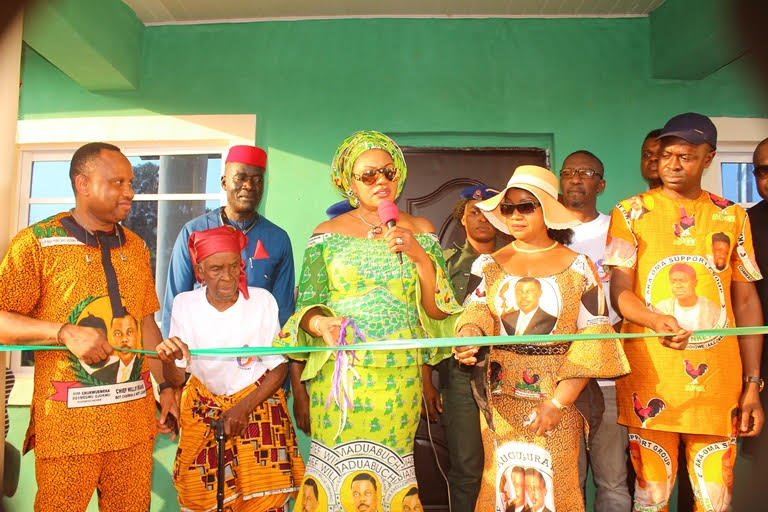 Loading ...
Coming on the heels of her a doctorate degree award by the Chukwuemeka Odimegwu Ojukwu University, Igbariam for sustained positive impact on socio-economic human development, on the Wife of the Governor of Anambra State, and founder of the NGO, Caring Family Enhancement Initiative (CAFÉ), Dr. (Mrs) Ebelechukwu Obiano (Osodieme), Wednesday, handed over four more houses built for three widows and an indigent family at Ogbunike, Oyi Council and Aguleri in Anambra East Council areas of the state.
Mrs Obiano handed Keys to the 2-bedroom bungalows built under CAFÉ Housing for the Indigent & Widows project, a flagship programme of the NGO with support of the United Nations Development Programme(UNDP) to Mrs. Roseline Ekezie of Ndiagu, Osile Ogbunike; Mr. & Mrs. Chito Nwobi; Mrs. Awele Somudi of Ogbeagu, Eziagulu-Aguleri and an octogenarian, Mrs. Josephine Chiokwe of Umuga, Eziagulu, Aguleri respectively.
Presenting the house keys to the beneficiaries, the Anambra First Lady said that the era of people living in dilapidated thatch mud houses were over and assured that CAFÉ was committed to building more houses to improve the living conditions of widows and indigent families.
'' I feel satisfied any time I see each beneficiary of our modest gesture express happiness after receiving keys to their new houses. It is a social intervention contribution to their well-being. I must emphasize that the house belongs to the beneficiary and no one should disturb them. The water borehole component was meant to serve them and their neighbours are free to fetch from the reticulation point outside and ensure it is well maintained.''
Osodieme explained that CAFÉ has so far built and donated over twenty-two houses under its free housing scheme; with the latest four executed with the support of United Nations Development Programme, UNDP, as a practical step towards improving human living condition.
She commended a businessman, Mr. Tony Ezeani who graciously equipped two of the buildings with furniture, settee, electronics and kitchen equipment, and urged others to emulate the quiet philanthropy and thereby obtain God's blessings for positively touching lives of the less privileged.
In her brief remark, wife of Deputy Governor of Anambra State, Mrs Oby Okeke commended Osodieme for demonstrating love for neighbour through CAFÉ projects and urged the host communities to support her efforts.
In their remarks the transition Committee Chairman of Oyi and Anambra East Local Government Areas, Engineer Nnamdi Nwadogbu, and, Chief Pius Ifeadi, expressed satisfaction on behalf of their respective council areas for the free housing for the windows and the less-privileged, by the Governor's wife and thanked her for remembering persons in their areas.
Also the Commissioner for Transport Anambra State, Chief Uchenna Okafor, said the Governor's Wife, through her persistent magnanimity, has established an ideal model for human development which is unparalleled. He called on the people of Ogbunike to support the initiative by living in peace as advocated by Osodieme, the donor.
The beneficiaries who were selected through a random community scanning method, to ascertain indigent persons in dire need of shelter, thanked her and prayed to God to guide and sustain her and family for reaching out to change their lives when they least expected it.