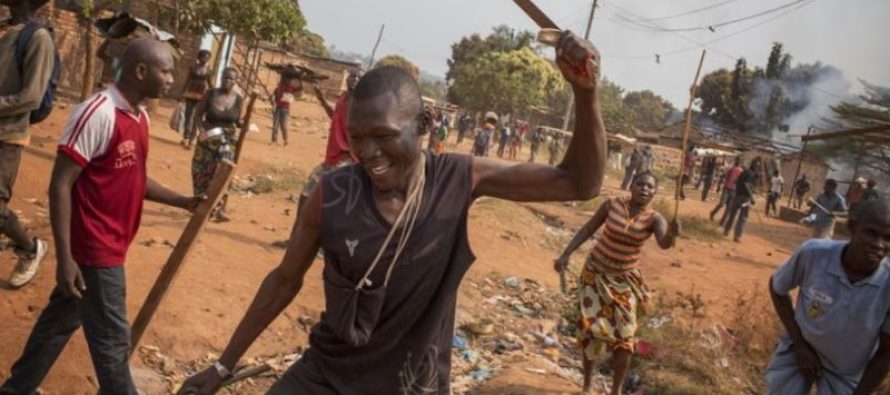 Advertisement
Loading ...
The Federal Government has began a fresh move to end the lingering crisis between farmers and herdsmen, as they commenced the distribution of farm machines which can chop grain stalks to feed for animals especially cattle.
These machines includes, rice threshers, reapers and Cattle Feed Mill which will be used by the rice farmer to process rice and also process feed which he can sell to the herdsmen.
While distributing the machines at Oja village, Okpomaju in Otukpo Local government area in Benue State, the Minister of Agriculture and Rural Development, Chief Audu Ogbeh said the machines would be operated by youths which will be a source of income to them.
"We are here to see what some of the challenges in agriculture are, access road, harvesting and management of crops and the difficulties which stand in the way of local production, we are also here to see the plants we have to use agriculture waste in feeding cattle and the larger ruminants, ordinary, farmers harvest their rice and burn the residue, the harvest their Maize, millet and burn the residue, now we have decided we are going to use those wastes to feed cattle and in the process, eliminate this conflict (between farmers and herdsmen) which goes on and for which there seems no solution.
"There has been seminars and workshops and sensitisation and conversing with traditional rulers to solve the problem, what will solve the problem is the find feed for the cattle, find water away from farmers' efforts on the farm so that there will be no fight, these are the two issues that brought us here.
"What we saw in the farm today is the solution, and we believe that now harvesting is beginning, between now and the end of the year, we would have harvested quite a lot of residue and provided enough feed for the cattle in different parts of the country, so we minimise, if we do not succeed this year in eliminating completely any further conflict.
"We asked the chief to get young men and women of character who can work together, so they are cooperatives, their registration we be taking place shortly, this is just a testing, and you will be surprised how much money they can make each year, so the machines are given to them on credit, they will pay back, we will do a discount, we are going to have them nationwide, some harvesting cassava, some Maize, some sorghum, rice, soybean, wheat, machines for harvesting cassava are here now in Ilorin, even for making Yam heaps, this is a way of taking agriculture activities to rural areas, creating activities of those living in the villages, they don't have to move to the cities to find livelihood, and I assure you at the end of this season, some of these boys will be as go as millionaires, that's the plan."
Explaining how the machines work, Chief Ogbeh said "we have reapers which cut the rice, and send them to the thresher, take out the seeds, then put them in the bag, there is cleaner which is coming to take out all other impurities apart from the rice seeds, this way you do not allow stones to get into the rice in the first instance, thereafter, you take the residue, to put a tank to mix with molasses or concentrates, and pack them in bags, and build pyramids where the cattle are going to be kept in ranches, and you feed them."
Cow requires two main things, at least 10kg of feed per day and 30 liters of water, and the herdsmen need one more thing, protection from rustlers, which we are going to provide using the Agro Rangers, this in summary is the programme that we have, and we are starting early, between now and the end of the year, and early January when the conflicts begin, we think we would have gone very far, the good news is that these machines are all built in Nigeria.
While lamenting the poor milk yield of cattle in Nigeria due to the stress of roaming, Chief Ogbeh said soon the machines will be distributed to other parts of the country where rice is grown.
"We are spreading all over, in the next few weeks you will see us distributing these machines, I came here specifically because the chief has 27 hectares, requested that I support him, it will be spread all over north, east, west, Anambra, Ebonyi, Ogun, Katsina, Jigawa, wherever.
"To begin, we don't want the cow moving too much, because as they move, their yield of milk is reduced, we have the lowest yield of milk per cow in the world, 1 liter of milk per day, in East Africa or a Botswana, these cows do 30 liters of milk, in Europe its 50 liters of milk per day, I have seen a cow at Agric Show in England which produces 67 liters of milk per day, our cows don't yield well, first they don't have enough water and they don't feed well, cow don't really like to walk, they just like to feed and sit there, imagine a cow marching from Yola to Lagos, 40 per cent of his weight is lost before it gets down here.
Some of these cows have tuberculosis which is transferable to human being, we need them to settle to prevent this whole thing, once the grass up north starts drying up at the end of the rainy season, the cows begin to move to what is called the Niger-Benue valley where they see fresh grass and some water, when these cow finish at the end of the wet season and they are going back for a while before they return, virtually every female cow is pregnant, cows can't maintain pregnancy under stress, if they start walking down, they abort, these are the things we know in the ministry, and I said to them, wherever you are in whatever state there will be enough feed for you, you don't need to move.
"The herdsmen will tell you they have problems with rustlers which goes on a lot of times in Zamfara, Katsina, Kano, Kaduna, rustlers have been a menace, so we have created a program called the Agro Rangers, they are being trained by the Ministry of Interior and the Army, they are going to be deployed to protect these ranches, but the point is let there be peace, we need the farmers' food, we don't want the farmers doing their farms and someone entering there and destroy it and shooting the farmer when he complains, we don't want any farmer losing his crop or abandoning farming because herdsmen, on the other hand, we don't want herdsmen to be denied what they need to do their business because they too are farmers.
"The spare parts of the machines are everywhere, these boys are being trained, there is always a mechanic in each group who know what is wrong, the parts that wears off quickly like the belts, they will always have them in their bags as they operate, the idea is move the activities to the village, you will be surprised at the end of this season how rich these boys will be. They may need a vehicle to pull these machines around."
The fabricator of the machines, Charles Frimpong said the thresher has the capacity to thresh 2 to 2.5 tons of rice paddy per hour, and the machines are durable and affordable.
"We are into manufacturing and fabrication of agriculture and Agro allied machines, for this programme, we brought in rice threshers, we also brought in rice reapers, after cultivation, during harvesting, you have to first of all use the reapers to harvest which makes is it faster, then after the harvest, you now pass it to the thresher.
"In the traditional way, they use the sickle to harvest the rice, then thresh them manually, even if you put 100 people, they can't do much, the machines we brought in have a capacity to do between 2 to 2.5 tons per hour, meaning that it will make the job much faster, it also have a willowing device, so it also clean, giving you a clean paddy.
"Then we brought in crop waste chopper, after you have Harvest, it goes through the thresher, you have the straws as the, what do we do with them, we have to now process them to animal feed, cattle feed for instance, so it has to go into a plant that will shred it into smaller particles where you will now have to add molasses and other micro ingredients to produce cow feed.
"Then we also brought in a separate individual crop waste chopper, take for instance, after harvesting Maize what do you do with the stalk, after harvesting various grains, what do you do with the stalk, the stalk will now have to pass through the crop waste chopper, to chop them in various sizes depending on the kind of animal you want to feed, you can adjust it and it comes out in very small particle that the animals enjoy eating."
Speaking on what inspired him to fabricate the machines, Frimpong said "we all know what has been happening, the herdsmen always want a feed for their cows, how do they get it? They have to go to the farm, after the farmers are done with the harvesting, they would go either to eat the stalks and in the process, a lot of damage are done, this create problems and all that.
"So over the period, we sat down and said let us come up with this idea, if farmers have to farm and they have the stalk of grains and they do not know what to do with it, the herdsmen also want it, so the best we had to do was to bring out a mobile machine which will be taken to these farm areas, process them, bag them in smaller sizes, transport them to wherever these cattle are, for that reason you won't have to allow the cattle into the farm to cause any problem, we have tried it in some areas and we have found out that it has really helped, that is why we decided to upgrade by making it on commercial capacity, it is mobile.
"We have come out with few machines and the results are quite interesting, so what we intend doing is to put in more hands on deck so that we can produce as much as possible to cover as much areas as we can.
"The machines are quite durable and rugged, we produce them here, every component is being produced here apart from the engines, the bearing and few things you can always pick from the shelves."