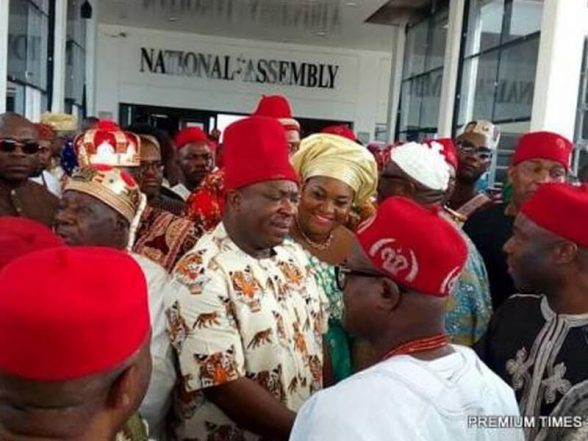 Press Release
Anambra Central Rerun: APGA Women Congratulate Umeh Over Appeal Court Victory … Endorse Him For Senate
The All Progressives Grand Alliance Women for Good Governance (APGAWGG) congratulates Senator Victor Umeh over his resounding victory at the Court of Appeal Election Tribunal, Enugu on Friday 21st September, 2018. It is a victory for democracy, rule of law, and a giant step forward in consolidating the nation's representative governance.
APGA Women commend the esteemed Justices of the appellate court who dismissed all the grounds of appeal filed by the candidate of Mega Progressive People's Party, Mr. Nkem Ekweozoh who earlier lost at the Anambra State National Assembly Election Petition Tribunal constituted to hear grievances arising from the 13th January, 2018, Anambra Central Senatorial rerun election won by Umeh.
This is democracy in action and sweet music in the ears of all lovers of representative governance in Nigeria.
We urge Senator Victor Umeh to remain focused, steadfast and more determined to provide progressive leadership and effective representation to the good people of Anambra Central Senatorial Zone.
We are overwhelmed with joy over Umeh's excellent performance in the Senate since January 2018 he recovered his stolen mandate from Mrs. Uche Ekwunife in the March 28, 2015 Senatorial poll. The distraction is over. The will of the people has prevailed.
Umeh has justified the confidence reposed in him by the Anambra Central Senatorial Zone, Ndi Anambra and Ndigbo as he remains a credible voice in the Senate as the indisputable Vice Chairman, Senate Committee on Employment, Labour and Productivity; member Committee on Finance; Trade and Investment, Land and Housing; Petroleum Resources (Upstream) and, Culture and Tourism.
A credible voice in the East of the Niger, Umeh sponsored the motion "The Urgent Need to Include the Eastern Rail lines in the Nigerian Railway Development Project, he also sponsored a motion on "Illegal Confinement of Underage Offenders and Infants In The Same Prison With Adult Prisoners", Co-sponsor with Senator Stella Oduah (Anambra North) the "Federal University of Education Aguleri, Anambra State (Est, etc) Bill, 2018 (SB, 653)", which has passed First Reading. He seconded a motion sponsored by Senator Oluremi Tinubu on "Ebola Virus Disease Outbreak in The Democratic Republic Of Congo And The Need To Take Precautionary Measures".
Umeh seconded the motion sponsored by Senator Mao Ohuabunwa (Abia North), to inform the Senate of an increase in armed road blocks along major expressways in the South East geopolitical zone. He said: "The proliferation of roadblocks in the South East by security agencies is becoming a huge embarrassment. It is killing businesses in the region. Our people who are business oriented can no longer ply their trade. In the South East, we are not in any imminent danger. I don't see the need why we should have more roadblocks in the area. Sometimes, you have roadblocks in a distance of about 300 metres. Security is important, but it should not be abused. Our people are complaining and we need to correct this. Our people now spend more time on the road because of these unnecessary roadblocks."
The people's senator also spoke out on the urgent need to halt the importation of palm oil and its allied products to protect the palm oil/kernel in Nigeria, he objected to the proposed cattle colonies in Nigeria, the killings in Benue, Nasarawa, Plateau, supported the proposed minimum wage for workers, advocated for constitutional immunity for the legislature and the judiciary, supported restructuring of the polity, commiserated with traders who lost their wares in the fire that engulfed Dei-Dei market in Abuja and executing various constituency projects in Anambra Central Senatorial zone to the admiration of his people who have had a relay of inept representation in the Senate until Umeh assumed office as Senator of the Federal Republic in January, 2018.
Umeh's accomplishments since January, 2018 has exceeded that of his predecessors in the Anambra Central Senatorial Zone. This is in tandem with the wise tribute Mrs. Uche Ekwunife paid him on the occasion of his 52nd birthday which she advertised in the Sun Newspaper of July 20, 2014. "Happy Birthday to our great Chairman. As a front-liner in the development of our nascent democracy, you have distinguished yourself in various strata of leadership. You have shown great resilience and commitment in the discharge of your duties as Chairman of our great party. These qualities, no doubt, have stood you out as a visionary leader of our time".
As Mrs. Ekwunife rightly stated, Umeh has shown great resilience and commitment in the discharge of his duties as Senator of the Federal Republic which has stood him out as a visionary leader of our time and the people's choice for Anambra Central Senatorial Seat for 2019 general polls.
In view of Dr. Victor Umeh's remarkable leadership qualities, brilliant achievements, philanthropy and synergy with the Anambra State Government in providing dividends of democracy to the people, APGA Women for Good Governance endorses his candidacy for Senate in the 2019 Senatorial poll to represent Anambra Central Senatorial Zone.
Umeh is our choice for effective, bold, courageous and progressive representation. He lion has roared and has attracted numerous dividends of democracy and people-oriented legislation that have strengthened our fragile democracy.
Umeh who recently granted over ₦10m scholarship to indigent students in Primary, Secondary and Tertiary institutions including doctorate degree students, is a compassionate leader and our choice for Anambra Central Senatorial seat. We urge all lovers of quality representation to support his reelection bid. APGA women back his candidature and will ensure his victory to continue the good work he is doing in the Senate. It is a new dawn for the good people of Anambra Senatorial Zone in particular and Ndi Anambra in general.
–
MRS. GRACE CHIKE
NATIONAL COORDINATOR
APGA WOMEN FOR GOOD GOVERNANCE (APGAWGG)