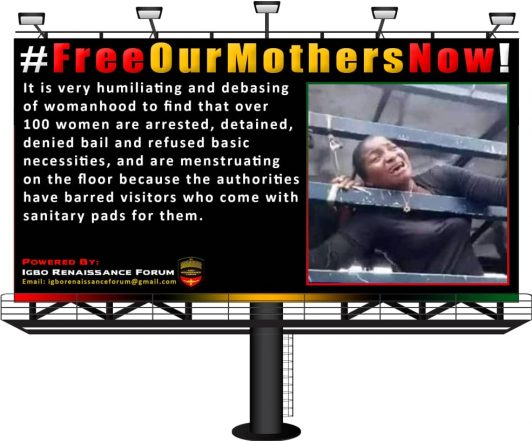 Press Release
The Inhuman Treatment Of The 112 Women Arrested And Detained In Imo State Is Debasing To Womanhood* – Igbo Renaissance Forum (IRF)
The Igbo Renaissance Forum is shocked at the arrest and detention of over one hundred women of various ages by the police in Imo state and treated less than humans. We want to state categorically that this is condemnable, undemocratic and dehumanizing.
While there are real concerns about their safety, personal health and hygiene, this is just scapegoating a people that are already targeted for victimization and suppression.
We've resolved to make a case for their release, and for the prison authorities to allow them receive sanitary towels, water and food, and not to be treated like animals the way they are doing currently.
Still having these women remanded in prison custody under very inhuman conditions after the magistrate declared that she has no jurisdiction to try them is cruel and inhumane.
We demand that this action of brutality and aggressiveness towards #OurMothers be stopped NOW!
We all need to come together to highlight these gory stories and the human impact of the incarceration of these women and the current deplorable state in which they are kept in prison.
It is very humiliating and debasing to find that these women are refused basic necessities, and are menstruating on the floor because the authorities have barred visitors who come with sanitary pads for them. The prison officials have made it impossible for them to have access to water to even wash themselves, and are forced to sleep on the floor with their clothes that are soaked in blood!
*THIS IS A VERY DEMEANING AND AN ABOMINABLE ACT AGAINST WOMANHOOD!*
Many of these women are lactating mothers, some are elderly women with health challenges, and yet are denied medication and food, while being treated less than animals. Some of these women are traumatized and need urgent medical attention, which the authorities do not pay heed to. Many are widowed and are bread winners of their families, and this action has exposed their children and wards to all kinds of dangers and risks, including hunger and psychological trauma. Their families are destabilized and whole communities have been thrown into deep sorrow.
We are calling on all well meaning citizens who believe in the rule of law and the sanctity of life to join hands with us to raise our voices to call for the unconditional release of these 112 women who are being tortured psychologically and physically.
We MUST as a people build solidarity, and call people to action to protect the fundamental human rights of these 112 women being subjected to inhuman conditions.
We are by this communication reaching out to individuals of sound mind, who know the value of womanhood to rally together and resist such actions that are targeted at debasing our womenfolk.
Igbo Renaissance Forum would in due course be staging various actions to protest this attack against *#OurMothers*.
SIGNED:
*Nze Ugo-Akpe Onwuka (Oyi of Oyi II)*
*International Coordinator, IRF*