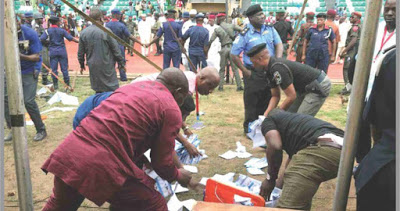 Kogi Bye Election Goes Bloody, APC Supporter Stabbed To Death
The House of Representatives by-election in Lokoja/Kotonkarfe constituency of Kogi State turned bloody on Saturday.
Consequently, a supporter of the All Progressives Congress (APC), Yahaya Umoru, was stabbed to death a supporter of the Social Democratic Party (SDP) (names withheld) when the deceased resistance attempts to snatch ballot box.
Pandemonium started when some SDP thugs chanting "Imam must win" stormed a polling unit in Lokoja and attempted to snatch the ballot box at the Unit.
The APC supporters at the polling unit resisted the attempt, leading to the stabbing of Yahaya Umoru.
He was confirmed dead at a nearby hospital.
Yahaya Umoru was a son of an APC House of Assembly aspirant for Lokoja 1 Constituency and was visible throughout the electioneering in the build up to the election.
Police authorities in the state have vowed to apprehend the perpetrators of the dastardly act, urging the youth of the area to maintain calm as the long hands of the law will soon catch up with the murderer.
Sources close to the scene of the event told journalists that the thugs were armed by one of the aspirants in the election.