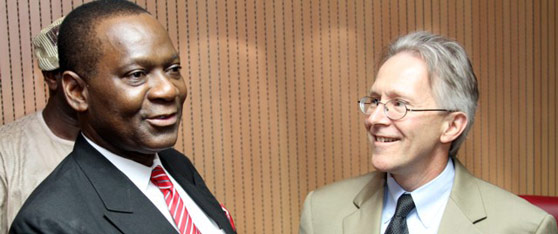 Unlocking The Korean Matrix: Remembering Ambassador Olugbenga Ashiru – By Dr. Godknows Igali     
Loading ...
Today the North Korean story is live, viral and topical; the delight of diplomats. When Nigeria opened its diplomatic mission for the first time in what was considered a pariah and ignominious nation, North Korea in 1987, its first Head of Mission was a gentleman and fine-bred diplomat, named Lawal. He was shortly followed by one of the country's finest Foreign Service Officers, Olugbenga Ashiru. Ambassador Lawal, whose turf was strongly administrative, focused on setting the Mission in that closed country and stamping the Nigerian presence for the first time since formal diplomatic ties were knotted far back 1976. His successor, Ambassador Ashiru, an "Omo-eko" and Ijebu man was debonair, proactive and mercantilist.  As he settled to work, Ashiru, who later became Nigeria's High Commissioner to South Africa and rose to become Foreign Minister, began to mention to no few, that North Korea was one of his most rewarding and impactful diplomatic outings. Between 1991 and 1999; a whooping eight years, he served as Nigerian Ambassador and even became the Dean of the Diplomatic Corp in that country which gave him the privilege of interacting closely with the two senior Kims who ruled the country in succession.
The seer he was, Amb. Ashiru predicted, severally, that very soon, the North and South of Korea would sheath the swords of war and begin to speak again to each other, shake hands, embrace and even start processes towards reunification or other forms of very close interface. There is no gainsaying, that diplomats have many occupational hazards. Beyond the gypsy-like, itinerant and often nomadic  lifestyle, other things like  exposure to fake living in some of the most developed environments in the world, lots of champagne, dinners and cocktails, ceremonies could all be a bit too suffocating, elusive and ephemeral. Beyond these, the chief professional gamble which diplomats face, however, is what the Soothsayers share with Priests, Rabbis, Imams, Gurus, Native Doctors, Astrologers, etc. That professional hazard is looking into the future and predicting what will happen in the nations of the world where they find themselves. That is, how will the country in question be in the tomorrow and the years after. Its politics, economy, people, social trends, its security and defense, its neighbours, etc. Forecasting and future telling is considered a cardinal duty of every diplomat and around the world, they continue to do so, daily. The big risk however, is whether such diplomatic predictions and divination as it were, would come to pass. Like any other human phenomena, some major diplomatic forecasts have often turned fake. For example, an American Diplomat once predicted, that Nigeria will break up in 2015. But God had a unique child, Goodluck Jonathan, who decided to leave the exalted office without a whimper making that prediction a hoax!
Amb. Ashiru's brilliant official writings known in diplomatic parlances as "dispatches", he tried to demystify this iron-clad and seeming awkward and dreadful country. On one particular occasion, in 1992, he even tried to convince his childhood friend and 'egbon', Ambassador Olusegun Akinsanya, pioneer Director of Nigerian Foreign Ministry's Trade and Investment Department, to prevail on Gen. Ike Nwachukwu, then Minister of Foreign Affairs to send a Trade Mission to Pyongyang to "take advantage of its rich opportunities". This was at the peak of the Cold War and was not realized. It later took, a not greatly appreciated Head of State, from the Nigerian Foreign Policy point of view, Gen. Sani Abacha, to show some warmth and comfort towards that country.
Today, we know many things. First and foremost is the fact that North and South Korea have moved from threats, tension and bitterness to joint sporting cooperation and formal contacts. The historic summit between President Kim and his South Korean colleague on 27th April, 2018, was beyond optics but laden with much optimism beyond the horizon. No doubt, peace is on course.
We also know, that though greatly lagging behind its southern neighbour and kindred; North Korea is equally advanced in scientific terms, building submarines, aircrafts and even nuclear systems. Unlike South Korea which does not have appreciable amounts of known mineral resources, the situation with North Korea is different, just like the story of Cain and Abel. The country's endowment with over 2000 mineral types is El Dorado of sorts.
For example, With 143 billion barrels of crude oil in place, it is eighth in global reckoning as against only 35 billion barrels for Nigeria. The country also has over 200 million tonnes of Magnesite, as well as 21 million tonnes each of Zinc and Limestone.  This is followed by Iron-ore, Tungsten, Anthracite, Copper, Barite, and Graphite, all in millions of tonnes are among the world largest troves. American 'treasure hunters' estimate the worth of this country's minerals at $6 trillion Quartz, but geological estimates from South Korea place this at gapping $10 trillion.North Korea's topography of many rivers flowing through jaded hills and mountains, also potentially makes it one of the best sites in the world for hydroelectricity development. This can easily help it ginger its industrial frog-leap and also export to energy staved South Korean Japan and China. Interesting enough, the country's climate and terrain also makes it, potentially a food basket in that region. Its mountain contains amongst the largest reserves of pristine forests while the foothills, provides best fertile environment for cultivation of crops, especially rice and for animal grazing.
The North Koreans are no fools. The old grandmaster, Kim Ill Sung was a hero of the Korean War which lasted three years; from June 1950 to July 1953.  The country separated bitterly along East-West or rather Communism-Capitalism lines at the vortex of the Cold War and at the end of the Second World War; just like East and West Germany. The outcome of the Korean War further pierced spinners between the divided country, leaving both sides in a "state of war" for 65 years. Worse still, the brand of communism practiced in North Korea is more conservative than China, Cuba and even the Soviet Union. This has been worsened by the dynastic, imperial-like structure which has ruled the country all these years. Although, Berlin and Bonn, two German capitals which were also divided reunited in 1990, North Korea was unperturbed. Even when the younger, Kim Jung Il took over from his warrior father on the latter's death in 1994 and saw hardlined Marxian-Lennist ideologies give way in Eastern Europe and China, they refused to capitulate in Pyongyang.
But they had a plan, which was to raise a new generation. It now appears that they secretly smuggled one of the children of the house, Kim Jong-un to be raised in the same Western Europe which they detested. The young man's identity was concealed, perhaps known to only top level intelligence services. He was groomed as a modern, 21st Century, innovative and digital leader while not loosing his conservator status of the anachronistic Pyongyang home values. The third generation Kim was therefore groomed to speak native Korean, English, French and German, all fluently. As it is with schooling in Western curricula, he must have read Niccolo Machiavelli's "The Prince" and understood better how to predict and meander out of difficult vagaries of statecraft. And not the least Sun Tzu's classic, "The Art of War" and "Beyond Good and Evil" by German philosopher, Friedrich Nietzsche. He was also tutored by some of the best Professors of Statecraft, on global power play, strategy and how to successfully ride the wildest tiger, when necessary.
At time appointed, this younger Kim has taken over the seat of his father and grandfather with a show of great dexterity and duality. His urban Swiss breeding always showed forth, through his unhidden lifestyle and dress code. Yet he has so far been tactfully ruthless, brutful and unbending in ideological tilt, similar to his forbears. Capt Woo Syekunh, a South Korea resident of Abuja, always said admiringly since Kim Jong-un's ascension to power in 2012 that, "this young man knows what he is doing. He wants America and the Western world to appreciate the worth of his country through a show of strength and weakness".
Coincidentally, across the Atlantic, a maverick but pragmatic world leader much accustomed to cutting even the most knotty business deals, Donald Trump, assumed office in the most unexpected circumstances. A perceptive businessman, with a catch phrase "America First" Trump easily got updated on the worth of North Korea both in strategic and economic terms. Afterall, the country is well endowed, relatively virgin in economic terms and could be opened up for US business interest. Trump also would want a demilitarised Korean Peninsular, and begin to work towards reducing the 30,000 strong US military forces which is costing his country a fortune to maintain.
No wonder, while Trump was blowing hot regarding possible out leashing of American fury and fire over North Korea's nuclear escapades, and if Kim Jong-un attacked, through the back, his CIA Chief and now Secretary of State, Michael Pompeo, was calming nerves and negotiating peace. Looking back, it was under President Ronald Reagan and George Bush, Snr, both Republicans like Trump that the "Iron Curtain" dividing the world along East-West lines came down. Today, American business interests have flooded not only Eastern Europe, but more, China, Vietnam, Mongolia, etc. Expectedly not less is hoped to happen in the case of North Korea; if things follow through as expected.
Very soon the 72 years old man and young man, in his mid-thirties would soon lock-horns in summit in what is expected to be global watershed; closing an old era and putting a major death-knee on doctrinaire communism. How soon all these will happen is a matter of days. One thing sure, is that between Trump and this third generational Kim, a deal with come out. Ambassador Ashiru, whose remain now lie peacefully in Ijebu-Ode, foresaw and foretold all this about twenty five years ago.
As Africa's leading economy and an oil producing economy, the burgeoning rapprochement on the Korean peninsula is interesting to us. If that country opens up properly in the direction of market economy, as expected, our intrepid business operators must be placed on alert to go in to search for new opportunities. Nigeria's economic growth despite recent downturns, is likely to fully regain and maintain its bullish character. Ditto for the demographics. New markets, new economic partnerships wherever they open up are therefore worth searching out, if and when they appear.
Nigerian Foreign Policy establishment would therefore stand to benefit tremendously in following and permuting on these emerging trends. Gladly a number of bilateral agreements exist and Nigeria today has a robust diplomatic which has covered much mileage since the early days of Amb. Ashiru. We have to be more ready to get involved, at least, now that our erstwhile boss, Ambassador Ashiru has ended up amongst the league of veritable prophets whose predictions come to pass. Adieu monsieur le Ambasadeur!
Dr. Igali, is a Diplomat, Administrator and award-winning writer.