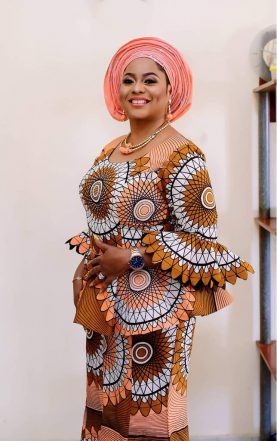 Time To Throw The Hat Into The Ring Says Elishama Ideh
Loading ...
An accomplished businesswoman, she started by picking up the rejected, abandoned and other dregs of the society to give them a new life. This two decades of social engineering and entrepreneurship by Dr. Elishama Ideh is metamorphosing into a bigger national service, writes Azubike Ogbonnaya
Elishama Ideh is an experienced social entrepreneur, a path she has traversed for two decades. She believes that the commonality of our humanity should invest our thinking and action with the best of intentions towards one another.
She further believes that looking out for one another as Nigerians is the right attitude to imbibe in order to make impact and promote selfless service amongst her leaders. This has reflected in her social entrepreneurship of two decades and her willingness to touch others with the love of God, which has now defined her politics.
Elishama Ideh is a strong and purposeful voice across the several meaningful endeavors her life and time are distributed over. She has gained the attention of both the local and international media and has been called upon to speak on a plethora of issues ranging from work and career, to business and human development, as well as the socio-spiritual.
History speaks, but we often do not take notes. The place of women in the history of the governance of nations is quite strategic. Nations and societies in the throes of misgovernance and decrepit leadership have, in many instances, landed the fortune of strong women who bring sanity and order to the national quagmire.
Our national lore is replete with the exploits of these iconic women- which includes; Queen Idia of the Benin Kingdom; Queen Amina of Zaria; Princess Inikpi of Igala land; Queen Omu Okwei of Onitsha; Moremi of Ile-Ife; Margaret Ekpo; Funmilayo Ransome Kuti etc.
And in contemporary history, women like Madame Ellen Johnson-Sirleaf, the former President of Liberia, Margaret Thatcher and Theresa May of the United kingdom; and Chancellor Angela Merkel of Germany, just to mention a few. It is becoming increasingly known, backed by the authority of empiricism, that women are best suited to serve a nation in need of a rebirth.
Dr. Elishama Ideh is acutely aware of this burden for national rebirth. She has carried it for many years.  At this point in Nigeria's history, she has decided to take responsibility for the birth of a new Nigeria under a unified vision, mission and mandate to make this nation an enviable patch of paradise in the global space. This is the summary of her leadership leanings – orchestrating unmissable change.
Her core advocacy is a New Nigeria unequivocally founded on patriotism and justice; prerequisites for building a sustainable and united Nigeria. In recent years, she has repeatedly championed the dignity of our National flag and the need for it to be the rallying point for Nigerians as well as the symbol of our unity.
She has spent millions of naira on partnering with individuals and organisations across the different religious groups and tribes in a bid to find a common ground for a prosperous Nigeria – a Nigeria where peace and justice reign, as expressed in the national anthem.
The enormity of national rebirth is never lost on a woman of Elishama Ideh's make. The sophistication of her mind infrastructure and the sheer audacity of a fiery and humane reformer unite behind her noble ambition to usher Nigeria into a new day.
In her words, "Nigeria will cease to be a potential. It will become one of the most pleasurable experiences on earth". These words propel her towards 2019 where, with every Nigerian citizen, the work for a truly great Nigeria begins.
Dr. Elishama Ideh's life for the past two decades has been that of service to society. Her patriotism and love to serve her country, Nigerian and humanity has never been in question. A successful businesswoman with the fear of God, Mrs. Ideh didn't take long to discover her passion for social entrepreneurship starting with the assisting and helping of the downtrodden and other socially vulnerable persons in Lagos and other parts of the country.
Her vision and passion has been to give new life and confidence to the rejected, oppressed and destitute; those generally regarded as dregs of society, restore hope to them by sharing God's love, not just by word of mouth, but also by practical demonstration.
As the only girl in the family, Elishama was the centre of attraction and affection of not only her parents, but by the siblings as well. Her primary education at Mayflower primary school Ikenne, Ogun State, and secondary school education at the Federal Government Girls College (FGGC), Onitsha, before proceeding to study Mass Communication at Bowie State College, Maryland, USA equipped her to face the challenges she carved out for herself. On her return from the USA, she went into business and was doing wonderfully well. Consequently when the nudging began to go into social work, she hesitated.
Interestingly, when the passion and vision for helping the poor on the streets came, Dr. Ideh did not envisage she would also be rescuing and giving new lease of life to the area boys as an addition to her social responsibility. She was initially just focusing on the abandoned, the destitute, the orphans, prostitutes and the widows. "But it got to a season in my work on the street, that we now desired an office where people could meet with me for counseling because prior to that time, we would just carry our chairs and tables to the streets and under the bridges and that was where my office was as we moved along in the work," She said.
Even when an office space was procured in Ikeja, Lagos, it did inhabit no fewer than 150 area boys, drug addicts and drug sellers.
"That scared me to death because I was wondering why it should be an area occupied by armed robbers, drug dealers, miscreants that have to be our office location in Ogba area. Anyway, by faith, I stepped out to do the assignment.
"This particular land happened to be a property I was working on before the Lord handed me the responsibility of taking care of this section of the society." She would feed and organize counselling of all the area boys, repentant armed robbers, drug dealers that were reformed and changed their ways.
"My team and I made sure we come down to their level; we organized a setting in order to catch their attention. The sort of music we play is the sound they are used to. We bring gospel music to them in the form of Apala, juju, reggae, alanta, generally street sound but imbibed with anointing of the Holy Ghost, then we feed them and clothe them, we identify what brought them out to the street.
"The ones we can reconcile with their families back we reconciled, and the ones we can't we give a new lease of life. A lot of people think that this group of boys called the area boys is a set of completely wasted people. This happens to be the people God called me to minister to and we have recorded tremendous testimonies.
"We have watched the lives of these young men transform dramatically in a very short space of time. Most of them have been empowered economically and are doing well," she said.
He social entrepreneurial work no doubt has brought her face to face with the stark realities of poverty. "In Nigeria right now, poverty is on the increase, and this is because we've failed to understand that poverty arises as a result of the mismanagement and failure to properly harness our God-given natural resources and the insensitivity of past and present government to the welfare of its people.
"Thus, I have been making conscientious efforts to educate leaders of churches on the importance of getting involved in the polity of the nation and why the walls of the church needed to be broken so that the light and the salt of the earth, which they have been called to be, will be extended to the exteriors of the nation since only righteousness can exalt a nation," she emphasized.