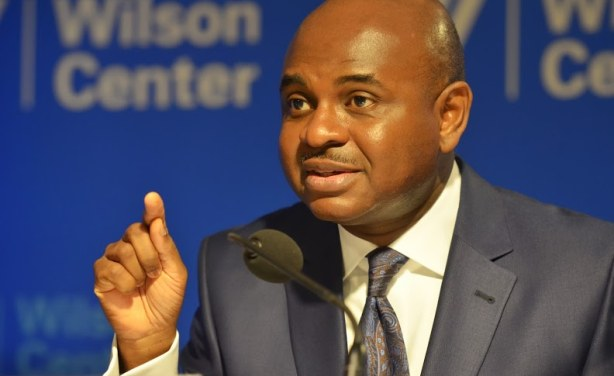 2019: I'm Not In The Race Just To Unseat Buhari – Moghalu
Loading ...
By Nedum Noble
Former Deputy Governor of Central Bank and Presidential aspirant in the 2019 general elections, Prof. Kingsley Moghalu, has said he was in the race not primarily to oust President Muhammadu Buhari, but to provide good governance to the citizenry.
Moghalu who stated this during the inauguration of the Kingsley Moghalu Support Organisation (KIMSO) in Awka, Anambra State, said he strongly believed he had the overwhelming support of the Nigerian citizenry.
He said he had received several invitations from prominent politicians to join their party, but said he was being careful on the decision to take in order not to repeat the mistakes of the past.
"I have my vision and it is focused on the Nigerian people, not on coalition whose sole purpose is to defeat the president. That was what happened in 2015 and that's why we are where we are today.
"My focus is on good governance, not just on removing Buhari. In 2015, the focus was on removing Jonathan and that was why we got an incompetent government.
"That's what might likely happen if Nigerians make the same mistake of not choosing the right person who can deliver," he stated.
Moghalu, who insisted that he had what it took to be the next president of Nigeria, stressed that defeating Buhari would be an easy task as he only needed to present the people with what he called the President's "poor record" in the last three years.
"We will run against the incumbent on his records.  After three years, what is the track record on employment? When they took over in 2015, Nigerian employment was 8%, now it is 19%.
"9million Nigerians have lost their jobs since the commencement of this administration. What is the track record on economy? Inflation has worsened.
"What is the track record on security? Nigeria has become a killing field. Nobody can sleep with his two eyes closed, even when we are being ruled by a General.
"The hood does not make the monk because he is running on an old name. I will beat him by simply using his poor record," Moghalu stated.
Identifying leadership as the major challenge of the country, Moghalu regretted that the nation was currently being ruled, assuring that he would lead Nigerians and not rule them.
"I have the support of the ordinary people of Nigeria. I'm not a candidate of any cabal or godfather. I have a very clear vision to eradicate poverty and restore Nigeria place in the world.
"I have the experience, education, global exposure and connections. Not to sound immodest, I think I have got what it takes to lead Nigeria.
"We've tried the same old politicians for over twenty years and it didn't work. We need someone who will be able to manage Nigeria economy properly. I was a deputy governor of CBN and that gives me an edge," he asserted.
Inaugurating members of the Kingsley Muoghalu Support Organization, the presidential hopeful described the team as his grassroots army, who were chosen based on their loyalty, patriotism and selfless service.
"It is a voluntary organization, and people are not coaxed into belonging. We are setting this up in all 36 states of the country. We have already set up that of Katsina state and the support is overwhelming," he added.