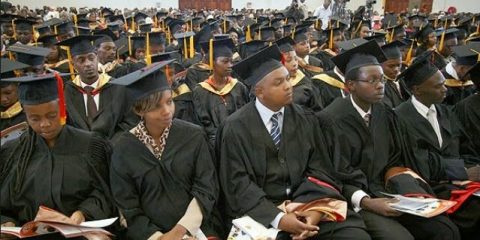 SSANU Vows To Disrupt UNIZIK Matriculation Ceremony
–
Loading ...
By Nedum Noble
The Senior Staff Association of Nigerian Universities ( SSANU ) Nnamdi Azikiwe University, Awka chapter on Friday threatened to disrupt the matriculation ceremony slated for Saturday 10th February 2018.
The body accused the institution's management of insensitivity to the plight of non-teaching staff of the university.
Members of the union who carried out a peaceful protest within the campus chanting solidarity songs,
said the management was not being fair to them by treating them as slaves and second class citizens.
Addressing journalists at the multi-purpose hall of the university shortly after the union's monitoring activity , chairperson SSANU NAU branch, Comrade Njideka Nwangwu  alleged that the management has withheld their hazard allowance on the ground that they were not entitled to such money .
She stated that the union was vehemently kicking against all forms of marginalisation meted out on non-teaching staff in Unizik .She lamented that two of the union's members have gone blind on account of the functions they perform in the office adding that the federal government has released their hazard allowance but accused the university management of sitting on their harzard allowance .
Nwangwu who also doubles as the chairperson of Joint Action Committee of NAT ,NASU and SSANU , noted that the national body of the union made it clear that the non-teaching staff of Nigerian universities must be given their rightful position in the nation's university system stressing that the union's apex body will invade Nnamdi Azikiwe University as well as all other universities refusing to pay entitlements non-academic staff .
She insisted that there would not be any matriculation exercise until the management of the institution refrained from marginalising non-teaching staff.
Meanwhile the institution's Public Relations Officer Dr.Emmanuel Ojukwu who spoke with our correspondent in his office , said it was not right for the striking workers to disrupt the matriculation ceremony scheduled to hold tomorrow .
He was of the opinion that government was on the verge of addressing their grievances and as such there was no reason whatsoever to forment trouble .
Ojukwu noted that the non-teaching staff have not come to work since December last year yet they got their salaries regularly pointing out that the matriculation ceremony was an academic exercise and ASUU was not on strike .