Benue: Mixed Feelings Greets Buhari's Visit To Nasarawa
–
Loading ...
Mixed feelings and tongue lashing has greeted President Mohammadu Buhari's visit to Nasarawa state after he has failed to visit its neighbouring Benue several weeks after his kinsmen, Fulani herdsmen invaded and killed over 73 innocent farmers in cold blood.
Those who spoke to 247ureports.com said his action as a leader is a clear indication that he personally does not care about the people of Benue state. They also said that as the leaders of the ruling All Progressive Congress, APC, the party has failed the people of Benue state.
In a phone chat, the state Publicity Secretary of the Peoples Democratic Party, PDP, Bemgba Iortyom expressed mixed feelings saying "But again, it all boils down to the fact that the APC has failed the people of Benue state. At the Federal and state level, the people of Benue state have been given a raw deal by the APC.
"We understand the President is in Nasarawa to commission projects. If he were to come to Benue, I doubt if he will find projects to commission because the government of Samuel Ortom has virtually not executed any project. He has a huge deficit in project execution in Benue state in the past three years of his administration.
"But haven said that, I think the president could have still found a reason to visit the state even if only to commiserate  with the people over the herdsmen attacks which claimed lives and destruction of properties.
He said the President's refusal to visit Benue since the new year attacks sends a clear message to the people of Benue that he cared not about them. "That is just the simple fact," he said.
He also expressed dissatisfaction with police activities in the state since the attacks saying "the police have shown themselves incapable of handling the situation and as such, the Federal Government should go ahead and send troops to Benue.
The state's PDP spokesman who also condemned arrests of dozens of Benue youths in Gboko local government area of the state lambasted the force PPRO who said they have arrested only five in connection with the attacks.
"But in Gboko they arrested dozens of youth overnight. It's not just about making arrests, what the Benue people want is that the killings should stop.
"The police is not on top of the situation and all they keep saying is the Benue State government is culpable in this and in that. What is the need for the blame game. If they have that kind of time and resources, they should deploy it to fish out these killer herdsmen who are killing farmers in Benue. The Benue situation qualifies for the deployment of troops and the federal government should go ahead and do that, " he said.
Also speaking, the Public Relations Officer, PRO, of Vigilantee in Benue, Mr Timothy Nember has a different feeling.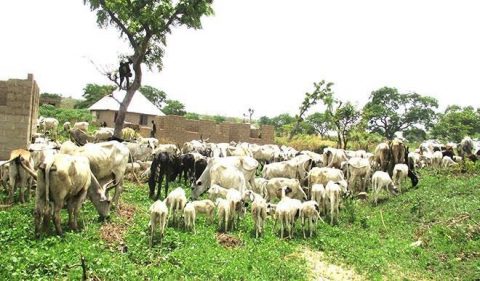 "I don't think the President has done anything wrong by going to Nasarawa  because all the suspected killers of Benue people are coming from Nasarawa state.
"So if he is there to stop those people who are killing us, it is a welcome development. But after all is said and done, we still expect him to visit us to, at least, sympathize with us and make us feel we have a caring President.
Speaking on the arrest of Benue youth in Gboko recently, Nember described it as a mockery on Benue state saying he was taken aback that the police were arresting the same group of people who are facing attacks instead of the real culprits.
"It is actually unfortunate and a mockery on Benue that we are being killed and at the same time, being arrested for no reason. In the Gboko incidence, even after a curfew was declared, government  still deployed soldiers to Gboko but in Guma, Logo and other areas where people are being killed, Fulani militia have not been arrested. It is to our dismay that things are happening this way."
In his own submission, Governor  Samuel Ortom of Benue State has also stated that the visit of Benue is left to Mr President to decide since he has the right to choose where to go and where not to go.
"Even when we visited him in Abuja, we still made appeal for him to visit Benue. I hope that it is still on his drawing board. So it is left to him to come or not. But for us, we are law abiding and will continue to be", Ortom said.