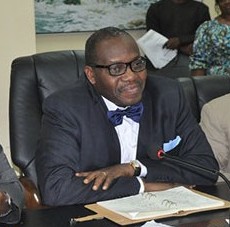 For About 30 Years No Power Plant Was Built In Nigeria, Amb. Godknows Igali, Former Power Perm Sec Explains Poor State Of Power In Nigeria
Loading ...
Explains that former President Goodluck Jonathan made the biggest investments in Power in the History of Nigeria 
Former Permanent Secretary of the Ministry of Power and Nigerian Ambassador to the Scandinavian countries, Ambassador Godknows Igali has attributed the current lack of power in Nigeria to years of neglect by the government. This is as he explained why Nigerians are yet to fully achieve steady supply but credited former president Goodluck Jonathan for making the highest investments in power in Nigeria's history.
Ambassador Igali noted that before the PDP government came into power, Nigeria witnessed no investment in terms of improving generation capacity or infrastructure for about 30 years in spite of the growing economy and energy demands of the Nigerian people. 
"We saw that for about 25 years or 30 years, not a single power plant was built in the country. For a period of 20 years not one single engineer was recruited into a sector that is largely an engineering sector. In fact even those who climbed poles had all aged. So when president Obasanjo came in he came up with this programme that is now known as NIPP," he said. 
Igali explained on a GatefieldTV programme #ConversationswithAbangMercy, that the NIPP projects initiated by former President Obasanjo were held back by several probes by the National Assembly during the Yar'Adua presidency.
Jonathan's achievements in Power
He said that Jonathan administration resumed the power projects and completed all of them during his 5 year stint as President. He also listed other power projects initiated and some completed by Jonathan to include the Zungeru, Gurara and Kashimbilla Dam. 
"When President Yar'Adua unfortunately passed on, President Jonathan came in and ordered the immediate resumption of the NIPP projects. 
"By the time he (Jonathan) was leaving in 2015 out of the 10 power plants which project construction had stopped totally, almost all were completed. In addition they started a new power plant 215MW in Kaduna, which was about 80% completed; the Zungeru power plant conceived by the late Sardauna of Sokoto, Ahmadu Bello which was also initiated by Jonathan and 40% completed by the time he was leaving office. The Gurara dam 30MW was completed and the transmission lines had gotten up to Mando to target the industrial sector in Kaduna and the Kashimbilla dam which was conceived by President Obasanjo as an ecological project but redesigned to generate about 40MW of power targeting Benue and Taraba state. He said it was totally completed. He said the engineering design of Mambilla was also completed at the time. 
Why privatization programme is yet to achieve results
Igali noted that most of the business that acquired the dilapidated power assets from the country have been unable to make significant investment in the collapsed transmission infrastructure. He listed that to include power lines, transformers, metering among others. Igali attributed this to the fact that assets were purchased with commercial credit in the first place.  
"What is happening today is that the business people from Nigeria and their technical partners who bought these assets mostly borrowed from banks to buy and having borrowed from banks to buy they now do not have the capacity fully to go to the same banks when they have not paid to get more money to improve the networks."
He commended the Federal Executive Council for its resolve to assist the investors and said it would help Nigerians to expect power. 
Igali spoke about the Azura power deal, the Niger Delta avengers, the amnesty programme and gave his position on restructuring as a stakeholder in the Niger Delta. He commended the Governor of Bayelsa State, Governor Seriake Dickson for doing an outstanding job in the educational sector and he said this is the kind of investments that the Niger Delta requires at this time for a more sustainable future.