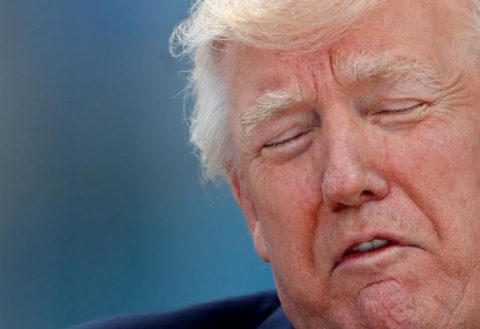 Trump's Physical Revealed Serious Heart Concerns, Outside Experts Say
WASHINGTON — Cardiologists not associated with the White House said Wednesday that President Trump's physical exam revealed serious heart concerns, including very high levels of so-called bad cholesterol, which raises the risk that Mr. Trump could suffer a heart attack while in office.
Dr. Ronny L. Jackson, a rear admiral and the White House physician, said Tuesday in his report on the president's medical condition that Mr. Trump was in "excellent" cardiac health despite having an LDL cholesterol level of 143, well above the desired level of 100 or less.
Dr. Eric Topol, a cardiologist at the Scripps Research Institute, disputed that rosy assessment. He said on Wednesday that the most alarming fact is that the president's LDL levels remain above 140 even though he is taking 10 milligrams of Crestor, a powerful drug that is used to lower cholesterol levels to well below 100.
Sign Up For the Morning Briefing Newsletter
"That's a really high LDL," Dr. Topol said, echoing the concerns of other heart experts who reviewed Dr. Jackson's report. "We're talking about a 70-plus-year-old man who is obese and doesn't exercise. Just looking at the lab value, you would raise a big red flag."
He added: "I would never use the word excellent health. How you could take these indices and say excellent health? That is completely contradicted."
During an appearance in the White House briefing room on Tuesday, Dr. Jackson said he would be prescribing a higher dose of Crestor, the brand name for rosuvastatin, to help lower the president's LDL levels. He said he is pressing Mr. Trump — who at 6-foot-3 and 239 pounds is just below the official label of obese — to eat better and abandon his largely sedentary life for one that includes exercise.
But on the positive side, Dr. Jackson also said Mr. Trump had no history of smoking or drinking and did not have diabetes. An exercise stress test using a treadmill showed "above average" capacity for his age. An ultrasound of the heart was normal, he said.
© Doug Mills/The New York Times Dr. Ronny L. Jackson, a rear admiral and the White House physician, said during a briefing on Tuesday that President Trump does not have heart disease."His cardiac health is excellent," Dr. Jackson said. "He doesn't smoke, he doesn't have diabetes — a lot of the traditional risk factors he doesn't have. And so I think those things, in combination with the excellent cardiac results that we got from the exercise stress test, I think, are very reassuring."
Asked whether Mr. Trump has heart disease, Mr. Jackson said he did not. "Technically, he has nonclinical coronary atherosclerosis," Dr. Jackson told reporters.
Outside doctors — who have not directly examined Mr. Trump — questioned that conclusion, saying that the combination of Mr. Trump's weight and the cardiac test results raised more concerns than Dr. Jackson's comments would reflect.
Dr. Sanjay Gupta, the chief medical correspondent for CNN, repeatedly expressed concern on Wednesday about test results that showed Mr. Trump's coronary calcium score had increased to 133, from 34 in 2009. On CNN, Dr. Gupta repeatedly showed a chart suggesting that levels above 100 indicate someone with heart disease.
That helped spark a flurry of activity on Twitter, where people debated whether the president officially had heart disease, based on the lab results released by Dr. Jackson and his comments to reporters.
Dr. Topol disagreed with Dr. Gupta about the calcium test, which measures the amount of plaque containing calcium in a person's blood. Higher numbers indicate the development of coronary artery disease, which could lead to dangerous blockages in the heart.
But Dr. Topol said he would not be concerned unless a patient of Mr. Trump's age came to him with calcium levels of 700 or more.
"That tells you there's some calcium," he said. "It doesn't tell you whether that's inside or outside the arteries. That doesn't tell me the risk."
Several cardiologists said the president's weight and diet were a serious problem that likely contributed to his high LDL level and increased his risk for heart problems. Dr. Topol dismissed as irrelevant the debate about whether the president technically met the definition of obese.
"Here the issue is, does he have abdominal obesity?" Dr. Topol said. "I don't care what his height is. All you have to do is look at his abdomen. Abdominal obesity, that's the machinery for inflammation for the heart."
Sarah Huckabee Sanders, the White House press secretary, stood behind Dr. Jackson's assessment of the president's health, noting on Wednesday that he has been a White House physician for 12 years, treating former Presidents George W. Bush and Barack Obama in addition to Mr. Trump.
"He is the only doctor that has weighed in on this matter that has actually examined the president," Ms. Sanders said. She called Dr. Jackson "the only credible source when it comes to diagnosing any health concerns. We support what he said yesterday 100 percent — that he is in excellent health."
Several former members of Mr. Obama's White House staff echoed that praise of Dr. Jackson.
David Axelrod, who served as one of Mr. Obama's top advisers in the White House, said on Twitter Tuesday: "I knew Dr. Ronny Jackson in the White House. In my experience, he was very good guy and straight shooter."