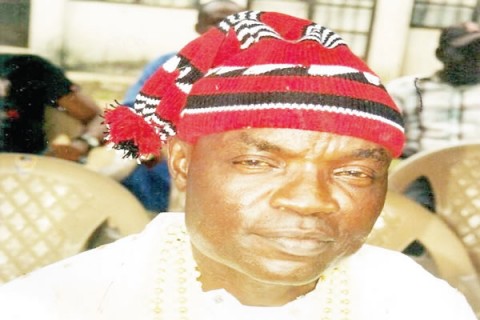 We Won't Tolerate Further Mess In Anambra Central Rerun – Ezeonwuka
From Theo Rays, Onitsha
Few days after the peaceful conduct of governorship election in Anambra State which the incumbent governor of the State Chief Willie Obiano won land slide, the Abuja Division of the Court of Appeal ordered the Independent National Electoral Commission (INEC), to conduct a re-run election for the disputed Anambra Central Senatorial District within 90 days. INEC following the judgement has fixed the election for January 13, 2018. This new development notwithstanding some people are still kicking against the proposed date for the rerun election with Mrs Uche Ekwunife who was ousted from the seat of Anambra Central in National Assembly asking INEC not to conduct the election for legal reasons. In this interview, Igbo spiritual leaders and a member of Board of Trustees BoT of All Progressive Grand Alliance (APGA) Chief Rommy Ezeonwuka (Ogirisi Igbo) declared that enough of mess on the scheduled rerun election saying that the good people of Anambra Central will no longer tolerate further mess over the election. The Ogirisi Igbo threatened to unleash the powers of Ogirisi deity and gods of the lands to anybody or group who is opposed to the order issued to INEC by Court of Appeal to conduct the election within 90 days. He also spoke on Obiano's victory at the just concluded Anambra election, the defection to All Progressive Congress (APC) by Chukwuemeka Ojukwu Jrn 2019 and others issues.
What is your overall assessment of the just concluded governorships election in Anambra State which Governor Obiano won landslide? 
It was a wonderful election. And everybody was happy. This is the first time we are to witness an election excise where people are jubilating after not just because the choice of the people prevailed but also because the election was peaceful. We in APGA are happy that our candidate Chief Willie Obiano Akpokuodike won and we are also happy that the election went well without any iota of hitches. Having said this, I want to thank President Muhammadu Buhari and his party APC for allowing a level ground for the election. Before the election people from different quarters insinuated that APC have plans to rig the election in favor of their candidate Hon. Tony Nwoye, but at the end of the day it did not happened, Mr President and his party could not rig the election, so we have to commend President Buhari and APC for paving the way for the peaceful conduct of the election, Though the Gods of Our land through the Course placed by Ogilisi were ever ready to deal ruthlessly for any person or group no matter how highly placed who could have ever rig the election.
Let me also thank the stakeholders in Anambra who threw their weight behind Obiano's well deserved reelection. I give kudos to the campaign organization led by Chief Victor Umeh, The traditional rulers, the town unions President Generals and the Market leaders for their strong support for Obiano's reelection. My kudos also goes to the activist youths who shunned negative vices like vote and die, thuggery and doing the bid of political desperadoes to snatch ballot boxes and all that. INEC, the police and other security agencies, The Willie Obiano and osodieme support groups, The BOT members of APGA in Anambra and everybody who contributed in one way or the other to ensure the success of the election.
Before we continue with the Anambra poll, let's talk about one thing that came up during campaign and that is the defection of Emeka Ojukwu Jnr to APC. How did you look that? Some people say it was a political gamble taking too far?
Not gambling by my own understanding. To me it was a sign of maturity on the side of Emeka. Let's us not forget that his father joined National Party Nigeria (NPN) instead of Nigeria People's Party (NPP) which is like Igbo Party when he came to the country from Ivory Coast. So sometimes you break shadows, bonds and stereotypes to move forward. As a grown up son and married with his own family, Emeka is entitled to take his own decisions, make his own choices and do things the way he feels that are okay for him. So Emeka's defection to APC is a mark of political maturity and I wish him well. My take on him also was that he did not blackmail APGA.
Another thing I like us to touch quickly is the Anambra Central rerun election. INEC has fixed January 13, 2018 as the date for the election following the judgement delivered by Appeal Court. Do you hope that the election is going to hold considering the fact that some people are still kicking against it. More so there are still some litigation on it?
Enough of these mess about the Anambra Central rerun election. The Appeal Court has given the last judgment and INEC has fixed January 13, next year for the election for the election. As the Ogirisi Igbo, the spiritual leader of Igbo Land let me declare that we won't tolerate any mess on the process of the return election. Enough of these mess called litigations. Anambra Central must have a senator elected and sworn in by January next year. There is no two ways about it. Anybody who dares to violate the process of the rerun election in January will have the power of Ogirisi to contend with. I have said this over and over and I mean it. If the law as the court interpreted it says that you are not eligible to stand for the rerun election forget it and wait for another dispensation and stop wasting our time with litigation. Anambra Central must have a senator in January next year and nothing will stop it.
Let's go back to Obiano's reelection. By March next year Obiano will take up a fresh four years in office. What is your expectations?. What are the major targets you would like to set for him? 
His major campaign highlight is centered on continuity and consolidation, meaning he is prepared to continue the second tenure from where he stopped at the first tenure. So let there be no dull moment or backsliding. Let him ensure that the tight security that characterized his first tenure continued, that massive development in agriculture continued, that attracting foreign investors continued, that Community development projects continued, that road construction continued, that uninterrupted payment of workers continued, that good relation between the Executive and the Legislature continued, that good relationship between government and relevant stakeholders like the traditional rulers, town unions, religious leaders and Market leaders continued. Let him also ensure that the good relationship he has with the leadership of APGA at all levels continued. Let him empower the stakeholders of APGA with windows and ensure that the good relationship with Persons Like Victor Umeh, Ogilisi-Igbo and prominent personalities and political gladiators like Soludo and others continued. And let him ensure that good attention accorded to education, health, sports and other sectors continued. SPORTS AS THE MAJOR HOPE OF THE YOUTHS HAVE TO BE GIVEN FIRST CLASS ATTENTION FOR THE BENEFIT OF THE YOUTHS.
In addition, I want to use this opportunity to draw the attention of His Excellency on the need to always remember the Biafra fallen heroes. When he assumed office he headed to the call to accord the fallen heroes a benefiting burial rites. All his predecessors declined to accord the fallen heroes the burial rites but he accepted to do it. And he did it. That important occasion took place on January 12, 2015. On that day it was declared that January 12 is Biafra war heroes day and there should be a kind of annual Remembrance Day ceremony for the heroes, so I want His Excellency to organize the heroes Remembrance Day although in his second tenure. We are going to add the remaining names of the fallen heroes who came late from some communities before the ceremony in 2015 into the book of the fallen heroes if the heroes day is going to hold next year and their names included in the epitaphs at Ekwueme Park in Awka.
Amid glaring marginalization of Ndigbo by Buhari's administration, indications are ripped that Buhari is wooing Ndigbo for his perceived reelection bid in 2019. As the spiritual leader of Ndigbo which you claim to be would you advice Ndigbo to support Buhari's ambition? 
As far as I know Buhari has not told anybody that he is interested in second term neither has he demanded support from anybody. We have people like the Governor of Ekiti State Ayo Fayose and former Governor of Jigawa State, Sule Lamido who have declared interest to run for President in 2019. Buhari has not done that. So all about his ambition for second term is rumour and speculation and you don't expect somebody like me to start dwelling on rumour and speculation. For me to advice Ndigbo now amounts to dwelling on rumour and speculation, I will advice Ndigbo when the time comes.
People are saying that Buhari's visit to Southeast States of Ebonyi and Anambra recently and his proposed visit to Abia next week is not unconnected with his interest on Igbo support for 2019?
I don't think the visit is all about 2019. I think the visit is about the need to respond to the challenges facing the country most especially the challenge to keep the country one and intact. While in Ebonyi State he said that the oneness of Nigeria is not negotiable, so If you look at what he said there you will find out that the purpose of his visit is not for his ambition for reelection but to ensure peace and stability in the country. In Anambra he came to campaign for the candidate of his party ahead of the just concluded governorship election. So the purpose of his visit is very clear.
Does it not worry you that Buhari is not doing anything towards addressing the glaring marginalization of Ndigbo in his administration? 
Well, to me we have to do some home works before laying blame on anybody or complain about marginalisation. Overtime we in APGA have told Ndigbo to embrace APGA as a platform to fight for our shares of the national cake but they don't care to listen. You could imagine the political prospect of the southeast if we have our governors in Abia, Anambra, Ebonyi, Enugu and Imo under the platform of APGA. Nobody would dare to joke with us because our political force is intact. But when they see that we are scattered like sheep without shepherds they decide to do whatever they like against us. The point I am emphasising on is that, it is time for Ndigbo to embrace APGA totally knowing fully well that other political parties are not willingly ready to address our interests in the system.
What is your take on the massive call for the restructuring of Nigeria by relevant stakeholders? 
I support it because that will certainly bring out the best from the people. I am sure Ndigbo in particular would fair better if we are allowed to do things in our own way. For instance, I don't believe that assassin could invade a church at Ozubulu at kill people and ran away if we the Police Force in Anambra made up men and officers recruited from of Anambra enclave.  Virtually every part of the country has one complaint or the other. In the southeast we are faced with marginalization, agitation for Biafra and attack from herdsmen, in the Southwest there is OPC, in the south south they have militants who wants the region to take control of the resources in their home land. In the north there are Boko Haram, deadly and destructive herdsman. These are agitations and strong indications that all is not well with us. And that makes it imperative for us to sit on a round table and address all the negative issues surrounding our existence as a country. So I support restructuring and the earlier we do it the better for us.