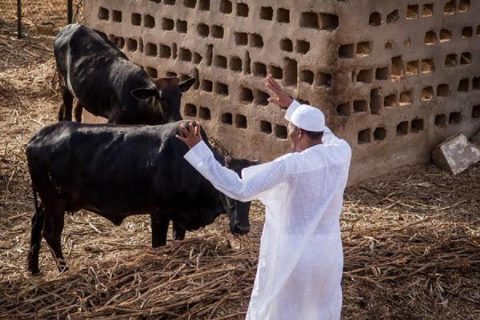 Still On Presidential Cows: Unmasking The Irony – By Micheal Joseph Okon
The Ibibios do have a proverb that goes, " *Uma ukpono abasi uboho anye adaka awud idem* " invariably meaning when you give a man too much respect he becomes cocky. The mere fact that the Akwa Ibom State government decided out of common mutuality and diplomacy to disclaim a locker room comment of a free citizen should not infect the Akwa Ibom APC with reckless demands from Our Number Citizen. Dat one no fit happen.
Why the angst if there are no truths to the statement? The irony of life lays in the foolishness of pushing beyond the point of victory. Essien Ndueso is of the Fourth Estate, it's his intrinsic instinct to display the conscience of the people, and this he does both as a professional and for the fun of it. He is first a journalist before any other privilege.
The real cows fattened by Buhari's negligence are not eating fodder, they are juxtaposing cesspit subheads stealing with Biro while annexing our common wealth in preparation for 2019 second term bid of the husbandman.
Par adventure some persons are wondering about the shrilled angst engulfing and emanating from the cows, I beg to differ from the innocent beef suppliers and attempt expository allegory on the other sacred cows of Mr president that are feeding fat on our dying or rather suffocating, if not dead economy.
Are the 'cows' fighting Boko Haram on paper with 1 billion naira sorry dollars tax payers money not feeding fat than the common Nigerian?
Are the Cows Manning the petroleum sector of the Nigerian Economy not feeding fat while Mr President; (minister of petroleum) looks the other way? Why do we have NUPENG and PENGASSEN in endless strike threats?  Okay how come fuel now goes for  *N180* and Mr President goes visiting his 'fattened cows'?
So Akwa Ibom APC demands Governor Udom Emmanuel to apologize to Mr President for custodians of the peoples conscience opinion? Who should apologize to Nigerians for the biting hunger and the overwhelming lies of Lai Mohammed? Why feed us the illusions of propaganda forgetting that we can not all be fooled at the same time?
It's laughable reading an APC apologist's futile attempt to equate Mr Udom Emmanuel's humility and respect to Mr President as a 2019 winning strategy for the Hilltop mansion. Come to think of it, why would some APC nitwits even imagine the need of Buhari for Udom Emmanuel to secure his second term bid except for the reality on ground that INEC houses more fattened cows, well fed and and prepared to do the bidding of Mr President. Such statement submits incontestable verdict against the Buhari government.
While our economy suffers, Presidential Cows at INEC are warming for the usual corruption that Mr President claims to be fighting. Who is fooling who?
*Sacred cows* are neither arrested nor investigated by EFCC because they are Presidential, did I hear they are after Senator David Mark because he is not a Presidential Sacred Cow? The sacred cows are muddling and frustrating the budget and the Economy, yet nothing happens, why? Because they are Presidential.
Herdsmen are ravaging the Nation with AK47 and no one can apprehend them. Why? Your guess is as good as mine.
While the common Nigerian is struggling with I-Pass-My- Neighbor for lack of electricity some Cows are feeding fat from the hoax called School feeding.
Like Prophet Suleiman had rightly said, discovering stolen money is different from fighting corruption. Corruption is feeding fat in the cover or ignorance of Mr President for no one can fight what he has not truly identified. Corruption is staring Mr President at the face under the cloak of sacred cows but he doesn't want to see.
It's obvious that the Cows owned by President Buhari have experienced the Change he promised, a thing the humans in Nigeria that it was promised, haven't experienced
(Check the pictures below to see how well the Cows have changed.)
*MICHEAL IS OF THE COALITION OF YOUTH LEADERS (CYL) IN AKWA IBOM STATE.*