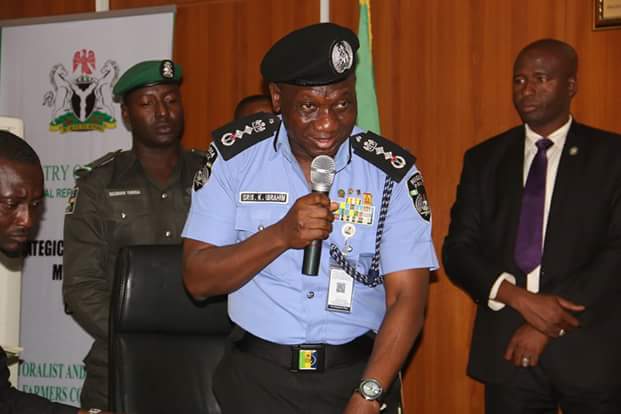 Exposed: The Untold Story of IGP, His Plots To Frustrate Buhari's Reelection
Comfort Nnaji, Lagos
Investigation conducted by this reporter revealed that, among other reasons
why the then AIG Ibrahim Idris was considered for appointment as Inspector
General of Police by the selection committee constituted by President
Muhammadu Buhari which comprised of the Chief of Staff, National Security
Adviser and the D.G S.S.S., was that Idris who then returned to the state
as the CP elections during the 2015 presidential elections, assisted the
APC in ensuring that the party had a clean sweep or at best, he was assumed
to maintain neutrality throughout the conduct of the election.
Recent events and information available to this reporter are however, to
the contrary, for investigations revealed that the posting of then CP
Ibrahim Idris, now IGP, to Kano to supervise the 2015 presidential
elections was actually influenced by Namadi Sambo, then Vice President of
Nigeria. Part of the reasons considered by some PDP stalwarts and the
powers that be in Abuja was the cordial working relationship they had with
him while he held sway as the Commissioner of Police, Kano State Command
before he was transferred out. Therefore, his being brought as CP Elections
was not only homecoming but someone who could easily be trusted to do the
hatchet job, considering the fact that his home state of Niger was under
the control of the then ruling party (PDP).
His marching orders from Namadi Sambo, were simple. He was to ensure that
president Ebele Jonathan secures 25% of the votes cast to enable him
fulfill the constitutional requirement which provides that, to be validly
elected as Nigerian President, a candidate must have such percentage in two
third states  of the country. Namadi Sambo, was desperate to prove to his
boss, former President Goodluck Ebele Jonathan, that he was not a political
paper weight as widely bandied by Jonathan's political associates who were
anxious to see Ebele Jonathan reelected. This perception almost cost his
replacement with then Governor Ibrahim Shehu Shema of Katsina State.
IGP Ibrahim Idris discretely maintained classified romance with PDP
Governors, anchored by his friend, his Excellency, Governor Udom Gabriel
Emmanuel who patronizes the IGP with contracts through one of his fronts,
Emmanuel Umar, who masquerades as IGP Ibrahim Idris Security Consultant.
Since inception, under the cover of official visit, either the IGP (Ibrahim
Idris) and his wife, Barrister Asmau have visited Akwa Ibom to keep tab on
some of the patronages Governor Emmanuel Gabriel Udom dispenses to him and
members of his house hold. This is in anticipation of the role Ibrahim
Idris will play in any upcoming election in favor of the opposition, PDP.
It is in the prosecution of this set objective that a Security Summit was
put together by Emmanuel Umar, a retired junior personnel of the Department
of State Services (S.S.S.), which took place at Ibom hall, Uyo, Akwa Ibom,
on the 3rd of October, 2017. This reporter reliably gathered that a secret
meeting between Ibrahim Idris and the PDP Governors held at the government
house where the Governors secured his commitment to ensure that their
states will be safe from the marauding APC tsunami that engulfed PDP states
in Northern parts in the 2015 general elections that has rewritten the
history of political electioneering where no incumbent Nigerian President
has ever lost an election.
In order to divert the attention of the ruling party from this high wired
sabotage, Governor Nyesom Wike of Rivers State often staged media bickering
with IGP Ibrahim Idris, even to the ridiculous level of quit notices to
some Sections of the Rivers State Police Command on certain government
buildings occupied by its personnel. However, from the pictures captured,
the body language of the IGP betrayed him during the Security Summit as he
was seen hugging and saluting Governor Wike, who they want Nigerians to
believe is his sworn enemy.
Further investigation also revealed that since the revelation by the Daily
Independent, that the Presidency has been shopping for a new IGP and three
DIGs and three AIGs are said to have been screened. IGP Ibrahim Idris has
lost sleep where he has not only become antagonistic to everyone,
especially DIG Hycent Dagala of the FCIID who he had engaged in a brawl on
several occasions, accusing him of sabotage. He has also engaged the
services of marabouts where ACP Abba Kyari is said to have been allocated
huge sums of money to travel to Yobe and Maiduguri to recruit marabouts for
special prayers, while ACP Yusuf Kolo has bugged the mobile phone numbers
of all senior officers in the Force Headquarters, Force CID and other
Police Officers suspected of disloyalty. Police officers now talk in hush
voices and have practically abandoned their phones. The fear of mobile
phones in IGP Idris administration is the beginning of wisdom. He has also
engaged the services of some prominent Northern Emirs such as Etsu Nupe,
Emir of Kano, Emir of Lafia and the services of his wife, Princess
Barrister Asmau, who he sent with some Ghana Must Go bags to the Emir of
Daura. He has also sought the intervention of General Abdusalami Abubakar,
some retired Generals presumed to be close to the President and a close
relation of the President in the Villa, all in a desperate bid to save his
job. He has also recruited Senator Godswill Akpabio, the former Governor of
Akwa Ibom State, to assist him to intervene with the probe by the Senate.
He (Akpabio) is also to see the President and Commander in Chief of the
Armed Forces of Nigeria, Muhammadu Buhari, either on Monday or Tuesday to
reciprocate the IGP's gesture over the Akwa Ibom 2.4 Billion Naira Fraud in
a typical African adage of 'I scrub your back and you scrub mine too' over
the Tribune Newspaper publication which gave an insight into the corruption
sleaze in the state.
Comfort Nnaji is an investigative Journalist from Lagos