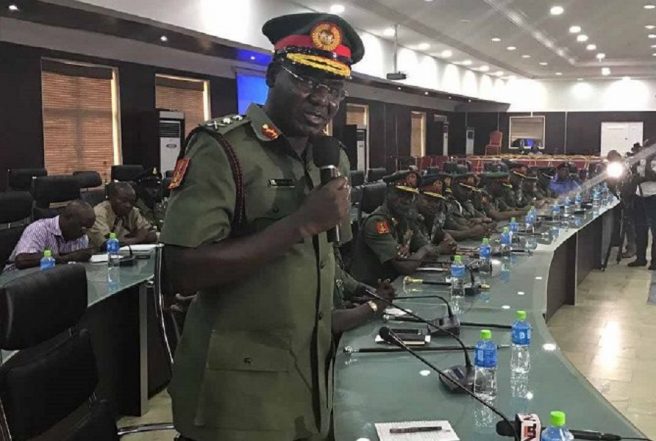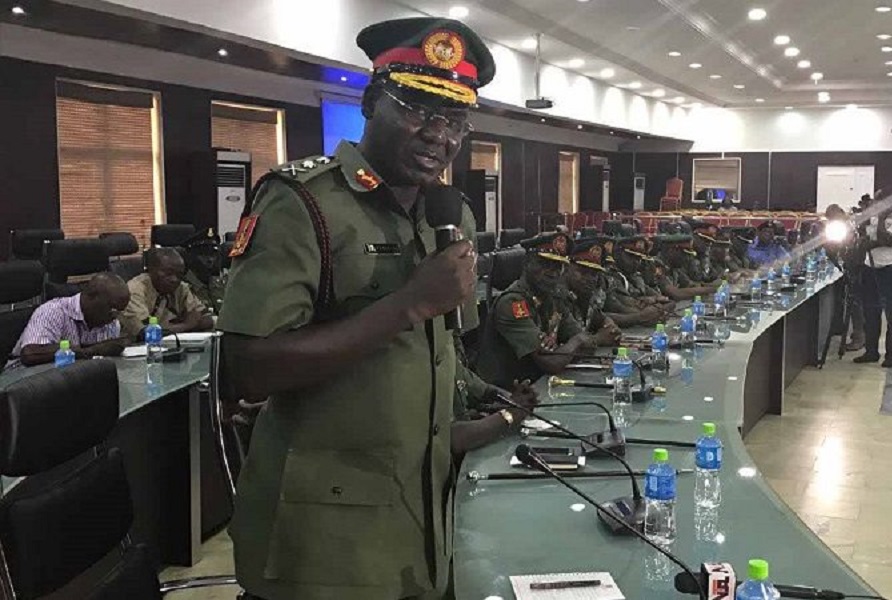 Buratai: Where One Right Decision Makes A Million Marks – By Ikpa Isaac
Smarting in the pains of Nigerians, thoroughly traumatized and blitzed by awful threatening insecurity; further buoyed by a conviction in his capacity to salvage a battered and sick nation, President Muhammadu Buhari (PMB) set out on a reformation and redemption mission. He made this historic declaration on the day of his inauguration on May 29, 2015;
"Boko Haram is not only the security issue bedeviling our country. The spate of kidnappings, armed robberies, herdsmen/farmers clashes, cattle rustlings all help to add to the general air of insecurity in our land. We are going to erect and maintain an efficient, disciplined people – friendly and well – compensated security forces within an over – all security architecture."
From the outset, President Buhari understood clearly that development and prosperity would elude the nation, if the spate of insecurity in Nigeria is allowed to sustain its unrestricted progression. And overhauling the general security architecture of Nigeria was not only necessary, but became focal and very imperative to induce commitment, dedication to duty and performance.
The putcsh in the leadership echelon of the Nigerian Armed Forces or Service Chiefs and the annointment of fresh hands to pillot the affairs of these security agenies was PMB's first response to the daunting insecurity challenges bedevilling Nigeria. And it has worked impressively.
The Nigerian Army, with its innate premium status in the security apparatus of Nigeria, as elsewhere, had the appointment of a thorough bred, patriotic, loyal, rugged and dogged soldier, Lt. Gen. Tukur Yusufu Buratai as the Chief of Army Staff (COAS). In Gen. Buratai, President Buhari sighted performace, so he spiced and burdened Gen. Buratai with an additional appointment as leader of the counter-insurgency campaigns in Nigeria.
Gen. Buratai is perceived by many as a war oracle and brilliant strategist and tactician akin to the Chinese war Lord and strategist, Gen. Sun Tzu. So, the Army boss had the unenviable responsibility of co-ordinating the other arms of the military and civil security to deliver on his new assignment.
His herculean task was to anchor a fruitful war aganst terrorists and insurgents, much as other local armed criminal gangs . He was mandated to blow the trumpet of defeat loud enough to restore the peace and dignity of Nigerians, violently snatched from them.
President Buhari felt, if extremists, terrorists, insurgents, seperatism campaigners claimed any rights to hold the country to ransom and bondage of violent extermination of lives, the destruction of properties with acts of arson, Nigerians had the right to peacful co-existence a thousand times over. The President believed, If abberant and violent sects could foist on the nation, an atmosphere of intensive phobia and gloom, it was the responsibility of the government to reverse the trend to peace and happiness.
The consecretion of Gen. Buratai by the Presidency as the chief executioner of the rights of Nigerians to a peaceful and secured life, insulated from disguised or direct acts of terrorism on the citizenry has rewarded abandantly. His shadows in the counter-insurgency campaigns has proved overtime that the one right of President Buhari to confer on Gen. Buratai this national appointment and onerous service to fatherland can never be faulted even by the worst cynics in the world.
He has etched his name in gold through dignified conduct, exemplary leadership and splendor in performance, noticeable in the endearing or rare victories against manifold acts of terrorism and insurgencies in Nigeria.
In fact, pugnacious Nigerians were disarmed in the very few weeks, Gen. Buratai marshaled out his forces on the rescue mission of his country by confronting Boko Haram terrorists in the hills, caves and mountains of the Northeast. The positive results poured in breathless torrents, as Nigerian troops started edging against insurgents from the onset and in the first weeks of 2015. This was after he relocated the military Command Center to Maiduiguri, the epicenter of the terrorists atrocious outings in the Northeast.
Firstly, Gen. Buratai's troops halted the reckless siege of Boko Haram terrorists on Abuja, seat of Nigeria's capital (FCT). Bombs could no longer detonate day or night on public buildings, security formations, motor parks, shopping malls, markets, schools, in traffic gridlocks and every other conceivable destination. His troops stretched to terminate similar Boko Haram attacks in other big cities in Northern Nigeria, like Kano, Kaduna, Bauchi, Kogi, and Gombe states respectively among others.
More calculatively was Gen. Buratai's reversal of the spread of Boko Haram appendages to some Southern states like Lagos and Osun. The sustained surveilliance of the Nigerian Army on terrorists movements, detonated their bombs before reaching targets to explode; dislodged dozens of them who scurried out of these cities and towns to places in the Northeast they assumed were safer abodes to hide and convalesce to execute their heinous crimes against humanity.
In an apparaisal of the voyage of peace in Nigeria, President Buhari revealed in his Independence Day speech in 2015 that;
"Our gallant armed forces under new leadership have taken the battle to the insurgents, and severely weakened their logistical and infrastructural capabilities. Boko Haram are being scattered and are on the run."
He added; "That they are resorting to shameless attacks on soft targets such as I.D.P. camps is indicative of their cowardice and desperation. I have instructed security and local authorities to tighten vigilance in vulnerable places."
It heralded a new phase in the counter-insurgency operations, as Gen. Buratai concentrated his energy and forces to rescue the Northeast states of Borno, Yobe and Adamawa held captive by terrorists. Terrorists had overrun and established their insignia of administration in no fewer than 14 local governments in the Northeast. Insurgents also, controlled parts of nearly eight other local governments.
Nigerians mourned as they saw terrorists desecrate the sacred territorial integrity and sovereignty of Nigeria by annexing large swaths of territories they declared their version of farcical "Islamic Caliphate." He led troops, most times, condescending from his high horse (office) to personally jumps into the trenches to route out Boko Haram terrorists.
Painstakingly and gradually, he rescued all Nigerian territories illegally appropriated by terrorists and reunited them with the Nigerian federation. Meanwhile, in the midst of the territorial rescue missions, Gen. Buratai also secured the release of over 20, 000 other Nigerians silently held captive by insurgents in various detention caves.
Soldiers have also been instrumental to the release of over 100 Chibok school girls, abducted by terrorists in April 2014, an act which provoked national and international outrage. About 110 of the abducted girls have regained freedom at various times, courtesy of the counter-insurgency operations.
Some Nigerians may still be in doubt about the role of Nigerian troops in securing freedom for the Chibok school girls. But for the first time in the history of the Boko Haram terrorism counter offensives, insurgents, among them, top Boko Harm commanders surrendered in droves to the Nigerian Army. This was after they could no longer sustain the heat of troop's superior fire power in the trenches. The many times remnants of insurgents bade retreat and resurfaced, Nigerian troops matched them fire for fire.
The capture of Sambisa forest, terrorists' most secured abode signified the defeat of terrorism in Nigeria, which magnified wide acclaim from the international community, including world renowned leaders, like former US President, Mr. Barack Obama, former UN Secretary General, Mr. Ban Ki-Moon and hordes of others. Nigeria has been receiving standing ovations from around the world for its successful defeat of terrorism.
Nonetheless, the exploits of Gen. Buratai's led troops in assisting civil security maintain security sanity from local armed criminal gangs which orchestrated violent local conflicts is decorative, to say the least. Separatists' agitations in the Southeast posed no lesser headache than Boko Haram terrorism. The violent militancy in the Niger Delta, where splinter militant sects threatened to unlawfully declare a republic within a republic in Nigeria pepped up and exacerbated tensions and insecurity the region.
Elsewhere in the Northwest, rampaging armed bandits and cattle rustlers' sacked communities, markets, killed, maimed and freely carted away livestock and foodstuff. Nigerian soldiers ended the siege on innocent and law abiding citizens, by restoring peace and tranquility.
The violence perpetrated by suspected herdsmen in the Middle Belt also got a dosage of Gen. Buratai's sedative. The ethno-religious crisis in Kaduna south only subsided when Gen. Buratai intervened. And worthy of note too, anywhere Nigerian Army berthed on special assignments, they broke new grounds of beneficial friendship, with indelible footprints in the host communities. They executed Corporate Social Responsibility (CSR) projects in water, roads, electricity and health to a loud applause.
Unreservedly therefore, Gen. Buratai has effectively checkmated the wild and violent tendencies of deviant sects. Nigerian troops' ongoing clearance operations in the Northeast is the awaiting final dirge of Boko Haram terrorism in the Northeast and Nigeria to permanently enthrone the air of peace, development and prosperity in the country.
In effect, Gen. Buratai has dissolved the bizarre rights of extremists and terrorists to strike with reckless abandon and demonstrated in a thousand ways that Nigerians have a million rights to peace and security.
Ikpa is Executive Secretary, CESJET and contributed this piece from Abuja.