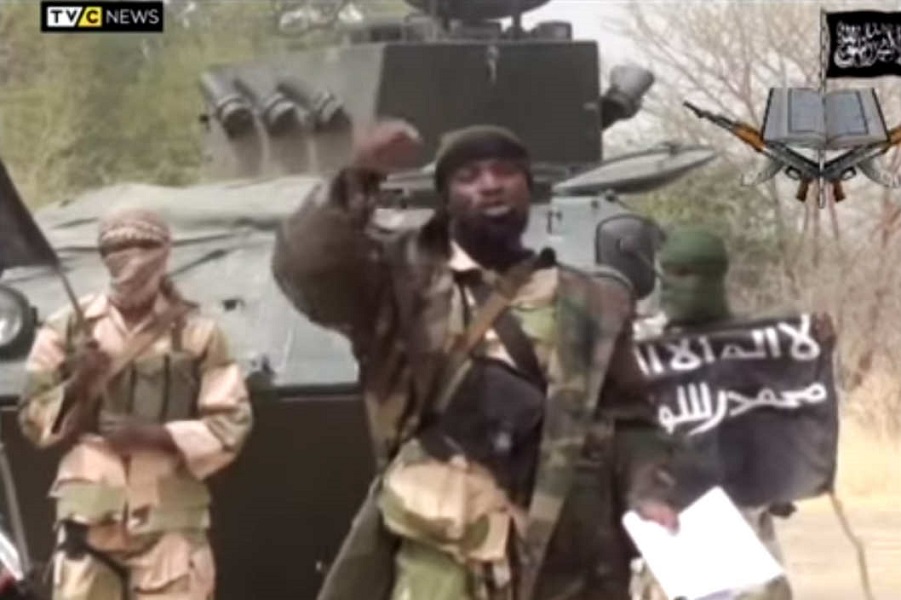 …says Chibok girls are sold to willing buyers for peanuts as wives, sex slaves
…Ansaru sect is kafirs (unbelievers) who engage in worldly things
"Allah will proclaim Shekau the new Nigeria leader 

in two years

 time. He won't need to go through any election because it is God who gives power and God wants to Islamise Nigeria.
Wallahi!
 I can assure you that it is Allah's decision that Shekau will emerge the next leader of the country and nobody can stop that from happening except Allah himself because it has been destined for him to lead this nation."
These are the words of an unrepentant, die-hard Boko Haram Commander, 22 years old Abba Umar, an acclaimed Kanuri from Shuare, Damboa Local Government Area of Borno state Boko Haram sect leader who confessed to have led several attacks before his arrest.
Coincidentally, 2019 is the year for the presidential poll in Nigeria and when the next leader would be sworn in.
Umar who spoke to Hotmannewsblog.com in Hausa last Thursday insisted Abubakar Shekau's emergence as Nigeria's leader in 2019 is only condition for the group to drop their arms.
He also claimed that the Chibok school girls and other kidnapped women are sold off to willing buyers either to be married or as sex slaves. Umar would however not disclose who the buyers are.
Looking so composed and visibly unruffled, almost all of the detainees are actually well fed and smart, except for a few with different ailments, he labeled Boko Haram rival group, the Khalid Albanawi led Ansaru sect as kafirs whose cause is to engage in worldly pecks.
The Shekau led faction sect commander further alleged that the Albanawi group are responsible for the various crimes like armed robbery, including breaking into banks, kidnapping for ransom and rape etc, reaffirming that the rival sect are materialistic and ungodly.
"We don't deliberately kidnap or kill those Allah directed us to spare. In Islam, the holy Qu'ran enjoins us to spare children, women and the aged. So, we don't kill them, but the Ansaru sect does. We don't even conscript as has been alleged in several quarters, people turn up willing to become part of us.
"I am a Commander in Sambisa (Forest). I have led several successful operations and I am still ready to led more. I will go straight to Sambisa after the conclusion of my trial and if fate smiles on me and I am discharged or able conclude my prison sentence if convicted.
What I know is that I will definitely return to Sambisa to continue where I stopped because I belong there, and that is if I escape conviction or conclude my prison terms if I'm lucky. Sambisa is the place for me as I cannot survive elsewhere. I want to return there to continue the work of 'God'. I will go to carry on where I stopped before my arrest.
"I married to two wives aged 15 and 16 years respectively. I married the first one when I was 18 and they were both in various stages of pregnancy before my arrest. I have not heard from my family since then. I don't know whether they have given birth successfully or not", Umar revealed.
The hardened young man was arrested in 2014 when his operation to bomb a mosque in Gombe was botched as the IED refused to detonate.
According to him, he would be fulfilled even if he dies today, because of the successful high profile attacks he has led as commander.
He listed some of them to include, but not restricted to the attack of the 33 Airforce Base in Maiduguri, Giwa Army Barracks, Bama Army Barracks, Police Mobile Base in Damboa, all in Borno state as well as Damaturu Army Barracks in Yobe state.
Umar who named one, Ibrahim Modu as his spiritual teacher confessed that after every successful attack, he immediately relocates to Sambisa Forest to plan a fresh operation.

 
"I have been in detention for three years and five months, which is; since 2014. If I die today, I am fulfilled and I know I will go straight to heaven because I have done my bit of what Allah wants me to do, which is to kill the kafirs (unbelievers) in our midst. So, I am not afraid to die. If it is the wish of government let them kill me right away. I know where I will go to."
Umar revealed that he decided to go on a suicide mission to attack the Gombe mosque in 2014 as he was in a hurry to die and go to heaven, but was unfortunate that his effort was botched as the bomb laden in a Sienna vehicle he drove refused to detonate.
He disclosed that luck ran out of him as he was immediately arrested and taken to Abuja where he was initially detained before he was relocated to his present detention facility.
On why he failed in his Gombe mission, Abba Umar affirmed that the IED could not detonate because God destined so. "It was simply not meant to succeed, maybe, because Allah loves His faithful that was in the mosque to pray to Him that fateful day. Maybe, it's the prayers of the residents of Gombe that worked against me that day. Allah knows best", surmised the unrepentant terrorist leader who boasted that he is capable of operating all kinds of deadly weapons.