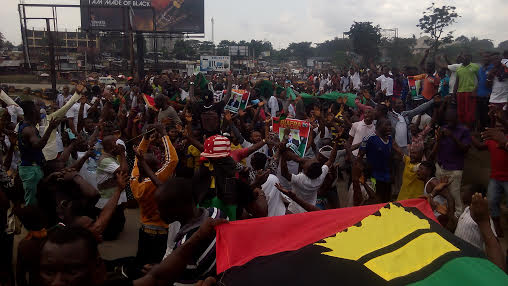 We the indigenous people of Biafra (IPOB) and it's leadership worldwide under the command and leadership of Mazi Nnamdi Kanu the prophet our time wish to bring to the attention of Biafrans and the world at large that IPOB has never and will never change name because of kangaroo and black market order obtained from justice kafarati in federal high court Abuja. It came to our knowledge that some unscrupulous individuals and groups in our society are been paid by Federal government, Igbo governors and Ohaneze Ndigbo led by Nnia Nwodo are sponsoring few people to form another group. There is no such organization in place of IPOB.
Loading ...
The fact of the matter is that FG in collusion with Igbo governors are using some individuals to give the impression that IPOB is no more. Nothing could be further from the truth. Our protests going on all over the world is clear evidence that IPOB is presently enjoying more appeal than at any other time in our history.
Many more scams like this will be unleashed on the gullible in the coming weeks and months but we are not perturbed because we have machinery in place to debunk such nonsense as they arise. People are flooding to IPOB that remains till this day, the biggest mass movement anywhere on earth.
FG, Igbo Governors and Ohaneze may form these mushroom groups once in a while but they quickly fizzle out as they came. USA, UK, France and EU have made it clear that IPOB is not a terrorist organisation so anybody entertaining the thought that it is, can only be considered an agent of Nigeria and enemy of Biafra.
–
COMRADE EMMA POWERFUL MEDIA AND PUBLICITY SECRETARY FOR IPOB.