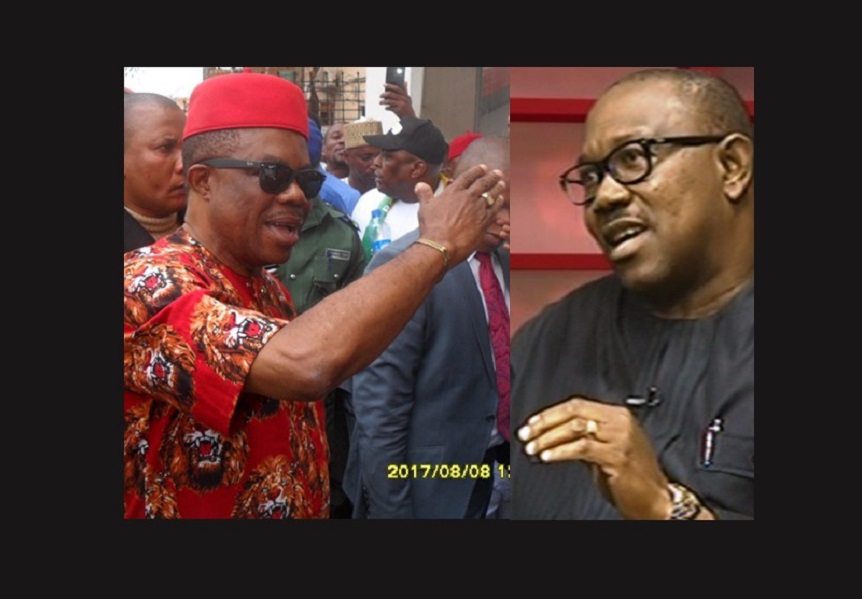 The tension in the upcoming gubernatorial election in Anambra State appears rife and condensed to a near breaking point judging by the revelations by close associates and kinsmen of a former governor under the All Progressive Grand Alliance [APGA], Chief Peter Gregory Obi who defected to the Peoples Democratic Party following the completion of two tenures at the government house in Awka.
Loading ...
A former aide to the then Governor Peter Obi and a kinsman, Ben Obi was responding to recent Peter Obi sponsored article published online by one of Peter Obi's media surrogates. The article had stated that Governor Obiano had abandoned the hometown of Peter Obi, Agulu following Peter Obi exist from office.
Ben Obi who is also known as Igwe APGA told 247ureports.com that Peter Obi has turned to a shameless lair tormented by the spirits of the land of Agulu. "This is a man who claims he is from Agulu but did not complete a single project in his entire eights in office as the governor of Anambra. Not one. I challenge anyone to point at one project completed by Peter Obi. The man is scam artist."
Igwe APGA continued to explain that Peter Obi wants to pit the people of Agulu against the Governor of Anambra State by going to PDP to sponsor a rejected candidate in the person of Oseloka Obaze. "How can he reject Obaze for Obiano just three years ago and then turn around to lick his vomit just because he wants N7billion from Obiano which Obiano is not willing to give out to him because the money belongs to Anambra people".
The former aide claims Peter Obi wants to confuse the people of Agulu to believe Agulu has been abandoned by the Obiano administration while in actuality it was Peter Obi that did the abandoning. Igwe APGA explained that Peter Obi promised the people of Agulu that he will erect a General hospital for the town. He did not. But on the eve of his exist from office, he hurriedly awarded a contract for the General Hospital to his business partner, Engineer Agpulu of Vivid Construction Limited. Peter Obi claimed that monies have been earmarked and reserved for the project but it was a lie, according to Igwe APGA. The contractor abandoned the project immediately Peter Obi left office.
It took the intervention of Governor Obiano to restart the project. Governor Obiano released the sum of 48million into the project. Already, angry Agulu Youths have levied a fine to the contractor to the tune of N100,000 for abandoning the project.
In terms of road networks, "Peter Obi showed his criminal skills" said the former aide and kinsman as he explained that throughout Peter Obi's eight year stay in office, he failed to construct one centimeter of road in Agulu –that even the road in front of his home was constructed during his impeachment when Virgy Etiaba held sway. "No roads my brother, this man that claims to be from Agulu did not construct any road. It was on the eve of his exist, with only three days to go that he began awarding all the roads in Agulu and collecting 20% upfront on each contract". Igwe APGA explained that the contracts were all left to be abandoned. He called the road contracts death traps for the incoming governor because Peter Obi did not leave any money behind for the construction of the roads. "He just used the road contracts as avenue to steal money".
The same thing Peter Obi did with the supposed 5-Star hotel being erected near the Agulu-Lake. "Peter Obi awarded the contract as a death trap to destabilize the incoming government not to help the people of Agulu. Peter Obi did not leave any money behind for the mega project but the Obiano administration is completing the project to the benefit of Agulu and Anambra people".
The former aide called on Peter Obi to stop insulting himself. "If we should expose all the atrocities committed by Peter Obi, he will be in jail. He knows that" said the former aide as he recalled the lofty promises made by Peter Obi while the Agulu community were fixing to erect their town hall. "He promised to build restaurants and other fancy eateries in the Agulu town hall. He said that would be his contribution. But till today, he has yet to do anything".
Agulu has not benefited from Peter Obi in anyway says the former aide as he continued that Peter Obi is merely jealous of the successes of the Obiano administration. "Agulu people are behind Obiano. We have benefited from Obiano. Peter Obi did not put any Agulu person as political appointee – not even me – Etiaba appointed me. Today, Agulu has seven political appointees under Obiano – four SSA and three SA – and house of assembly member from Agulu". Moreover, "He has not trained anybody from Agulu business-wise."
Ben Obi explained that during Peter Obi tenure, Agulu could not win a seat at the State Assembly. "I understand now because Peter Obi said he is not Agulu Governor. He don't need Agulu people. Can you imagine, Peter Obi has no house in Agulu, but has a mansion in Onitsha, a mansion and a luxurious apartment in Lagos? He was given land over 5years ago by Agulu people to build his house, he is yet to build a house in Agulu."
Ben Obi revealed that while Peter Obi was in office, "he did not spend one night in Agulu".  He never attended burials in Agulu, but today, he frequents burials with "one carton of hero lager bear and the sum of N1,500.00".
–
Do not be afraid; I am with you! I am your God; let nothing terrify you! I will make you strong and help you; I will protect you and save you. Those who are angry with you will know the shame of defeat. "Those who fight against you will die and will disappear from the earth. I am the Lord your God; I strengthen you and say, 'Do not be afraid I will help you.'" – ISAIAH 41:10-13