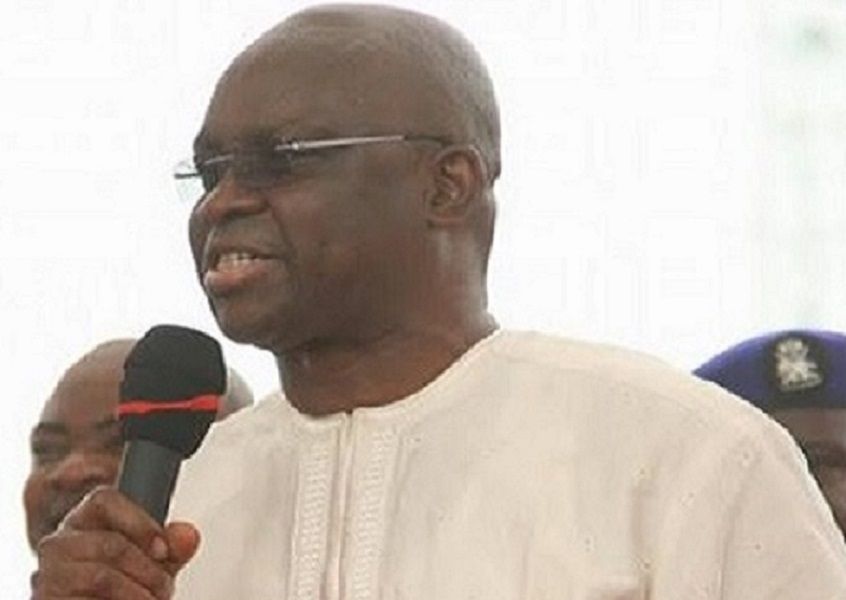 Even primary school pupils in Nigeria tease themselves with the name of the Governor of Ekiti state, Mr. Ayodele Fayose, as a dippy, brainless soul, whose heart is unrepentantly steeped in evil.  In Ekiti state where a rigged election conferred on him the noble task of state leadership, he administers a democratic state like a tyrant or dictator.
Loading ...
His cursed tongue spares nobody with the senseless verbal offensives. Fayose, the shoemaker cum politician, also claims he is a pastor, but commandeers the power of God Almighty over life and death, by insanely predicting the death of President Muhammadu Buhari. His professed religiosity of the criminal ilk, hardly place him on a pedestal to discern good from evil.
Same emergency jurist  invites thugs to invade courts, the temple of justice; he arms thugs to protect suspected criminal elements to evade justice like former Aviation minister Femi Fani Kayode (FFK) or his wife, or Apostle Johnson Suleiman of Omega Ministries Inc.
Only acquiescent to violence, he would tyrannically storm the Ekiti State House of Assembly and chase lawmakers into exile. He cannot pay Ekiti civil servants despite monthly federal allocations to the state and three tranches of bailout funds from the Presidency amounting to billions of naira. While Ekiti state is steadily ebbing towards extinction on the development among Southwestern states, Fayose's indices of personal growth and development have kept appreciating to the skies.
Like his boss, former President Goodluck Jonathan, corruption is mere stealing, so the Governor has neither conscience nor limit to embezzlement of public funds.  That's why he dipped his hands into the $2.1 billion Arms Procurement Fund, which is scandalously referred to as the Dasukigate.
Fayose hates any decent conduct or Nigerian, but infinitely loves crooks and roguery. That's why even in the Dasukigate arms procurement scandal, Mr. Musliu Obanikoro was his ally and comrade in thievery. But the poor soul has confessed to sins and is returning his loot, while seeking the face of God in penitence. But such decency is not part of the religious, parental or leadership orientation of Governor Fayose.
As a Pastor, he has murderous instincts that run riot like a hungry lion which breaks loose from its cage. Only God Almighty has the accurate statistics of Ekiti state civil servants who have died silently from the fangs of hunger because the Governor embezzled their salary.
 No one can disclose the number of Nigerians Fayose murdered in cold blood through Boko Haram insurgents by diverting and embezzling funds voted to procure arms to battle insurgency in the Northeast. No data still, on the number of Ekiti people he used a compromising military to murder in the last guber ballot that dashed him "victory." A man in his dilemma would certainly be tormented by the spirit of the innocent dead.
To comment on the weird and extremely inhuman aberrations of Fayose is like wasting precious time. But sometimes,  it becomes imperious because he is a man trapped by hallucinatory prophesies. He  is constantly in trance and dreams "really big dreams."  Not too long ago, he bemused Nigerians again by mouthing a prophesy  to the effect that God has revealed of crowning him President of Nigeria in 2019.
But Nigeria is not a country in devils kingdom and his ardent acolytes like Fayose have no chance to rule it. Imagine, Fayose as President of Nigeria! God Almighty does not hate Nigerians to the extent of enthroning a debauch and devil like Fayose as the leader of Nigeria.  And readers'  comments that followed the story indicated the extent Fayose is isolated even by members of his own family. One simply said "God forbid."
Surely, Governor Fayose knows that his political sunset is lurking in the corner, as Ekiti people are warming up for the governorship polls in 2018. Fayose knows even the devil he worships garbed with the garments of a Pastor would not save him from the rage of Ekiti people in closing his political chapter. He is truly the devil's incarnate who has devoted his energies and time to prove these past years. Little surprise former President Obasanjo chased him out of Government House.
Frightened by this inevitable possibility, Fayose is stiff scared, like a little child cast in the den of lions. If Fayose lost his mind before, he has now buried his heart completely, with just months to the termination of his political journey. He has intensified his odious attacks on personalities and institutions like a dog in the early stage of madness.
Fayose's latest victim is the present leadership of the Nigerian military. Fayose dared opened his fouled mouth to cast aspersions on the Nigerian military which is battling the counter-insurgency war. Nigerians do not need an empty head like Fayose to tell them whether Boko Haram insurgency has been defeated or degraded. Referencing corruption in the present military leadership by a character like Fayose is the most amusing angle to it. May Fayose be counseled to begin to cultivate peace for his soul by returning the billions he allegedly looted from the Dasukigate meant for procurement of arms for insurgency in the Northeast.
To make reference to Transparency International (TI)  report   on corruption in defence procurement contracts illustrates the extent Governor Fayose is uninformed and shamefully  and poorly exposed,  even to information in public domain. TI's Nigeria's Country Representative in Nigeria, Mr. Auwal Rafsanjani refuted the report from his organization and lucidly stated that the fraudulent defence contracts were under the regime of Fayose unpopular boss, former President Jonathan. And Rafsanjani regretted the error in time placement of the report. This was done on a live television program and the records are there for a Fayose who talks before thinking to peruse maybe sometimes in prison after his tenure.
Therefore, to  twist the facts today only demonstrates Fayose's incurable madness and ignorance. Facts are sacred, but lies are retold several times without impact. What Fayose cannot twist is that the current military leadership has not awarded arms contracts to political chieftains of his opposition political party, the PDP  and the Christian Association of Nigeria's  (CAN) President.
In the past, CAN leadership airlifted dollars out of the country in the guise of buying arms, but ended up purchasing repainted or refurbished arms at Wuse market in Abuja to fight Boko Haram.  Bulk of the money developed wings. If Fayose's retentive memory is this poor, it is these clan of defence procurement contractors, the Transparency International report alluded as clarified by Rafsanjani.
However, Fayose's baseless  vituperations  on  the Nigerian military is understandable because he sees in them decent and professional soldiers not  susceptible to his dubious influence to rig him back to power  next year. Fayose dreads a military leadership that would not assist him and his clan of politicians to snatch ballot boxes like what happened in the last governorship elections that gave the polluted and regrettably victory to him as Governor of Ekiti state.
Now sitting on a throne not designed for him, Fayose is equally confused as all doors have closed against him. This is no doubt a haunting reality as Fayose who brags as a "General"  in the act of election- rigging, which earned him  the title of "Generalismo of Ekiti" politics is in serious trouble.
 But the chips are down for Tyrant Fayose, as there is no hiding place for him. His abhorring failure to deliver on his campaign promises to Ekiti is giving him sleepless nights. But it's too late in the day to make amends, having wasted productive years, chasing shadows, perfecting the mastery of the art of abuses and looting or embezzlement of public funds.
His phobia on the exposure of his sins after the expiration of his wasted tenure is a pain in the neck.   He should start thinking of his journey to the jungle to preside over wild animals, that is self-exile or be prepared to cool his heels in a jail somewhere.
Fayose is a potential candidate for jail, once he is stripped of immunity. Nonetheless,  the Governor has a chance to negotiate his soft landing by at least,   redeeming himself in one  area  that  is too glaring.  So, as  the Ekiti  state dictator prepares to face another governorship election in the state, he should endeavor to return Ekiti state's monies he allegedly looted  and  pay Ekiti workers  their months of owed  salaries and entitlements. With this done, at least, Ekiti people would not place a curse on his soul in addition to sending him to the political doom.
Okanga writes from Agila, Benue State.