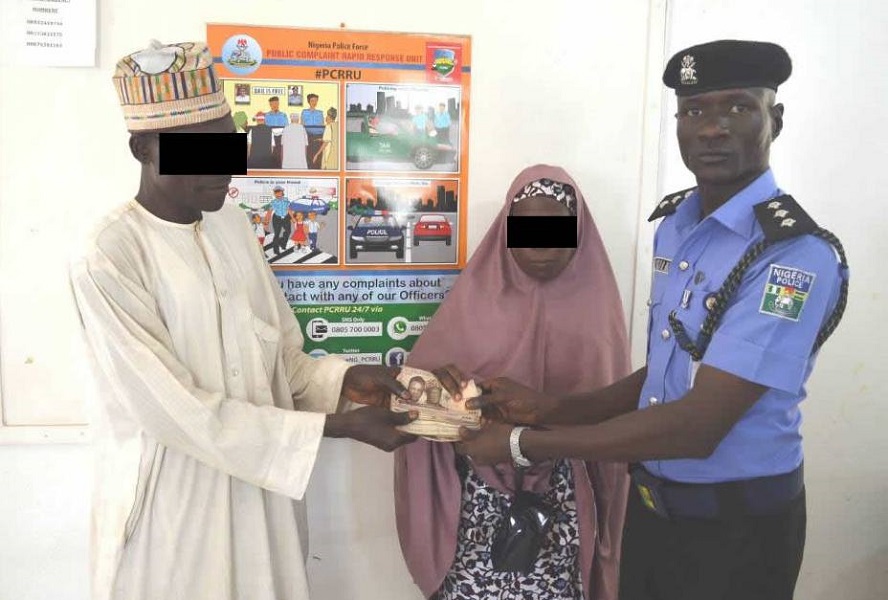 Loading ...
Money recovered and handed back to woman, impostor charged to court.
The Police in Kano State command have arrested one Yakasai Mohammed 'm'  who is in the habit of impersonating both the police and court officials in order to defraud innocent family members of arrested suspects.
The illegal activities of the said Yakasai was brought to an end after a complaint was made to the Public Complaint Rapid Response Unit (PCRRU) on 27th July, 2017 via a phone call from a female resident of Kano city (name withheld) following the Wednesday 26th July, 2017 helicopter leaflet drop of PCRRU flyers in English, Hausa and Kanuri over Kano city.
THE CASE AGAINST YAKASAI.
On 27/07/17 at about 6:34pm a female resident of Kano, Kano state called the PCRRU phone line and complained that on the 17th of July, 2017 a team of police on patrol raided a place call Kwana Hudu area in Kano and arrested her son (name withheld) for an alleged robbery case. That her son was taken to Special Anti-Robbery Squad (SARS) office in Kano from where he was subsequently charged to court for alleged robbery. She also stated that the trial Judge ordered her son to be remanded in prison custody pending the next court date. However, one of the Investigating Police Officers (IPO) known as Yakasai who she met at the court premises collected the sum of One Hundred Thousand Naira (N100,000) for bail and promised to release her son but he failed to do so as her son was taken to Kurmawa prison from the court hence her complaint. She also said that she picked the PCRRU contact phone number from a leaflet dropped by police helicopter in Kano on Wednesday, 26th July, 2017.
The case was immediately registered, tracking number PCRRU426434 issued and matter referred to the Commissioner of Police Kano state for investigation and report in line with the directives of the Inspector-General of Police, IGP Ibrahim K. Idris, NPM, mni.
Investigation carried out by the Kano State Police command reveals that the arrest of the complainant's son and subsequent prosecution in court is pursuant to an investigation into a reported case. The said Yakasai was arrested and it was discovered that he is not a police officer or court official but an impostor who goes around courts in Kano metropolis pretending to be a police officer and a court worker. He confessed to the crime and the extorted N100,000 cash was recovered from him. The money has since been handed back to the complainant. Yakasai has also been charged to court for prosecution accordingly and he has been remanded in prison custody pending the next hearing date.
Members of the public across Nigeria are advised not to pay money for bail as BAIL IS FREE. Also, in line with the "Change Begins With Me" campaign citizens are urged not to give bribe to any government official no matter the pressure on them. Rather they are urged to report such bribe demand immediately to PCRRU which is available 24/7 via the following channels;
Calls Only: 08057000001, 08057000002 | SMS and WhatsApp Only: 08057000003 | BBM:58A2B5DE | Twitter: @PoliceNG_PCRRU | Facebook: www.facebook.com/PolicePCRRU | Email: complaint@npf.gov.ng OR PolicePCRRU@gmail.com and Website: www.npf.gov.ng/complaint
PCRRU says No to Impunity and as promised; our quick response will put a smile on your face.
ACP ABAYOMI SHOGUNLE.
ASSISTANT COMMISSIONER OF POLICE,
PUBLIC COMPLAINT RAPID RESPONSE UNIT (PCRRU),
NIGERIA POLICE FORCE, FORCE HEADQUARTERS,
ABUJA.