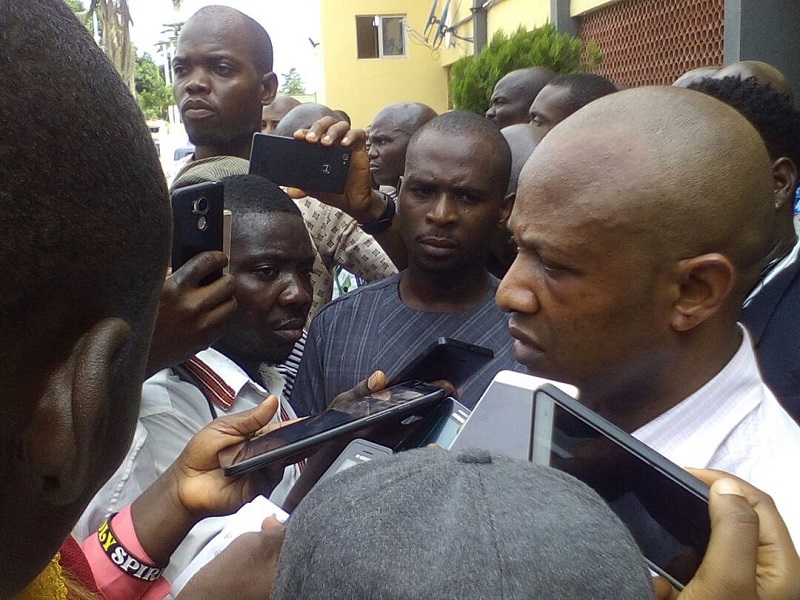 PRESS BRIEFING
PARADE OF SUSPECTS
PARADE OF MOST WANTED, VICIOUS AND HIGHLY NOTORIOUS KIDNAP FOR RANSOM GANG LEADER CHUKWUDI DUMEME ONUAMADIKE a.k.a EVANS AND SIX (6) OF HIS COMMANDERS BY CSP JIMOH MOSHOOD, FORCE PUBLIC RELATIONS OFFICER,
FORCE HEADQUARTERS, ABUJA AT LAGOS STATE POLICE COMMAND 0N 11TH JUNE, 2017.
ARREST OF MOST WANTED, VICIOUS AND HIGHLY NOTORIOUS KIDNAP FOR RANSOM GANG LEADER AND SIX OF HIS COMMANDERS
SUSPECTS
CHUKWUDI DUMEME ONUAMADIKE a.k.a EVANS
NWOSU CHIKODI CHUKWUMA AKA SUDO 42YRS, 3RD IN COMMAND
SUOYO PAUL AKA NWANA 42YRS
FELIX CHINEMEREM 36YRS
IKENNA EMEKA 28YRS
UCHECHUKWU AMADI
OGECHI AMADI
ARMS AND AMMUNITIONS RECOVERED
(i)                  FIVE (5) AK 47 RIFLES
(ii)                ONE (1) AK-49 RIFLE
(iii)               TWO (2) DOUBLE BARREL LONG
(iv)               TWO '2' ENGLISH PISTOLS
(v)                 FIFTY-NINE (59) AK-47 MAGAZINE WITH AMMUNITION
(vi)               ONE THOUSAND TWO HUNDRED AND SEVENTY TWO (1,272) LIVE AMMUNITION OF AK-47 (9mm)
(vii)             FIVE (5) DIFFERENT PLATE NUMBERS
(viii)            Other weapons are being recovered as I speak with you from different criminal hideouts of the different states.
VICTIMS
MBARIKATTA WILLIAM UBOMA
PAUL COLE, Director with Ocean Glory Commodities, Apapa,
MOHAMMED JAMAL, a Lebanese
KINGSLEY NWOKENTA
ANTHONY OZOANIDOBI
LEO ABRAHAM
OJUKWU COSMAS
JAMES UDUJI
CHIEF RAYMOND OKOYE
UCHE OKOROAFOR
ELIAS UKACHUKWU
FRANCIS UMEH
DANATUS DUNU
The Joint Special Forces led by the Intelligence Response Team, the Lagos State Police Command's Anti-Kidnapping Unit and Technical and Intelligent Unit of the Force under the supervision of the Commissioner of Police, Lagos State on the 10th of June, 2017 swooped and raided the criminal fortress of CHUKWUDI DUMEME ONUAMADIKE a.k.a EVANS, a native of Nnewi in Nnewi North Local Government Area of Anambra State who is the vicious leader of a highly organized kidnap for ransom syndicate and criminal gang terrorizing and responsible for several kidnap of notable/prominent Nigerians in Lagos State, including the Western, Eastern, South-South and some Northern States.  He has his gangs active and spread across these mentioned states.
After anintense gun battle between that lasted several hours, CHUKWUDI DUMEME ONUAMADIKE and his gang were overpowered by the Superior Fire Power of the Joint Special Forces and he was arrested at MAGODO ESTATE, IKEJA AREA OF LAGOS STATE.
CHUKWUDI DUMEME ONUAMADIKE a.k.a EVANS was first declared wanted in August, 2013 when he masterminded the attempted kidnap of CHIEF VINCENT OBIANUDO, the owner of Young Shall Grow Motors in Festac, Lagos, where a Policeman attached to the victim foiled the attack and killed three '3' of Evans gang members but also lost his life in the process.  Some of Evans gang members were subsequently arrested, but he regrouped after with several gangs and became more vicious and unleashes terror in the mentioned States of the Federation.
EVANS and his gangs keep their victim kidnapped in Lagos Area at House No. 21 Prophet Asaye Close New Igando, Lagos State until the ransom is paid to him. Ransom money are paid to him in Millions of Dollars, some victims are kept for upward of six to seven months until the last penny is paid.  He never reduces his tagged ransom money.  None of his gang members know his house.
MODUS OPERADI OF EVANS
In every kidnap attack he has a separate armed group that kidnapped victim with him and has another armed group who takes over the victim to their hideouts and prevent them from escaping.  The members of the two '2' groups don't know each other.  They complied with Evans instructions.
EVANS, and the dreaded vampire who died during a gun duel with the Police Special Forces led by IRT and Imo State Police Command in a forest in River State early this year are axis of evil in kidnappings in Southern Nigeria States and some Northern State.  Thisis a huge success for the Nigeria Police Force.  The Force will build on this success and continue to prevent kidnap cases and criminality generally in the country, and ensure prompt detection of those crimes that cannot be prevented, and also ensure that perpetrators are arrested, investigated and prosecuted.
PROPERTIES OWNS BY CHUKWUDI DUMEME ONUAMADIKE a.k.a EVANS: He has two (2) Mansions in Magodo GRA Phase 2 worth about three million naira (N300,000,000). He also has two (2) House in the Highbrow area of Accra City in Ghana among many other properties such as exotic cars, expensive watches, Jewelries e.t.c, he bought from the ransom.
EVANS KIDNAPPING EXPLOITS IN LAGOS INCLUDES;
Mbarikatta William Uboma, 35, kidnapped June 16th, 2012 at about 11.am on his arrival from Hungary while he was close to his house. He was in his Toyota Car 2010 model in company of his brother to drop him at his house when a Passat car emerged from nowhere and blocked his car. They blindfolded him and forcefully abducted him to an unknown destination. They later demanded a ransom of N10M. However, N2M was later paid while they collected other personal accessories. He was finally dropped at Okota on the third day.
Paul Cole, 34, from Ohafia in Abia State. A Director with Ocean Glory Commodities, Apapa, kidnapped August 3rd, 2012 at Festac Town together with his General Manager, Jude Ugoje and another staff, PiriyeGogo, and taken to an unknown destination. They demanded for N10M. On August 6th 2012, they collected N5M ransom at Maza-maza area of Lagos State.
Mohammed Jamal, 22, a Lebanese, kidnapped on August 19, 2012 at Ajah by three armed men, taken away blindfolded. N7M ransom was later paid at Ojo Barracks.
Kingsley Nwokenta, 34, kidnapped September 19, 2012 after he left Lebanana Bar in Festac at Mile two under bridge. Later, paid N1.5M ransom while they made away with his black Toyota Venza and other accessories.
Anthony Ozoanidobi, 41, kidnapped in October 10th 2012 along Marwa road Satellite Town. Ransom of N1.5M paid after which he was released at Apple Junction, Amuwo-Odofin.
Leo Abraham 58, kidnapped August 20, 2012. Paid ransom of N5M and was later released along Badagry road, Lagos.
OjukwuCosmas, 45, sells Toyota parts at Aspanda Trade Fair, Kidnapped January 21, 2016 at Festac Town. It was not clear when and how he was released.
James Uduji; kidnapped close to his house at 7th Avenue Festac late last year. Held for 6 six weeks. Paid $1M.
Chief Raymond Okoye – Odu- Na –Ichida, kidnapped 2015. Paid $1M as ransom, held captive for 2months
UcheOkoroafor, trader at Alaba, kidnapped 2015, held captive for three (3) months, paid $1M.
Elias Ukachukwu kidnapped November 2015. Paid $1M. Date of release unknown but it was gathered that his abductors were insisting on another $1M claiming family members were rude to them during negotiation.
Francis Umeh also a spare parts dealer at Aspanda, kidnapped July 2016 at RajiRasaki Estate, released after two months in captivity.
The last Victim is MrDanatusDunu he kidnapped in Ilupeju February 2017 and fortunately the man escaped from the Igando House where Evans kept him with his boys last month.
EVANS GANGMEMBERS:
Felix Chinemerem 36yrs Native of ArichukwuOhafia LGA of Abia State second in command of Evans.
NwosuChikodiChukwuma aka Sudo 42yrs, 3rd in Command to Evans. He has over 20yrs experience in Armed robbery and about 8yr experience in Kidnapping.
iii.        UchechukwuAmadi Native of Anambra State longtime Evans Boy and head of the detention Camp in Igando.
OgechiAmadi is the woman who rented the house and cooks for the Kidnappers and their victims in the camp.
Suoyo Paul aka Nwana 42yrs Native of Bayelsa States Gangmember and Supplier of Rifles and Ammunitions to Evans.
IkennaEmeka 28yrs Native of Anambra State.
During interrogation and preliminary investigation, Evans and his Gangs confessed to all the kidnappings linked to them and make confessional statements to the various roles they played in the commission of the crimes. They will be charged to court on completion of investigation.
CSP JIMOH MOSHOOD
FORCE PUBLIC RELATIONS OFFICER
FORCE HEADQUARTERS,
ABUJA.